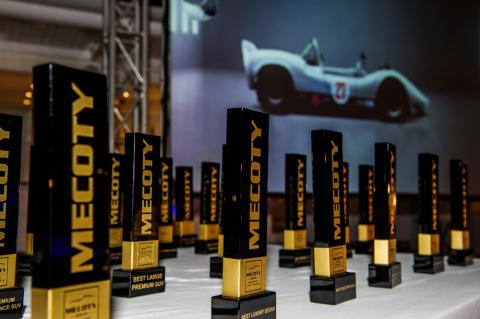 Mercedes, BMW, Audi receive top honors in prestigious gala awards night
November 25, 2014 - Some of the world's leading car brands took centre stage at the recently concluded pioneering edition of the Middle East Car of the Year (MECOTY) awards, the most coveted award of the regional automotive industry, which was held at the Meydan Beach Club in Dubai. Top brands including BMW, Mercedes, Audi, Infiniti, Cadillac, Toyota, Jaguar and Rolls Royce were among the winners announced in an exciting and stunning gala awards night, which was attended by top officials from all major automotive brands in this region.
"We are truly overwhelmed at the successful response that we have received in organizing the first ever edition of MECOTY," said Saeed Al Marzouqi, Chairman, MECOTY. "There was always a need for car manufacturers to be recognized by an award body that will judge independently and be free of any commercial bias, as end users also needed a common platform to read authentic reviews from professionals. The positive response and large turnout for the awards and the exhibition shows that we have successfully addressed this need. Rest assured, MECOTY will continue to be a key platform for automotive brands in this region."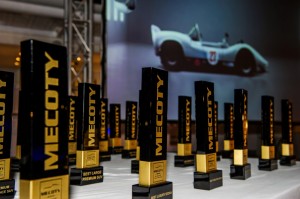 Speaking about Dubai Properties' platinum sponsorship, Mohammed Al Habbai, Chief Officer for Urban Planning and Infrastructure at Dubai Properties Group, said: "We are delighted to have sponsored the Middle East Car of the Year (MECOTY) Awards.  On behalf of Dubai Properties (DP), I would like to congratulate the organisers for the successful event and the winners for the well-deserved recognition for their dedication to the automotive industry".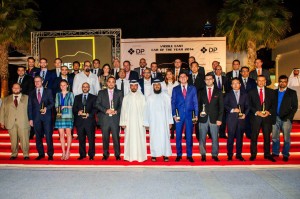 The accompanying car exhibition of the awards, which ran during the weekend, also saw an overwhelming response from the local automotive community with thousands of visitors. Prominent brands placed on display at the exhibition included Audi, Bentley, BMW, Chevrolet, Cadillac, Ford, Hyundai, Infiniti, Jaguar, Lexus, Land Rover, KIA, Maserati, McLaren, MINI, Mercedes, Nissan, Opel, Rolls Royce, Toyota & Volkswagen.
MECOTY awards are the only independent recognition and acknowledgement to car manufacturers that the cars they are selling in the region are in line with consumer needs. All nominees underwent a stringent selection process from a select panel of judges, who were handpicked to represent their respective countries. Looking to add more value and encourage interaction from a regional audience, MECOTY empowered consumers by letting them vote for their favorite car through a custom Facebook app as well, which resulted in close to 11,300 independent consumers voting for their favorite automobiles.
Commenting on the S-Class winning the 'Car of the Year' and 'Best Luxury Sedan' awards, Mike Belk, CEO of Daimler Middle East and Levant said: "To receive two awards at the Middle East Car of the Year awards is indeed an honour for Mercedes-Benz and recognises our leadership position in the luxury automotive segment. Since its inception, the S-Class has always set the benchmark in the luxury segment and the new S-Class continues this tradition."
"It is a great honor to have been recognized at this year's MECOTY awards. The Future of Motoring Award is especially significant for us, as BMW Group is strongly investing in future models and innovative technologies. In June 2014 we launched a new brand, BMW i, in the Middle East Region, which stands for innovative mobility"   said Johannes Seibert, Managing Director for BMW Group Middle East.  "The BMW i8 with its unique hybrid technology and new materials as carbon fiber is truly a car of the future. We thank the MECOTY judges for honouring BMW i and the BMW i8."
"We are thrilled and honoured to not only receive the MECOTY award for the Audi RS 7 as the Best Premium Performance Sedan but also for being named as MECOTY's Consumer Car of the Year—a recognition that fully affirms the Audi RS 7's presence as a family car that is both elegant and incredibly powerful with cutting-edge engineering. " said Trevor Hill, Managing Director, Audi Middle East. "We congratulate the organizers of MECOTY for a successful inaugural edition and look forward to its continued success in the future."
Winners named during the event include;
| | |
| --- | --- |
| Best Small Sedan | Honda City |
| Best Mid-Size Sedan | Toyota Corolla |
| Best Large Sedan | Ford Fusion |
| Best Executive Sedan | Infiniti Q50 |
| Best Luxury Sedan | Mercedes S-Class |
| Best Premium Performance Sedan | Audi RS7 |
| Best Compact Utility Vehicle (CUV) | Ford Eco-Sport |
| Best Small SUV | Jeep Cherokee |
| Best Midsize SUV | Hyundai Grand Santa Fe |
| Best Midsize Premium SUV | Porsche Macan |
| Best Large Premium SUV | Cadillac Escalade |
| Best Premium Performance SUV | Range Rover Sport |
| Best Hatchback | Nissan Tiida |
| Best Premium Hatchback | Mini Cooper |
| Best Sports Coupe | Alfa Romeo 4C |
| Best Performance Coupe | Chevrolet Corvette Stingray |
| Best Premium Performance Coupe | Jaguar F-Type Coupe |
| Best Grand Tourer | Rolls Royce Wraith |
| Best SuperCar | Mclaren 650S |
| Special Award – The Future | BMW i8 |
| Consumer Car of the Year | Audi RS7 |
| Jury Selected Car of the Year | Mercedes S-Class |
Categories