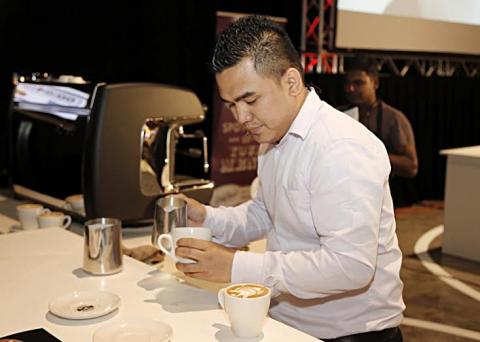 Frederick Bejo, Barista Trainer at Specialty Batch LLC, Dubai-based coffee roasters, cafe equipment suppliers, and coffee educators, will complete against 50 coffee professionals on the world stage, representing UAE at the 'World Latte Art Championship' set to take place from

June 16 to 18, 2015

at the Swedish Exhibition and Conference Center in Gothenburg, Sweden during World of Coffee 2015.
Bejo won the sought after title of UAE Latte Art Champion, at the '2014 UAE Latte Art Championship' which is hosted annually alongside other Coffee Championships at the renowned International Coffee & Tea Festival (ICTF), the region's only dedicated trade event for the specialty coffee and tea industry in the Arab World, organised by International Conferences & Exhibitions (IC&E). The Competition lasted 4 days and the selection of winners involved the deliberation of 14 certified coffee judges from around the world. Bejo did extremely well, enough to impress the panel of judges at the UAE Latte Art Championship 2014 after an awesome display of skills in the Latte Art Category.  
Organisers of the
ICTF, said
: "With the UAE's growing coffee culture, we can see a remarkable difference in the professional skills and performance of baristas. The International Coffee & Tea Festival provides a platform for the country's baristas to showcase their creativity in a cup of latte and a chance to represent the UAE's position in the coffee world at an international arena. We wish Bejo the very best at the World Latte Art Championship at World of Coffee 2015 in Sweden."
World of Coffee will stage five World Championships, including World Cup Tasters Championship, World Coffee Roasting Championship, World Brewers Cup, World Coffee in Good Spirits Championship, and World Latte Art Championship within three exciting days. The World Latte Art Championship will highlight the artistic expression of the participants and will judge baristas based on their visual attributes, creativity, identical patterns in the pairs, contrast in patterns, and overall performance.
The 7th edition of the International Coffee & Tea Festival (ICTF) will return to Dubai from November 11th to 13th, 2015 at The Meydan Gallery and Convention Center. In 2014, the ICTF was visited by over 7,100 coffee aficionados from across the Middle East, Asia, Europe and the rest of the world.
Categories