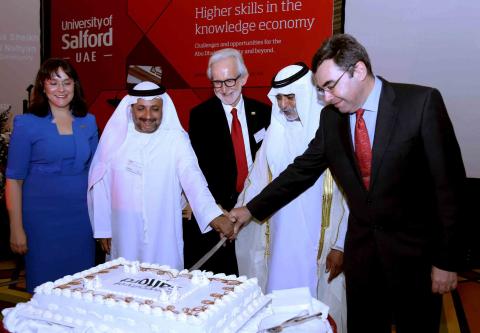 New representative office1 will make teaching, research and professional development in vital skills more widely available across Abu Dhabi
UAE, May 13, 2014 - In the presence of H.H. Sheikh Nahyan Bin Mubarak Al Nahyan, UAE Minister of Culture, Youth and Community Development, The University of Salford (United Kingdom) last night (12 May) launched plans to significantly increase its impact and presence in Abu Dhabi over the coming months, with the aim of driving the development of public and private-sector skills within Abu Dhabi to meet the demands of the 2030 Economic Vision.
Speaking at the launch of the University's representative office in Abu Dhabi, attended by senior business people and officials, Salford's Vice-Chancellor Professor Martin Hall announced plans for the development of a wider portfolio of postgraduate and CPD programmes, new educational and industry partnerships, collaborative projects and research initiatives in close consultation with industry and government.
A newly-focused suite of postgraduate and professional programmes will be developed for Abu Dhabi, to be delivered through a combination of on-line and face-to-face learning. This will cover areas in which Salford has an international reputation for excellence - the built environment, business, energy, healthcare, media and digital, and science and technology - and will include:
The expansion of postgraduate programmes in Building Information Modelling (BIM) and Integrated Design, to drive the development of the highly-skilled workforce required to meet the goals laid out in the Smart City agenda. Since the degree was launched, a number of the large engineering firms transforming the region have received training from Salford in this leading-edge technology, including Arup, whose projects have included the development of the Abu Dhabi Investment Council HQ
A suite of programmes in key skills areas, including Construction Law and Practice, Construction Management, Clinical Gait Analysis, Financial Services Management, Global Management, Marketing, Occupational Therapy, Quantity Surveying and Fashion Innovation
 A wider range of professional-development courses, from business and law to health, media and energy, and the built environment, which will be made available to both individuals and organisations
Professor Martin Hall, Vice-Chancellor of the University of Salford, said: "The launch of our representative office will significantly enhance our rich history of working with educational partners and industry in Abu Dhabi, to deliver high-quality, postgraduate professional education in priority areas for the region and our own areas of expertise.
 "Over the past 15 years, we have contributed to the region's knowledge economy by providing robust degree programmes in partnership with other prestigious universities, government bodies, hospitals, charities and major firms from the private sector. Our academics are ideally positioned to equip the Abu Dhabi's public and private-sector organisations with the skills they'll need to respond to the demands set out by the 2030 Vision, which is why we have committed to greatly expand our presence and investment in the region over the next few months."
The university will also embark on new, cutting-edge collaborative research that addresses the real-world problems of today and tomorrow and helps industry to harness research and development for the future competitiveness of Abu Dhabi and the UAE.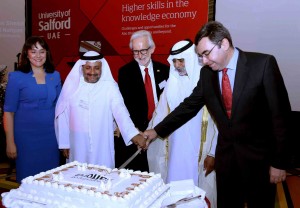 Professor Hall added: "As the city seeks to respond to the pace of technological change and harness the capabilities of research and development for future competitiveness, there has never been a greater industry requirement in Abu Dhabi for real-world research.
"Our increased presence in Abu Dhabi will also mean wider access to our modern, dynamic and exceptionally-equipped research centres and support from our teams of highly-experienced academics."
Employees from firms in Abu Dhabi, the UAE and the wider Middle East, regularly come to Salford to attend executive summer schools and block-intensive CPD delivery. On-site delegates can train at the Salford campus and unique digital learning, teaching and research space in MediaCityUK – home to the BBC and one of the hotbeds for creative and digital innovation in Europe.
Industry partners within the Abu Dhabi over the past few years have included Malfraq hospital, to which Salford specialists have provided consultancy and training to ensure best practice and management of diabetic foot-care, to the significant benefit of the local population.
Editors Notes:
The representative office is awaiting authorisation from the relevant authorities in Abu Dhabi
Categories