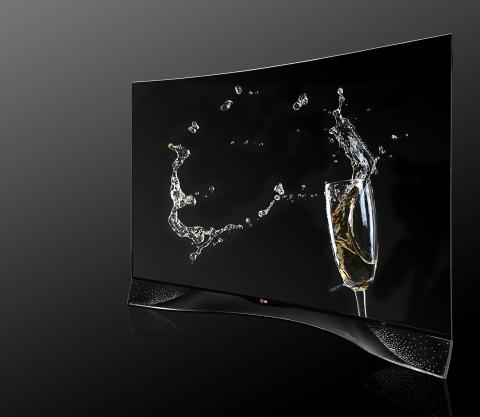 Featuring Swarovski Crystals and LG's Pixel Dimming Technology,
Stunning TV Delivers Premium Design and Premium Viewing Experience
Beirut, Sep. 22, 2014—LG Electronics (LG), with design support from Swarovski, the renowned Austrian jewelry brand and world-leading manufacturer of high-quality crystals, unveiled a one-of-a-kind CURVED OLED TV at IFA Berlin. Featuring a streamlined stand studded with shimmering crystals complemented by the brilliant, precise colors of the OLED's self-lighting pixels, this advanced TVexudes elegance beyond compare.
With a paper-thin depth of just 4mm and a weight of only 16kg, the LG CURVED OLED TV is the perfect showcase for Swarovski's finest. Featuring LG's stylish Crystal Stand, the ergonomically curved display appears to float on thin air, a breathtaking effect that helps to increase viewer immersion. To create this totally unique stand, approximately 460 luminescent Aurora Borealis crystals of three different sizes (SS8, 10 and 12) were applied by hand using specially made stencils. The result is a subtle but elegant sparkling pattern that turns a cutting-edge television into a work of art.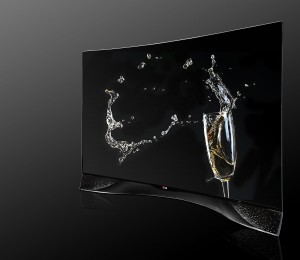 LG's OLED TV offers unrivaled visual precision thanks to the company's advanced pixel-dimming system and the inherent advantages of OLED technology. Viewers can see every pixel come alive and will enjoy the incredible realism of sharp, natural colors and infinite contrast ratio. A singular product that combines the best of technology with the best of design, the luxurious LG CURVED OLED TV with Swarovski crystals glitters and shines in more ways than one.
"We are excited to showcase this one-of-a kind TV — our first collaboration with designers from Swarovski — to visitors at IFA," said Hyun-hwoi Ha, president and CEO of LG's Home Entertainment Company. "The epitome of luxury and refinement, Swarovski crystals and LG's premium OLED TV complement each other perfectly. The crystals help to create an aesthetic that is, quite simply, gorgeous, while our OLED technology ensures a level of picture quality that is every bit as stunning as one could imagine."
The limited edition LG OLED TV will be on display at IFA 2014 in Hall 11.2 of Messe Berlin from September 5-10 and will roll out to European customers in the fourth quarter of this year.
About LG Electronics, Inc.
LG Electronics, Inc. (KSE: 066570.KS) is a global leader and technology innovator in consumer electronics, mobile communications and home appliances, employing 82,000 people working in 119 locations around the world. With 2013 global sales of USD 53.10 billion (KRW 58.14 trillion), LG comprises five business units — Home Entertainment, Mobile Communications, Home Appliance, Air Conditioning & Energy Solution and Vehicle Components — and is one of the world's leading producers of flat panel TVs, mobile devices, air conditioners, washing machines and refrigerators. LG Electronics is a 2014 ENERGY STAR Partner of the Year. For more news and information on LG Electronics, please visit www.LGnewsroom.com.
About LG Electronics Home Entertainment Company
The LG Electronics Home Entertainment Company is a global top player in audio-visual products, monitors, personal computers and digital signage and commercial displays. The company is always pushing the boundaries of technology to create feature-rich devices with stylish designs that meet the needs of global consumers. LG is committed to improving customers lives with innovative home entertainment products led by its award-winning OLED TVs, 4K ULTRA HD TVs and CINEMA 3D Smart TVs featuring the new webOS platform. For more information, please visit www.LG.com.
Categories