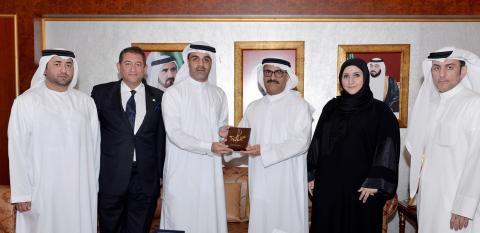 September 15, 2014 - Dubai, United Arab Emirates
H.E. Dr. Abdullah Belhaif Al-Nuaimi, Minister of Public Works and Chairman of the National Transport Authority (NTA), received a delegation from Dubai Maritime City Authority (DMCA) at Ministry Headquarters in Dubai, to view latest developments of the Maritime Sector Strategy in Dubai and the UAE, as well as to discuss current preparations for the launch of the region's first-ever Dubai Maritime Summit which will take place on October 27, 2014 in Dubai for the opening of the second edition of Dubai Maritime Week.
H.E. Dr. Abdullah Belhaif Al-Nuaimi will be the key speaker at the Summit to talk about the vital and strategic role of the UAE on the global maritime landscape and underline its economic, political and logistics position which support its efforts to become an international maritime center and top-notch investment destination across the regional and international maritime industry.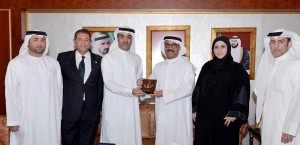 The Dubai Maritime Summit will gather high-profile decision-makers, senior executives and managers of industry-related public and private companies from Dubai and worldwide. It will also see participation of keynote speakers, including industry leaders from the International Maritime Organization (IMO), Baltic and International Maritime Council (BIMCO), International Association of Classification Societies (IACS) and other senior maritime companies.
Amer Ali, Executive Director, Dubai Maritime City Authority, said: "We are honored to have met with H.E. Dr. Abdullah Belhaif Al-Nuaimi and look forward for his participation in Dubai Maritime Summit as a keynote speaker. This demonstrates our commitment towards mutual cooperation to promote all aspects of the maritime sector in the country and boost the world-level industry events being organized."
Headed by CNN International anchor Richard Quest, CNN's foremost international business correspondent and presenter of Quest Means Business, the Dubai Maritime Summit will attract leading local, regional and international industry professionals to view the latest developments on the global maritime landscape and discuss the various subjects related to the worldwide progress of the industry, with main focus on issue of international maritime clustering and Dubai's efforts to become a world-class leading maritime hub. The Summit will cover a variety of other subjects of local, regional and international significance, in participation of a senior government officials, industry professionals, experts, ship owners and operators from the UAE and across the region.
Categories