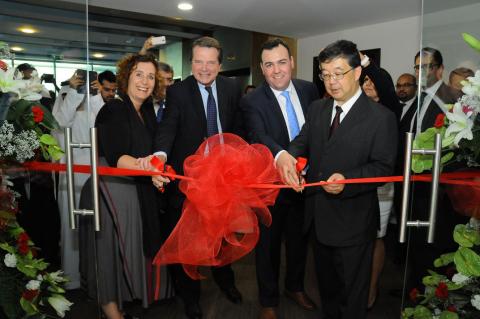 Japanese medical giant's new operations more accessible to local & regional distributors and patients
The European branch of Terumo Medical Corporation, a Japanese multinational medical products and equipment firm, has opened a new office at the Dubai Airport Freezone to better serve its customers in the Middle East and Africa – including the GCC, Levant, Pakistan and Africa – and pursue emerging opportunities in these key markets. The opening ceremony took place at DAFZA 8W building in the presence of Jamal Bin Marghoob, Director, Marketing and Corporate Communications, and Mohammad Ismail, General Manager of Terumo Middle East, and other distinguished guests from DAFZA and Terumo.
Terumo's DAFZA office will help reduce operating costs because of its accessibility and streamlined transactions through one-stop shop services provided within the Freezone itself. The company also looks forward to future collaborations with DAFZA as its strategic ally in the MENA region for a number of initiatives set to be implemented within the next five years. Terumo is the latest addition to DAFZA's stable of major pharmaceutical names which includes Abbot Laboratories, Actavis, Johnson & Johnson, and Himalaya Drug Company, among others.
Demographic trends such as a growing ageing population and increased healthcare expenditure per capita have turned the Middle East into one of the world's most dynamic healthcare markets.
The GCC healthcare business alone is projected to grow at 12 per cent per annum to USD 69.4 billion by 2018, offering a wealth of expansion prospects for Terumo and other major healthcare players.
During the opening remarks, Jamal Bin Marghoob said: "We warmly welcome Terumo as a valuable addition to our high-profile group of hosted multinational corporations. Setting up operations at our Freezone will enable our newest partner to gain easier access to the dynamic GCC, MENA and Pakistani healthcare markets. Terumo's presence also highlights our status as a hub for some of the world's best healthcare firms and as a preferred destination for capitalizing on business opportunities in the Middle East and nearby regions."
"Moreover, Terumo's global vision of 'Innovating at the Speed of Life' complements DAFZA's sharp focus on innovation as a driver for business and economic growth. We look forward to helping Terumo share its creative solutions and set new benchmarks for healthcare in the region and beyond."
Mohammad Ismail, General Manager of Terumo Middle East, added: "Through our new HQ, Terumo will be able to facilitate business operations in the region and ensure timely and efficient distribution of our products and services to our distributors as well as engage key opinion leaders and patients at a more personalized level. We expect that our presence in Dubai will help us focus more on serving local and regional patients by making our solutions easily accessible. We will also leverage DAFZA's numerous incentives such as 100 per cent exemptions on corporate and personal income taxes, full foreign company ownership and repatriation of capital and profits, a dedicated logistics center with 24-hour services, single-window administrative support, advanced infrastructure, and investor-oriented management, among many others. This is the best place for us to reach out to a number of the most promising healthcare markets in the world."
Terumo's 800-square-metre leased area will accommodate Terumo's comprehensive range of products and accessories especially used for interventional cardiology, interventional oncology, peripheral intervention, pharmaceutical, cardiovascular, diabetes management and other medical products like syringe and infusion pumps, infusion sets, safety hypodermic needles and dental needles, among others.
Categories