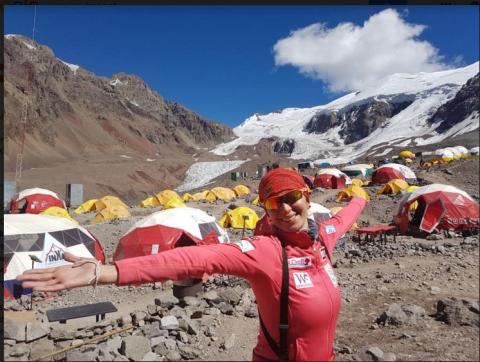 Renowned Lebanese mountaineer Joyce Azzam achieved yet another accomplishment in her career by successfully reaching the summit of Cerro Aconcagua (6,962 meters), the highest peak in the Argentinian Andes chain.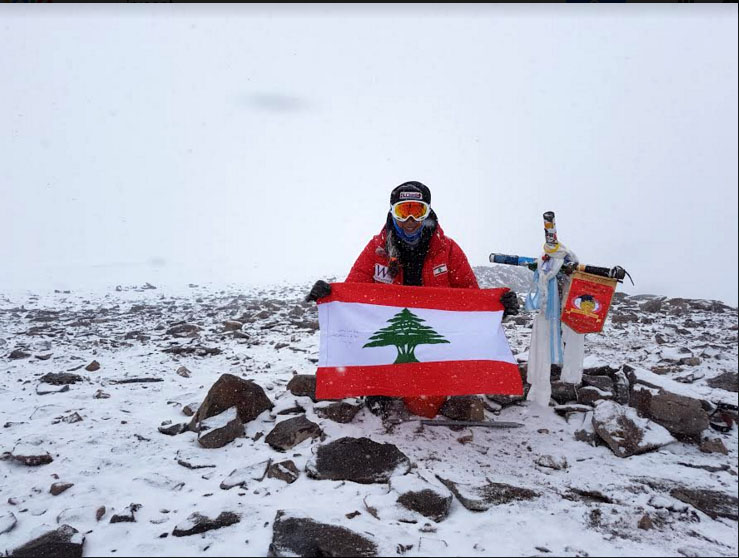 Joyce travelled from Lebanon to meet a welcoming and very warm hospitable crowd of Lebanese-Argentinians, including the ambassador of Lebanon in Argentina His Excellency Mr. Antonio Andary. She began her conditioning and acclimatization with Guillermina Elias, a female Argentinian from Lebanese origin who longs to reconnect with her roots. The conditioning lasted for four days enabled her to reach Plaza de Mulas, the base of Aconcagua at 4300 meters to begin her ascension to high camps. During her unique and courageous eighteen-day endeavor (16 days to go up and 2 days to go down back to the base) she faced different challenges and obstacles, confronting impressive natural and psychological strains. Azzam was determined though not to break her stride and move on to the next levels until successful completion of her extraordinary mission. Crowning her journey and always aware of its objectives, Joyce raised the Lebanese flag signed by His Excellency the President of the Republic General Michel Aoun on the highest  summit of South America.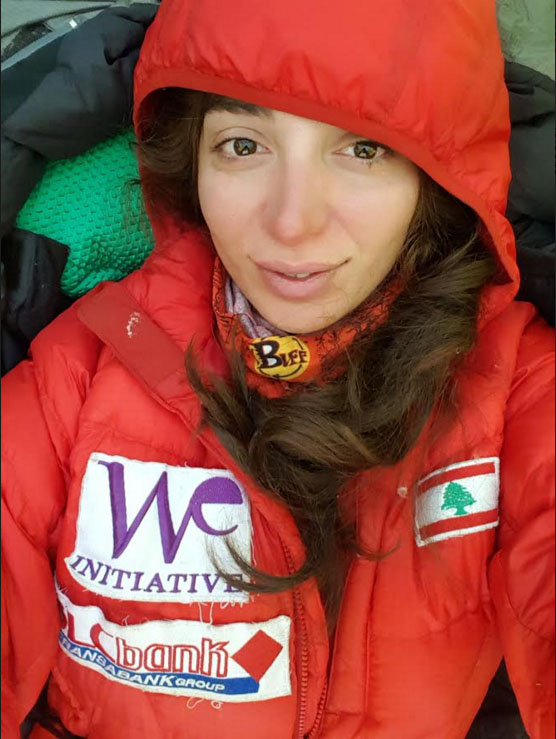 Joyce Azzam is the ambassador of the WE Initiative from BLC bank, a landmark program that is now world-renowned, aiming at empowering women and helping them reach their full potential.
Along this support from BLC Bank, Joyce was also endorsed by Alfa Telecommunications for her last trip to Argentina.
She also benefits from the support of Mrs. Claudine Aoun Roukoz, in her continuous actions aiming to support Lebanese women empowerment. As well as, the backing of the Patrouille Des Sommets(PDS) led by General Chamel Roukoz.
Joyce Azzam is not a new face in mountaineering. She has conquered so far 21 prominent summits around the world including Carstensz Pyramid, Papua New Guinea (4,884 meters), Mount Whitney, USA (4,424 meters), Mont Blanc, France (4,813 meters), Mount Elbrus, Caucasius - Russia (5,642 meters), Mulhacen, Andalusia Spain (3,479 meters), etc. She is a Conservation Architect who strives to inspire, through her mountaineering spirit and projects, all Lebanese women and girls showing them that nothing is impossible to achieve when there is strong determination and willingness to succeed. Through mountaineering, Joyce strives to prove that the hardest challenges can be overcome and the craziest dreams realized. For that end, she is willing to climb any summit with Lebanese women from all over the world to reconnect the diaspora with their Lebanese identity, for them to feel proud of their homeland by conquering the highest peaks in the world.
Joyce has a series of highly ambitious mountaineering adventures planned for 2017 and 2018, which are part of the "Explorers Grand Slam project".  She intends for instance to go to Denali in Alaska, and Kilimanjaro in Africa for 2017, thus becoming the first Lebanese woman to raise the national flag on the highest 7 summits of the world and the 2 poles. Joyce's mission is regarded as one of the hardest and greatest mountaineering achievements. To date, only 51 individuals in history (only 12 of whom are women) were able to complete this challenge. This will be a first achievement for a woman in the history of Lebanon and the whole Arab region.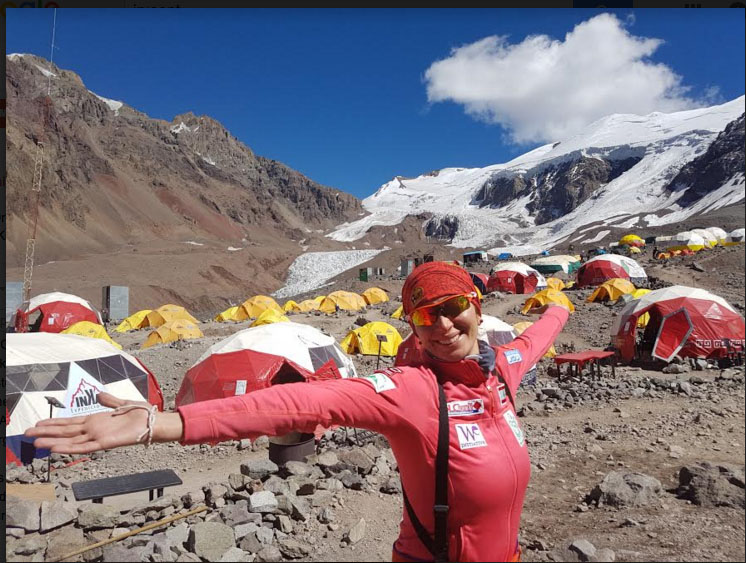 About Joyce Azzam
Joyce Azzam is a Conservation Architect with a MA in Conservation of Historic Cities and Buildings. She is currently a PhD Candidate in Landscape & Environment at La Sapienza University of Rome. She loves to research innovative approaches to protect and conserve cultural heritage specifically "Cultural Routes & Landscapes" as much as she loves to enjoy the outdoors sports and activities. Joyce has achieved first place as part of a 40km trail-running team competition organized by the Lebanese Army Rangers Regiment. Moreover, she completed the grueling "Tour de Suisse" cycling, and finished 3 times the 42 kilometers edition of the Beirut Marathon. She also has numerous other major sports records and accomplishments on both Lebanese and international scales.
Categories