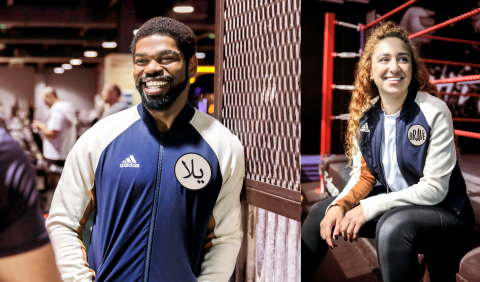 adidas inspires self-expression in sport with new varsity-style jacket
A contemporary take on the traditional letterman jacket, VRCT celebrates the heritage of team pride with customizable patches.
James Harden, Denise Schindler and Ning Zetao have created their own patches, each featuring a word that represents their personal story.
Dubai-based adidas athlete, Walid Yari, mountaineer Tima Deryan, body positive activist Lu D'souza and TV presenter Enjy Kiwan each represent their badge in a local photoshoot.
adidas Middle East created a YALA badge exclusive to the Middle East
Dubai, September 2019 – adidas unveils the VRCT jacket, a fresh take on the classic varsity look that celebrates the team pride and self-expression. Paying homage to the traditional letterman jacket, VRCT features a customizable patch that invites athletes to show the world who they are.
Designed to be worn before and after training, VRCT takes reworks an iconic design for a classic bomber aesthetic with a sleek, modern fit. Featuring flexible, lightweight material, the jacket offers maximum freedom of movement, while a soft double-knit fabric enables year-round wearability.
To inspire creativity and self-expression, the VRCT jacket features a classic adidas 'A' team patch that can be interchanged. Athletes can choose a word selected by some of adidas' leading creators including James Harden (FAMILY), Denise Schindler (I'MPERFECT) and Ning Zetao (BRAVE). Each athlete worked collaboratively with adidas to create a patch that represents what they stand for and their own personal story.
The inspiration behind her confidence and entrepreneurial success, shaping her into the person she is today.
Challenging the notion of perfection in society by proving that beauty comes in all shapes and sizes.
For overcoming challenges and summiting the highest peaks in the Middle East despite being faced with obstacles.
For every time he pushes himself forward to be the best.
James Harden, NBA MVP said: "Sport is about showing the world who you are, and my style on and off the court has always been a big part of how I do that. VRCT takes the iconic varsity design and makes it a canvas for self-expression."
The VRCT Jacket will be available from 12 September 2019 in stores and online at https://shop.adidas.ae/en/ and available in a selection of colorways.