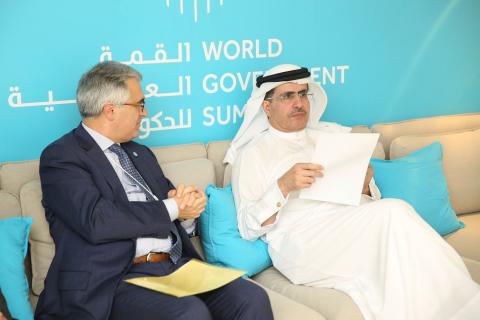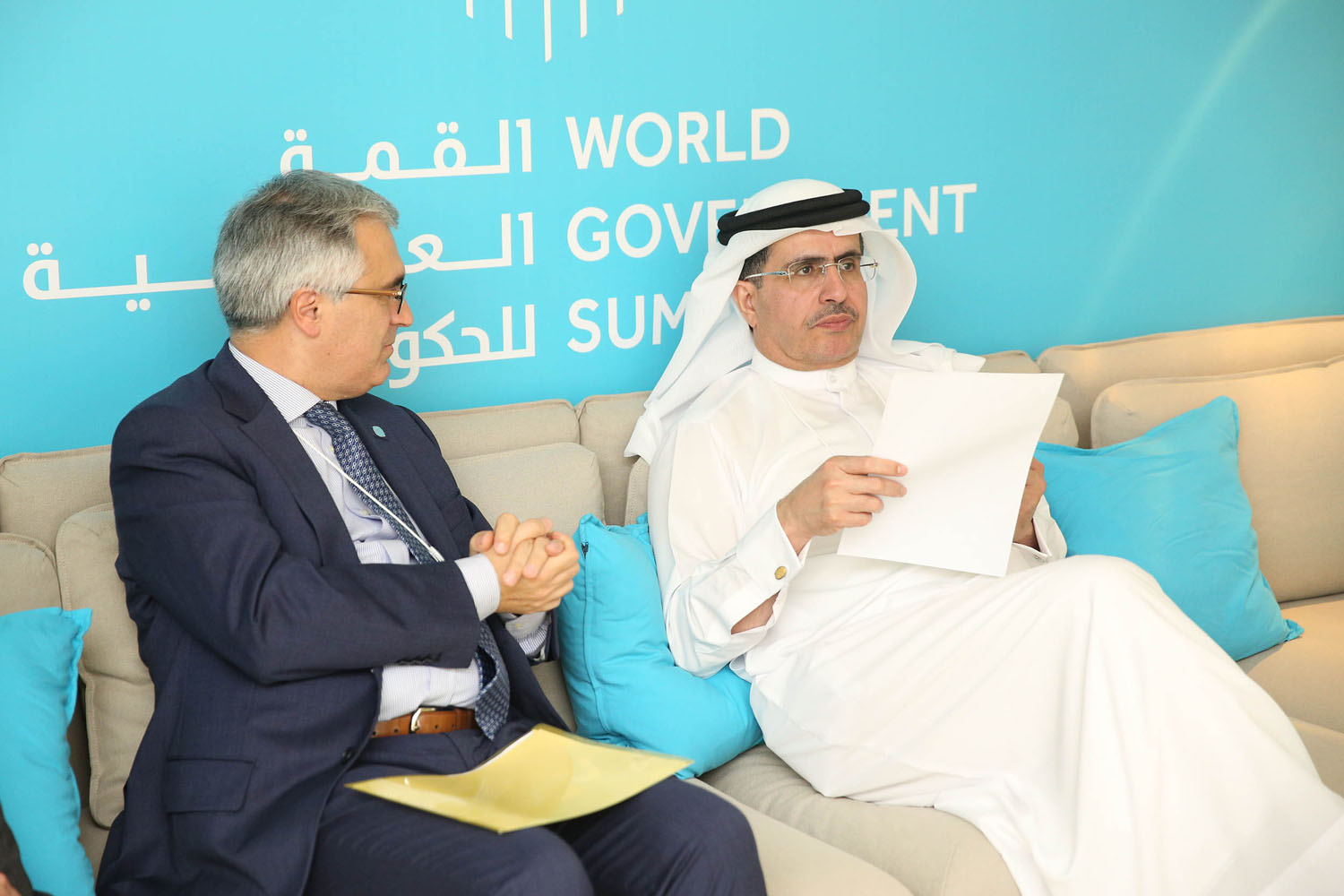 Dubai Electricity and Water Authority (DEWA) is participating in the 5th World Government Summit, which is held under the patronage of HH Sheikh Mohammed bin Rashid Al Maktoum, Vice President and Prime Minister of the UAE and Ruler of Dubai. DEWA is the Sustainable Energy Partner of the World Government Summit, where it is highlighting its latest innovative projects and initiatives.
On the first day of the summit, HE Saeed Mohammed Al Tayer, MD & CEO of DEWA, met with HE Liborio Stellino, the Italian Ambassador to the UAE, and Valentina Setta, Consul General of the Italian Consulate in Dubai, to discuss ways to encourage Italian companies to take part in clean and renewable energy projects in Dubai. HE Ahmed Buti Al Muhairbi, Secretary General of the Dubai Supreme Council of Energy was present, along with Abdullah Al Hajri, Executive Vice President of Customer Happiness, Dr Yousef Al Akraf, Executive Vice President of Business Support and Human Resources, and Khawla Al Mehairi, Vice President of Marketing & Corporate Communications at DEWA.
Al Tayer reiterated the importance of cooperation between DEWA and Italian companies in the energy sector, particularly clean energy, and developing further relationships, making use of the expertise of both sides. Dubai has all the capabilities to achieve top global rankings and has already become a leading global hub for sustainability and green economy. The two sides also emphasised the need to build on the excellent relationships between the two countries, as Italy is the second largest European trade partner with the UAE.
During the meeting, Al Tayer highlighted DEWA's most important development projects and strategic initiatives to achieve the Dubai Clean Energy Strategy 2050 to make Dubai a global hub for clean energy and green economy, to provide 7% of Dubai's total power output from clean energy by 2020, 25% by 2030, and 75% by 2050.
The Italian ambassador commended the World Green Economy Organisation (WGEO), which was launched by HH Sheikh Mohammed bin Rashid Al Maktoum, at the 3rd World Green Economy Summit (WGES) in Dubai on 5 October 2016. WGEO is supported by the United Nations Development Programme (UNDP). He also praised the launch of the Private Sector Platform of WGEO by HH Sheikh Ahmed bin Saeed Al Maktoum, Chairman of the Dubai Supreme Council of Energy. This new launch is the first of WGEO's seven platforms to develop innovative solutions for climate change and other challenges facing the environment and society.
The Italian delegation showed interest in participating in DEWA's leading clean energy projects. The ambassador commended DEWA's efforts to achieve the sustainable development of Dubai and reduce Dubai's carbon footprint to achieve a better future for generations to come.
Categories