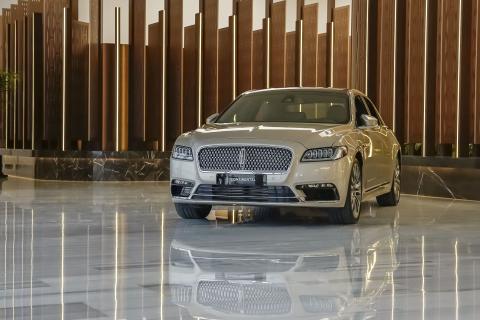 >The flagship sedan Continental launched in the Middle East is designed and engineered to make every action as easy as possible for both the driver and passengers; conveys elegance, athleticism and dynamics
>Continental's exclusive available 3.0-litre twin turbo V6 engine, which produces 378 HP and 575 Nm of torque at 3,500 RPM, is designed for smooth, responsive quiet power*
>Available Perfect Position front seats can be adjusted up to 30 ways and offer a new era of wellness and luxury, as Active Noise Control cancels out unwanted noises while enhancing desired sounds
The highly-anticipated, impressively-elegant Lincoln Continental – designed to appeal to those who are looking for something different in the luxury market – has launched in the Middle East, marking the rebirth of a legendary nameplate that served to carry state leaders and monarchs for decades. The introduction of the sophisticated and stylish full-size sedan ushers in a new era of extravagance, delivering effortless power and a comfortable, relaxing ride to the most discerning clients. "The 2017 Lincoln Continental has been designed to be as enjoyable to ride in as it is to drive, and provides features that contribute to an experience so serene you might think you're still at home," says Alex Schaeffer, Director, Lincoln Middle East. "Customers in the Middle East are undoubtedly some of the most discerning in the world, and a quality product like the Continental offers the ideal experience in the level of luxury mobility to which they are accustomed."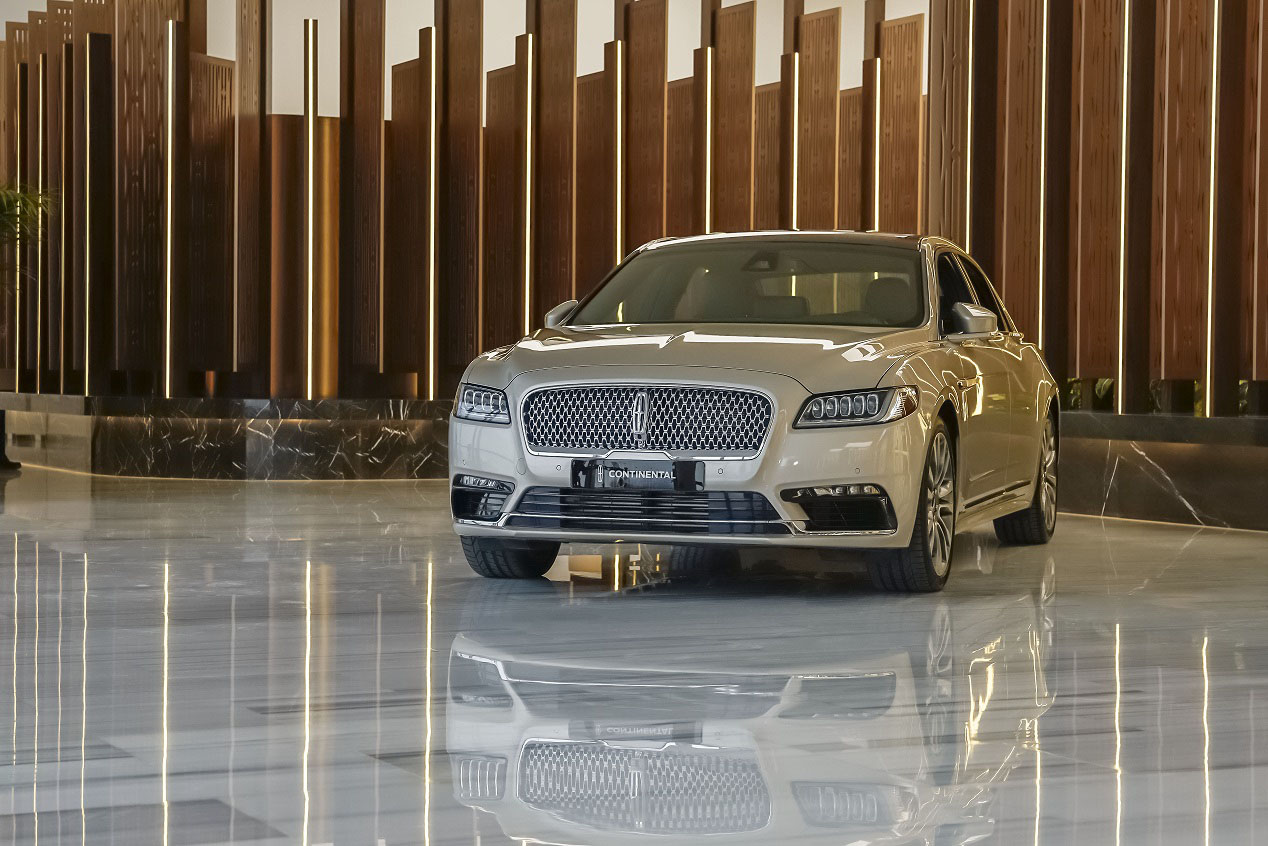 Lincoln Experience The Lincoln Experience is brought to life through the available Lincoln-exclusive 3.0-litre Twin Turbo V6 engine, as well as intangible elements like the quiet cabin provided by the Active Noise Control system. The Continental's advanced, intuitive technologies and personalised features create warm, welcoming experiences that truly define quiet luxury.
Features that make the new Lincoln Continental a haven of refined comfort include Lincoln's available new signature Perfect Position front seats and concert-quality Revel audio with specially designed doors for optimal positioning of the speakers. A warm, inviting welcome sets the tone for Lincoln Continental ownership. The vehicle comes to life as the driver approaches and receives a warm embrace through Approach Detection technology – exterior welcome mats illuminate, and soft exterior and interior lights glow to provide feeling of a warm welcome. Also, signature LED accent lights on the headlamps and tail-lamps add a sense of warmth, while ambient interior lights on the door panels, instrument panel and cupholders softly illuminate the interior. A sense of uniqueness continues with E-latch entry, an exclusive feature to Lincoln. Simply pressing a button on the door handle activates the new microprocessor-controlled E-latch electronic door handle, releasing the door for easy entry, while the available auto-cinch feature secures the door latch when gently closed.
Perfect Position front seats are inspired by those used in private aircraft; a patented comfort carrier system conforms to and supports the body, enhancing comfort. The seats have available heating, cooling and massaging functionality, along with up to 30-way adjustability. The design on the Revel speaker grilles goes far beyond looks. The pattern has been designed, engineered and tested to produce the best sound possible. More than 200 speaker grille designs were considered to optimise the sound quality.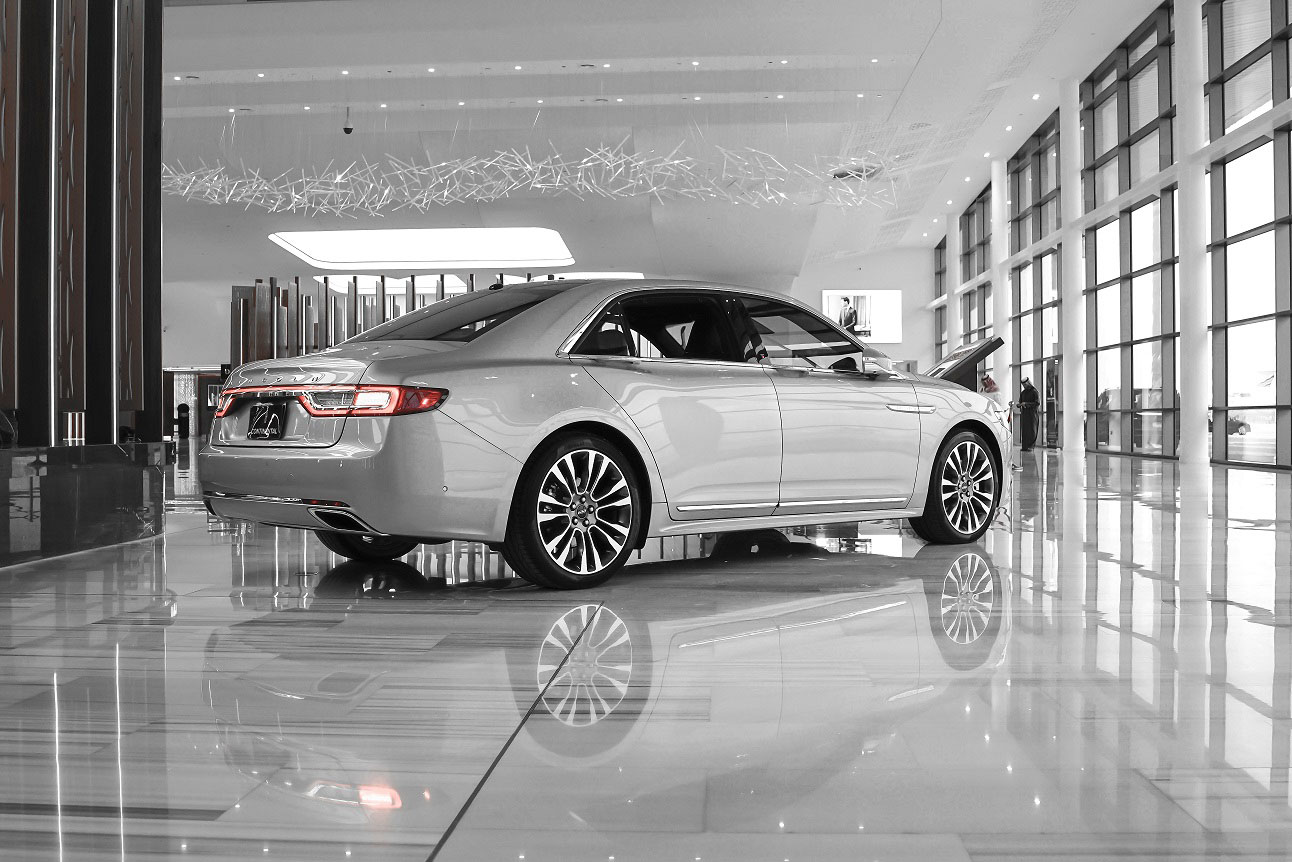 Intuitive Technology The new Lincoln is designed to make the drive easier and more enjoyable. Continental features a variety of technologies designed to help keep the driver in control. Effortless assistance for the daily commute is available with optional adaptive cruise control, which can automatically slow the vehicle in slowing or stop-and-go traffic – resuming speed when traffic clears. To take the stress out of parallel and perpendicular parking, Lincoln's Active Park Assist will steer your vehicle into a parking space, while a new available 360-degree camera system allows the driver to see around the car when in reverse. And available Pre-Collision Assist with Pedestrian Detection uses radar and camera technology to scan the roadway ahead and, if a collision risk with a vehicle or pedestrian is detected, provides a warning to the driver. Lincoln-Exclusive Engine Provides Effortless Performance* An all-new, Lincoln-exclusive 3.0-litre Twin Turbo V6 leads available engine choices for the new Lincoln Continental. When paired with an intelligent all-wheel-drive system, the twin-turbocharged engine produces GSO-rated 378 HP and 575 Nm of torque for effortless performance and refinement. The new Lincoln Continental provides further engine alternatives in the shape of a 2.7-litre Twin Turbo, 344 HP engine with all-wheel drive and 575 Nm of torque, or the 3.7-litre all-wheel drive 313 HP, 379 Nm of torque option. Distinctive Design The new face of Lincoln is highlighted by available adaptive LED headlamps that help deliver cleaner, clearer lighting for drivers, complemented by the all-new one-piece Lincoln signature grille. The Lincoln Continental profile is distinctive and instantly recognisable – sleek, athletic, with an understated confidence and re-interpreted nameplate that still resonates. Amenities throughout subtly transform the ordinary into extraordinary, from a segment first innovative door latching system that effortlessly opens the door, to an available expansive twin-panel moonroof that transforms the interior, creating a feeling of airy spaciousness and emphasising the understated, quiet luxury.
* As per Gulf Standardisation Organisation (GSO) ratings.
Categories