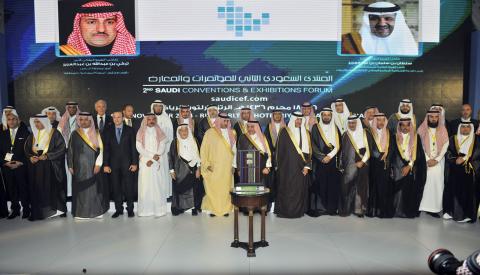 Riyadh, November 19, 2014 – H.R.H. Prince Sultan Bin Salman, President of the Saudi Commission for Tourism and Antiques (SCTA), has honoured Riyadh Exhibitions Company (REC) in recognition of its ongoing efforts in promoting the Meeting, Incentives, Conferencing and Exhibitions (MICE) sector in the Kingdom of Saudi Arabia (KSA). The honour came in conjunction with REC's participation as a strategic partner of the 2nd Saudi Conventions and Exhibitions Forum held under the patronage of H.R.H. Prince Turki Bin Abdullah Bin Abdulaziz, Governor of Riyadh Province. The event was attended by H.R.H. Prince Saud Al-Abdullah Al-Faisal Bin Abdulaziz, Chairman of REC's Board of Directors.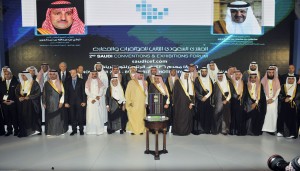 During the honouring ceremony, REC was commended for its continuous efforts in activating and boosting the pivotal role of the MICE industry in driving economic and tourism growth while also contributing to the industry's infrastructure development across the Kingdom.
Receiving the honorary shield, H.R.H. Prince Saud Al-Abdullah Al-Faisal Bin Abdulaziz said: "REC has always been committed to employing all competences to develop the conference and exhibition industry by supporting and activating channels of communication among local and foreign companies to address government efforts. We are keen to leverage on the best-in-class international expertise, knowledge and experiences from across leading business sectors. Today, we call to intensify the efforts to develop the MICE sector, which is poised to offer great benefit in terms of increasing effective communication, exploring job opportunities, disseminating knowledge, and professional practices while contributing towards building relations and exchanging cultures with other countries. There is a need today for a comprehensive plan to improve the industry to be at par with global standards, especially when the local economy performance competes and even exceeds that of many international markets."
The 2nd Saudi Conventions and Exhibitions Forum featured the latest trends in the conference and exhibitions industry. It discussed the development of the industry's organizational structure while exploring investment opportunities to establish and operate conventions, exhibitions and professional development centres. The event further shed light on the Saudi cities of great competence to host world-class conventions and exhibitions. The event also discussed the necessary steps needed to reach set objectives.
Categories