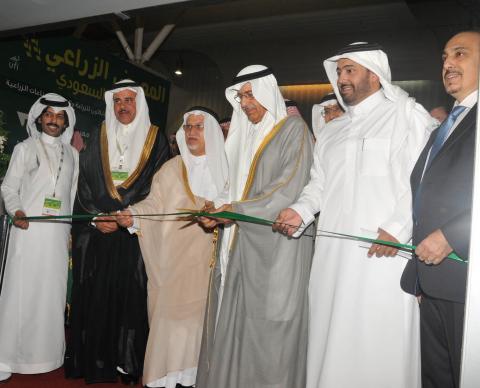 Premier agri-business event hosts 350 exhibitors from 40 countries 
Riyadh – September 08, 2014: H.E. Dr. Fahd Abdulrahman Balghunaim, Minister of Agriculture, Kingdom of Saudi Arabia (KSA), inaugurated on Sunday, September 7, 2014 Saudi Agriculture 2014, the 33rd international agriculture, water and agro-industry trade show. Taking place until September 10, 2014 at the Riyadh International Convention and Exhibition Center, the leading exhibition gathers over 350 exhibitors from more than 40 countries to showcase the latest industry products and technologies to the local and regional visitors. 
Saudi Agriculture attracted dignitaries, high-ranking government officials, private sector professionals, and key players from different segments of the regional agriculture sector during the opening, offering them a highly effective and successful networking opportunity. The event spots light on a variety of industry leading solutions and products represented under various categories, including agriculture building construction, animal health and production, finance and banking, machinery and equipment, chemicals and fertilizers, fisheries and fish farming, greenhouses, irrigation and landscaping equipment, and organic farming.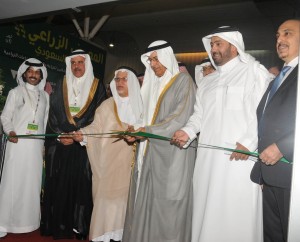 To offer its visitors a deeper insight into the KSA's agriculture sector, the show will open Saudi Agriculture Seminar Series on Monday, September 8, 2014. The seminar series will focus on the four key topics,  including 'Agribusiness in Saudi Arabia and Exploring Future Investment Strategies,' 'Exploring Future of Greenhouse Management and Organic Farming in Saudi Arabia,' 'Growing Industries of Poultry Farming and Aquaculture in Saudi Arabia,' and 'Saudi Arabia Irrigation Challenges and Future Water Resource Solutions.' 
The seminar sessions will provide a closer look to the KSA's investment plans, currently estimated over USD 12 billion for domestic agriculture projects and over USD 15 billion for global agriculture investments in nearly 35 countries to increase future food security. Running till September 9, 2014, the seminar will address the current trends in technology and the worldwide agriculture industry to meet the challenges and opportunities in Saudi Arabia's agriculture industry. 
Held concurrently with Saudi Agriculture 2014 are Saudi Agro-Food 2014, the 21st international trade show for food products, ingredients and technologies,  and Saudi Food-Pack 2014 – the 4th international trade exhibition for food processing & packaging. The show is accredited by the Global Association of the Exhibition Industry (UFI). 
For more information, visit: http://www.saudi-agriculture.com. 
Categories