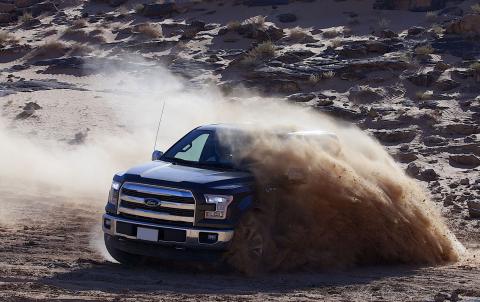 EcoBoost technology combines smaller overall size with turbocharging, direct injection and variable valve timing to bring customers outstanding performance and fuel economy
Ford's 1.0-litre EcoBoost engine is named 2016 International Engine of the Year "Best Engine Under 1.0-litre" for the fifth consecutive year – despite increased competition from major global automotive manufacturers in the sub 1.0-litre class
Ford achieves ninth win for fuel-efficient and sporty engines, previously 'overall winner' a record three times, and 'best newcomer'; powers one in five Ford vehicles sold in Europe
An Iconic Mustang dashes down the highway. A deft Focus navigates downtown traffic. A Ford GT screams down the race track. A capable Ford Explorer fords a stony creek. A Ford F-150 delivers best-in-class 5,534Kg towing power. But what's under the hood powering these cars? All that oomph comes from an EcoBoost engine.
Traditional engine thinking is that size equals power, and that's why Ford's EcoBoost technology has amazed the skeptics. While the smaller size of EcoBoost engines delivers greater fuel economy, they deliver the power of larger engines. The secret behind the sizzle is EcoBoost technology combines smaller overall size with turbocharging, direct injection and variable valve timing to bring customers outstanding performance and fuel economy. Ford EcoBoost engines deliver up to 20 percent better fuel economy than larger-displacement gasoline engines.
Ford's tiny yet powerful 1.0 litre EcoBoost engine has been voted best in class at the International Engine of the Year Awards for the fifth year in a row. Judges praised the combination of drivability, performance, economy, refinement and technology that continues to set the standard.
The frugal three-cylinder EcoBoost engine was named "Best Engine Under 1.0-litre" by a panel of 65 automotive journalists, from 31 countries, to win in its class each and every year since it launched. This year the EcoBoost engine finished ahead of 32 competitor engines, 19 more than it competed against in 2012. Significantly, 2015 also saw an increase in competition from global automotive manufacturers of sub 1.0-litre, turbocharged engines with direct fuel injection.
In 2014, the 1.0-litre EcoBoost became the first engine to be named overall International Engine of the Year for a third time in a row, and in 2012 was also named "Best New Engine".
"The 1.0-litre EcoBoost was a game-changer, and despite others following our lead, it remains the undisputed benchmark in its class five years on," said Kalyana Sivagnanam, Vice President, Sales, Marketing and Service of Ford Middle East and Africa. "The spirit of innovation continues to drive us as we look to use the same smart thinking for a new breed of efficient, clean and powerful down-sized diesel engines."
Available with 100 PS, 125 PS and 140 PS, and even 180 PS in the Ford Fiesta R2 rally car, the 1.0-litre EcoBoost engine powers vehicles in 72 countries worldwide. In 140 PS form, the engine delivers a bigger power-to-litre ratio than a Bugatti Veyron. A road-legal Formula Ford fitted with a 205 PS version of the engine also lapped the famous Nürburgring circuit, in Germany, in 7 minutes 22 seconds; a performance that put it ahead of a host of supercars including the 600+ horsepower Lamborghini Aventador, Ferrari Enzo and Pagani Zonda.
"That it's won the overall award three times and keeps getting the jurors' votes now highlights just how special Ford's 1.0-litre EcoBoost is," said Dean Slavnich, co-chairman of the 18th International Engine of the Year awards that were held in Stuttgart, Germany, and editor-in-chief of Engine Technology International magazine. "It's a fantastic testament to how down-sizing and greater fuel efficiency needn't mean sacrifice in other areas like power, refinement and drivability, and can even help enhance these elements."
The technology of Ford's EcoBoost petrol engines is now being employed in the latest downsized diesel engine from Ford, the 2.0-litre EcoBlue launched in the Ford Transit earlier this year. Utilising a low inertia turbocharger, high pressure direct fuel injection, integrated manifolds, belt-in-oil and other low friction elements it delivers a 13 percent increase in fuel efficiency and 20 percent more low-end torque.*
Globally, Ford's range of powerful yet fuel-efficient EcoBoost engines includes the 1.5-litre, 1.6 litre, 2.0-litre and 2.3-litre four-cylinder engines, and the 2.7-litre and 3.5-litre V6 engines. The latter powers the all-new Ford GT supercar that will return to racing in Le Mans later this month.
In the Middle East and North Africa region various EcoBoost engines are offered in Ford vehicles such as:
Ford Edge – Featuring two new EcoBoost engines
The all-new Edge will feature three engine options, two of which are new EcoBoost powerplants– a standard twin-scroll 2.0-litre EcoBoost® four-cylinder and a 2.7-litre EcoBoost V6. A normally aspirated 3.5-litre V6 engine will also be offered. All will be equipped with dual exhaust and a six-speed automatic transmission. Edge represents the first Ford vehicle to feature standard EcoBoost power.
The twin-scroll 2.0-litre EcoBoost, offering an estimated 253 PS and 378 Nm of torque, is significantly improved over the previous 2.0-litre EcoBoost. Beyond efficiency advantages, this new engine will also provide more capability. The Edge is equipped with the 2.0-litre EcoBoost engine and can be specified with the newly available all-wheel drive and a towing package capable of hauling a 1588kg trailer.
The 2.0-litre EcoBoost engine is a twin-scroll design enabling optimised camshaft timing for improved engine performance and reduced turbo lag. A new, lighter engine block casting along with new aluminium balance shaft assembly shaves six pounds from the engine's gravitational weight. Other changes include lighter pistons; a newly designed, integrated exhaust manifold; and a new, high-pressure direct-injection fuel system for finer fuel atomisation. These upgrades pave the way for an increased compression ratio of 9.7:1, up from 9.3:1, for improved overall fuel efficiency.
On the other side of the engine spectrum is the Edge Sport, with an exclusive, all-new 2.7-litre EcoBoost engine that will provide an exceptional combination of power and efficiency. Setting a new standard in world-class powertrain engineering, this twin-turbocharged V6 is one of the world's most advanced engines. The 2.7-litre EcoBoost uses the same compacted graphite iron in its cylinder block as is used in the 6.7-litre Power Stroke. This advanced cylinder block allows for a remarkably stiff and compact design that returns exceptionally refined noise, vibration and harshness control. The compacted graphite iron core is mated with a die-cast aluminium engine-block ladder frame and composite oil pan, saving weight by applying advanced materials where they are needed most.
The strength of the compacted graphite iron cylinder block allows the 2.7-litre EcoBoost engine to produce impressive power and torque for its size. Compact and efficient, the all-new engine can produce the power and torque of a mid-range V8.
Expected to deliver 340 PS and 542 Nm of torque, this 2.7-litre EcoBoost will ensure that the Edge Sport is the highest-performance Edge ever built.
Ford Mustang – Featuring a 2.3L EcoBoost
Specifically tuned for use in Mustang, the all-new 2.3-litre EcoBoost engine brings the performance Mustang drivers expect and the ability to deliver projected best-in-class fuel economy. Turbocharging, direct injection and twin independent variable camshaft timing deliver 324 PS and 439 Nm of torque.
Ford F-150 – Featuring a 3.5L EcoBoost
The Ford F-150 trucks equipped with EcoBoost engines will also benefit from standard Active Grille Shutters. The Active Grille Shutters stay open when extra engine cooling is required, such as during low-speed stop-and-go driving or while working in hot weather. The shutters automatically close to reduce aerodynamic drag at cruising speed. A proven engine with a combination of direct fuel injection and turbocharging that provides the low-end torque that helps get big loads moving from a dead stop.
Ford Explorer – Featuring a 3.5L EcoBoost
The 2016 Ford Explorer Sport offers the 3.5-litre EcoBoost which delivers best-in-class V6 power with 370 PS and best in class torque with 475 Nm of torque @ 3,500 rpm.
Ford Focus – Featuring a 1.5L EcoBoost
The 2016 Ford Focus remains one of the world's most popular nameplates, offering features normally found in vehicles with much higher price tags. Available technology like Blind Spot Information System with cross-traffic alert, lane-keeping assist, a heated steering wheel and LED signature lighting are just a few examples. The Focus is offered with 1.5-litre EcoBoost engine with 150 PS with 240 Nm of torque.
Ford Focus ST – Featuring a 2.0L EcoBoost
The 2016 Ford Focus ST is ready for another year of spirited driving and great performance value. Its tenacious suspension with sporty spring and shock absorber tuning, electric power-assisted steering, gutsy 2.0-litre turbocharged 250 PS EcoBoost engine and six-speed manual transmission deliver a sharp, dynamic performance.
Categories