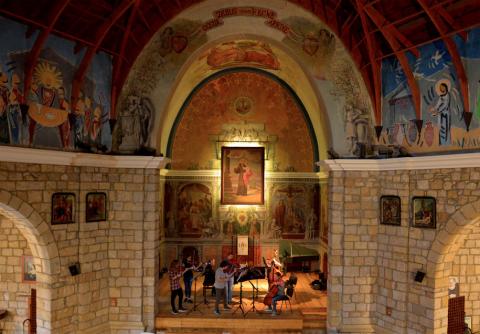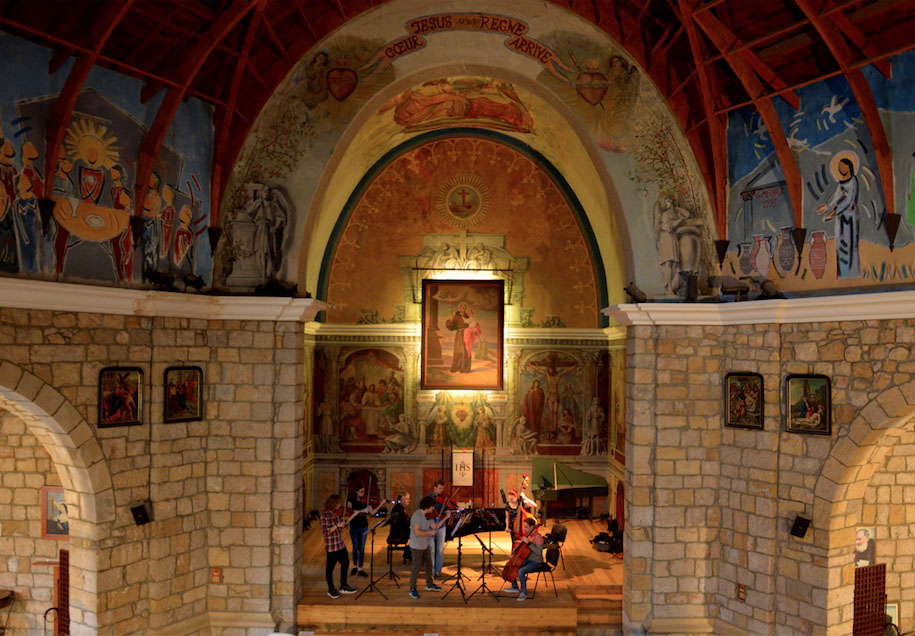 Under the patronage of the Ministry of culture, in coordination with the Lebanese National Higher Conservatory of Music, the cultural centers of several embassies, and the support and trust of Les Musicales de Baabdath sponsors and friends, the nine-performance season takes place from the 27th of October till the 5th of November at Saint Anthony of Padua Church in Baabdath. One of the concerts (November 1st) will take place at the Assembly Hall of the American University of Beirut (AUB).
Promise kept offering quality music to all out of the big cities. Les Musicales de Baabdath have chosen guest artists of international reputation, enthusiastic to participate in this event dedicated to classical music.
The young Lebanese violist Ribal Molaeb opens this new season on October 27 alongside the clarinetist Vera Karner and the pianist Mitra Kotte, both highly praised young Austrian musicians. Together, they will alternate solo and trio pieces by romantic composers such as Brahms and Schumann.
As part of his world tour, the Russian guitarist Artyom Dervoed arrives straight from Chicago on October 28 to perform on the second evening. The program features solo works by Paganini, Rodrigo and Tedesco as well as 2 pieces that will be played with Armenian Mirzoyan Quartet. This latter string quartet will perform on October 29 in a program partly dedicated to Edvard Mirzoyan.
The performance of October 30 will be dedicated to piano with the French outstanding pianist François Dumont, who will give a recital titled "Estampes et Tableaux". Works by Debussy, Liszt and Mussorgsky will be the program highlights.
For the fifth evening, on October 31, Les Musicales de Baabdath welcome the international French trumpeter Romain Leleu and his chamber music ensemble for an eclectic tribute to the trumpet. The pieces Leleu will perform range from Saint-Saëns' unclassifiable septet - in which the pianist François Dumont will take part - to works by Enesco, Piazzolla, and Jobim.
On November 1st, the Assembly Hall of the American University of Beirut will resonate with the music of Romain Leleu's trumpet and Ghislain Leroy's pipe organ in a unique concert of creativity and exquisite sounds with works by Bach, Purcell, Brandt and Damase.
For the seventh evening, on November 3, Armenian violinist Zohrab Tadevosyan and his wife pianist Anna Mirakyan will offer the audience a riveting and impassioned performance, with Beethoven's seventh sonata, Grieg's second, and Poulenc's unique sonata for violin and piano.
For the eighth evening, on November 4, Irish soprano Helen Kearns will enchant the audience with her sensual voice, accompanied on the piano by François Dumont, in a program fully dedicated to Mozart. The surprise remains François Dumont, who will interpret two piano sonatas by Mozart alternating with opera arias.
Finally, on the closing night of Les Musicales de Babadath 2018 season (November 5), the two highly talented Dutch artists, cellist Joris Van Den Berg and pianist Martijn Willers will perform a duets program. Internationally renowned for their masterful dialogue between the two instruments, the musicians will crown the closing concert with Chopin's Polonaise Brillante opus 3.
The complete program, as well as information related to guest musicians are available on Les Musicales de Baabdath website: www.lesmusicales.org
To ensure seats, music lovers are advised to come early. Doors to the church of Saint Anthony of Padua in Baabdath and to the Assembly Hall in AUB will be open starting 7:30 PM. Performances start at 8 PM sharp. Free entrance.
Categories