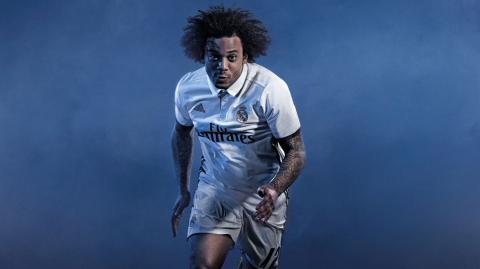 - Real Madrid stars and selected fans across the world launch kits on social media -
- Home kit pays homage to the classic shirt of 1902 –
- Away kit design reflects success of the Quinta del Buitre –
- New kits will be available from 14th July –
adidas has today revealed the new Real Madrid home and away kits for the 2016/17 season, as the likes of Gareth Bale, Marcelo, James Rodriguez and Karim Benzema aim for another successful season which could see the club secure a twelfth Champions League trophy and 33rd LaLiga title.
Paying homage to the classic shirt from 1902, the new home kit is a slightly darker shade of white than in recent seasons. The kit also brings back the classic collar and is completed with the three adidas stripes in blue, one of the club's reference colours.
The 2016/17 away kit reflects on the club's successful past and the values that have made it one of the world's biggest clubs. The purple colour is a tribute to the years of the Quinta del Buitre – the name given to the core of the Madrid team, which dominated Spanish football in the 1980s.
In another first, the club has replaced its traditional kit launch at the Santiago Bernabéu Stadium with a global social media launch involving some of the club's biggest stars – realising the desire from Madrid fans all over the world to be part of their club's kit launch.
Aimed at strengthening the connection among the club and its worldwide fan base, Marcelo, James Rodriguez, Bale, Benzema, Nacho and Zidane sent boxes of the new shirts to personalities in Australia, Japan, France, Spain, Brazil, the U.S. and Mexico. This included Madrid supporters, freestylers, musicians, actors and YouTubers from across the globe, who will be revealing the kit to their followers from today.
The kit launch will also be supported by player videos, with some of the club's biggest stars starring in and revealing the kits on their own social channels.
The home and away kit will be available from July 2016 from the adidas website and selected retailers.
For further information please visit adidas.com/football or go to facebook.com/adidasfootball, or follow @adidasfootball on twitter to join the conversation.