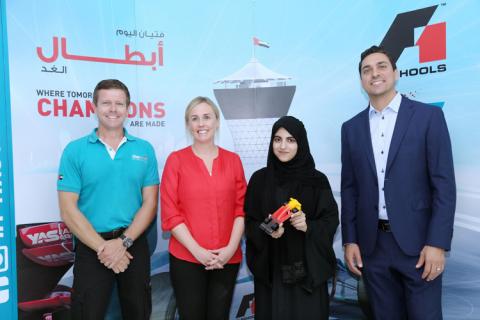 Al Shohub Private School's 'Wild Fire' design team leverages software and training from Autodesk to design, analyze, create and test their creations for 'F1 in Schools World Finals 2014'
UNITED ARAB EMIRATES, SEPTEMBER 08, 2014 — Autodesk, a world leader in 3D design, engineering and entertainment software is empowering a team of 16-year-old Emirati girls from Al Shohub Private School in Abu Dhabi in their quest for the top spot at the 'F1 in Schools World Finals 2014.' The all-girls team from Al Shohub Private School will use professional 3D design software such as Autodesk Inventor and Autodesk Flow Design to design a scale-model Formula One (F1) car of the future for this year's edition of the competition.  As the technology partner, Autodesk is helping the team with technical support and the software tools required for the project. 
'F1 in Schools,' is an international competition that challenges teams of school students to design and build their own Formula 1 team and run it as a mini-enterprise project. As the premier software partner for F1 in Schools, Autodesk provided all participating teams with free access to its full portfolio of creativity applications and professional 3D design software to bring their ideas to life in the virtual world and create their race car model made from balsa wood. 
Team 'Wild Fire' from Al Shohub Private School in Abu Dhabi is the first all-girl Emirati team in the competition, is composed of Shaikha Al Jawder, Team Manager;  Amna Al Romaithi, Car Designer; Haya Al Khaled, Deputy Car Designer; Noora Al Saian, Pit Display Designer and Mariam Al Saian, Marketing Manager. They are one of the four UAE teams that will represent the region and compete against teams from around the world in the Championships at Ferrari World Abu Dhabi on November 16 – 19, 2014.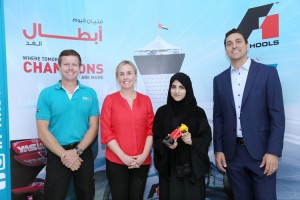 "It's inspiring to witness the amount of creativity, skill and talent that the four UAE teams participating at the F1in Schools World Finals possess, and it's especially wonderful to be able to be able to equip an all-girl's team from Al Shohub Private School with our professional 3D design tools Autodesk Inventor and Autodesk Flow Design to help them clinch a spot in the World Championships," said George Abraham, Director of Education, Autodesk. "F1 in Schools gives us a glimpse of the promising future generation of engineers and designers. We commend the F1 in Schools competition, which has grown year on year since it started in 2000, successfully proving to be an excellent outlet for young talent and in helping students realize their potential." 
The final leg of the competition will take place ahead of the 2014 Formula 1 Etihad Airways Abu Dhabi Grand Prix. This year's event will also include an evening gala awards dinner ceremony where high profile figures from Abu Dhabi and Formula 1 will be in attendance. Winners for the competition will be awarded the Bernie Ecclestone World Championship trophy and crowned F1 in Schools 2014 World Champions. The winning team will also be given the opportunity to attend the 2014 Formula One Etihad Airways Abu Dhabi Grand Prix and experience the real world of Formula 1.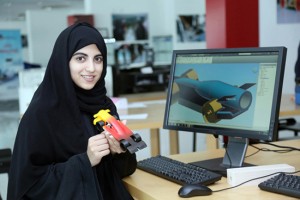 "The F1 in schools program not only allows students to experience their creations but has also helped change perceptions of Science, Technology, Engineering and Mathematics (STEM) by creating a fun and challenging learning environment for them. The initiative has greatly inspired today's young people to further develop their technical skills and spark more interest in pursuing careers in engineering, science, and technology. We believe that programs like this are integral to the future of the UAE and we affirm our continued support for similar initiatives," concluded Abdulla Al Shammari, Youth and Community Manager, Abu Dhabi Motor Sports Management. 
About F1 in Schools
F1 in Schools™ is a not-for-profit company established with committed partners to provide an exciting yet challenging educational experience through the magnetic appeal of Formula One™. F1 in Schools is rapidly realizing its potential of becoming the only truly global educational program that raises awareness of Formula One among students and school children in every region, in every country, on every continent. Spanning age ranges of 9 to19 its main objective is to help change perceptions of Science, Technology, Engineering and Maths (STEM) by creating a fun and exciting learning environment for young people to develop an informed view about careers in engineering, mathematics, science, Formula One, marketing and technology. 
The founding constitution of F1 in Schools stipulates that it is, and shall remain, a not-for-profit organization. Funds raised through sponsorship are invested in administering, developing and expanding the challenge. All income is deployed in accordance with guidelines laid down by Formula One Management.   
About Autodesk
Autodesk helps people imagine, design and create a better world. Everyone—from design professionals, engineers and architects to digital artists, students and hobbyists—uses Autodesk software to unlock their creativity and solve important challenges. For more information visit www.autodesk.com or follow @autodesk. 
Autodesk, the Autodesk logo, Autodesk Inventor and Autodesk Flow Design are registered trademarks or trademarks of Autodesk, Inc., and/or its subsidiaries and/or affiliates in the USA and/or other countries. All other brand names, product names or trademarks belong to their respective holders. Autodesk reserves the right to alter product and services offerings, and specifications and pricing at any time without notice, and is not responsible for typographical or graphical errors that may appear in this document. 
Free Autodesk software and/or cloud-based services may only be used for educational purposes and are subject to acceptance of and compliance with the terms and conditions of the software license agreement or terms of service.  
Details and restrictions available at http://usa.autodesk.com/legal-notices-trademarks.  
© 2014 Autodesk, Inc. All rights reserved. 
Categories