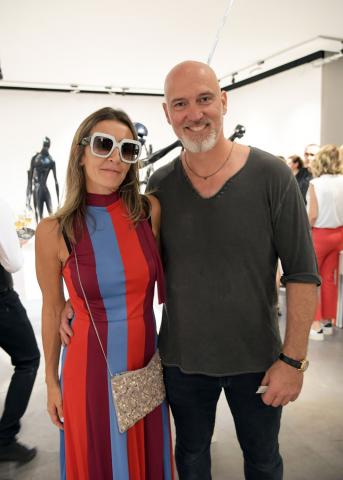 From drawings in a cave to art sculptures roaming the world
"Everything started from a close encounter with our past; the one from which we have very little information; the one from which everything began". Following this inspiration, Antonio Signorini, the Italian artist, inaugurated in Lebanon his most compelling collections "The Warriors" that was exhibited during this year in July and August at Fondaco Marcello art space in Venice, on September 17, 2018 at Mark Hachem Gallery, Beirut. The exhibition, participating in Beirut Art Fair and Beirut Art Week, and organized by The Lebanese Cultural Festivals Association, will be on display in Beirut till October 3, 2018.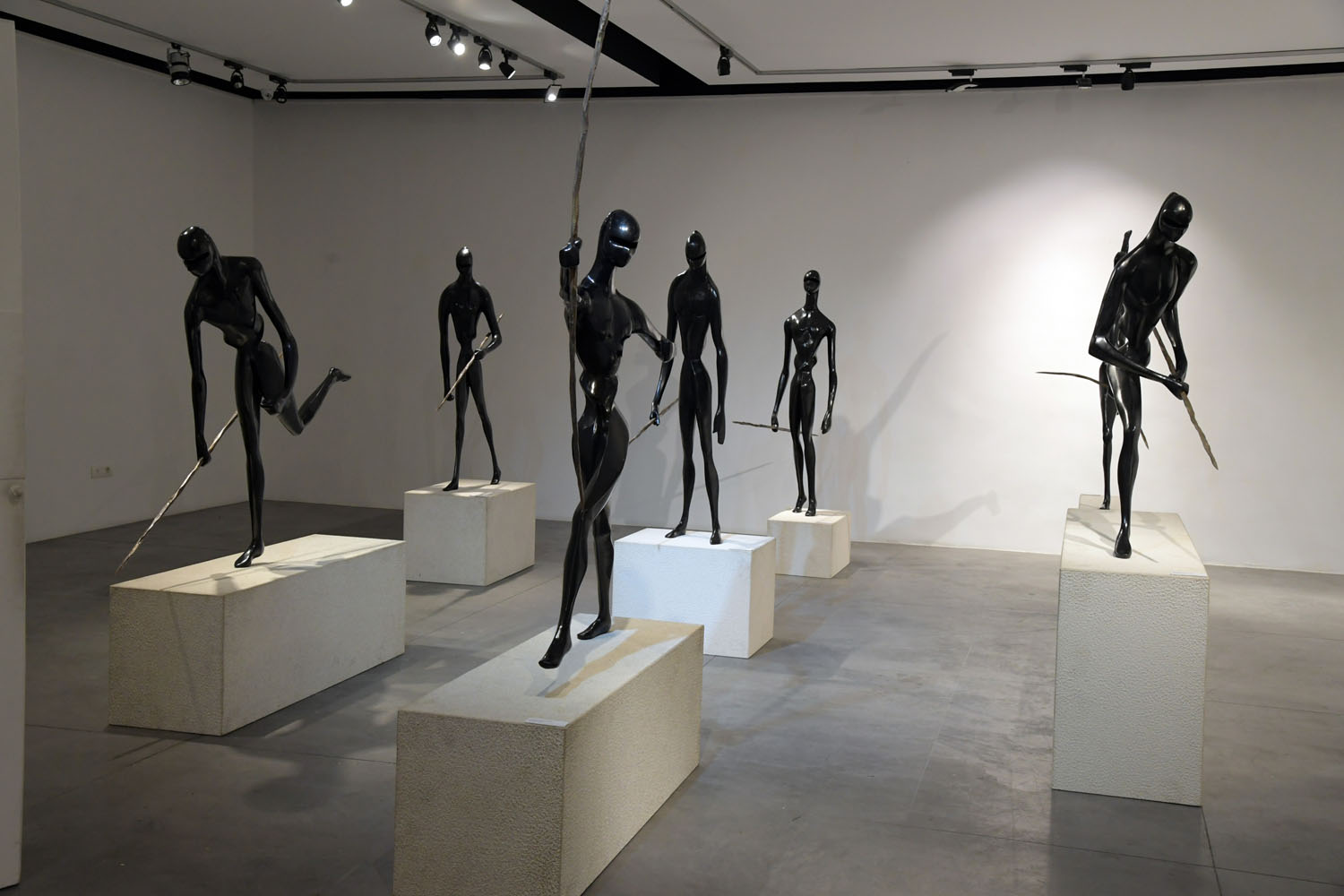 The collection is composed of 7 singular pieces in a special bronze alloy on an Iranian marble pedestal. As for his monumental piece called DNA, it was also exhibited, showing the breath of work of the artist.
Describing his artwork, Signorini said, "During my research I became fascinated by 14,000-year-old drawings. They are abstract and also real at the same time. In their purest simplicity they are also incredibly similar to drawings by children. Cave drawings are like the childhood of the world; we all start out drawing in the same way. For me, past and present do not exist. Life and art are not chronological. Art is always contemporary because it inspires emotions that are always real."
He continued by saying, "These drawings inspired me and I imagined what they would be like if they became sculpture and that is when the warrior project started in my mind. I saw my warriors running and moving in the desert, in the endless lands filled with running gazelles and animals. I imagined their spears and their bows and arrows ready to hunt and I connected myself with our ancient past as if it was my real present."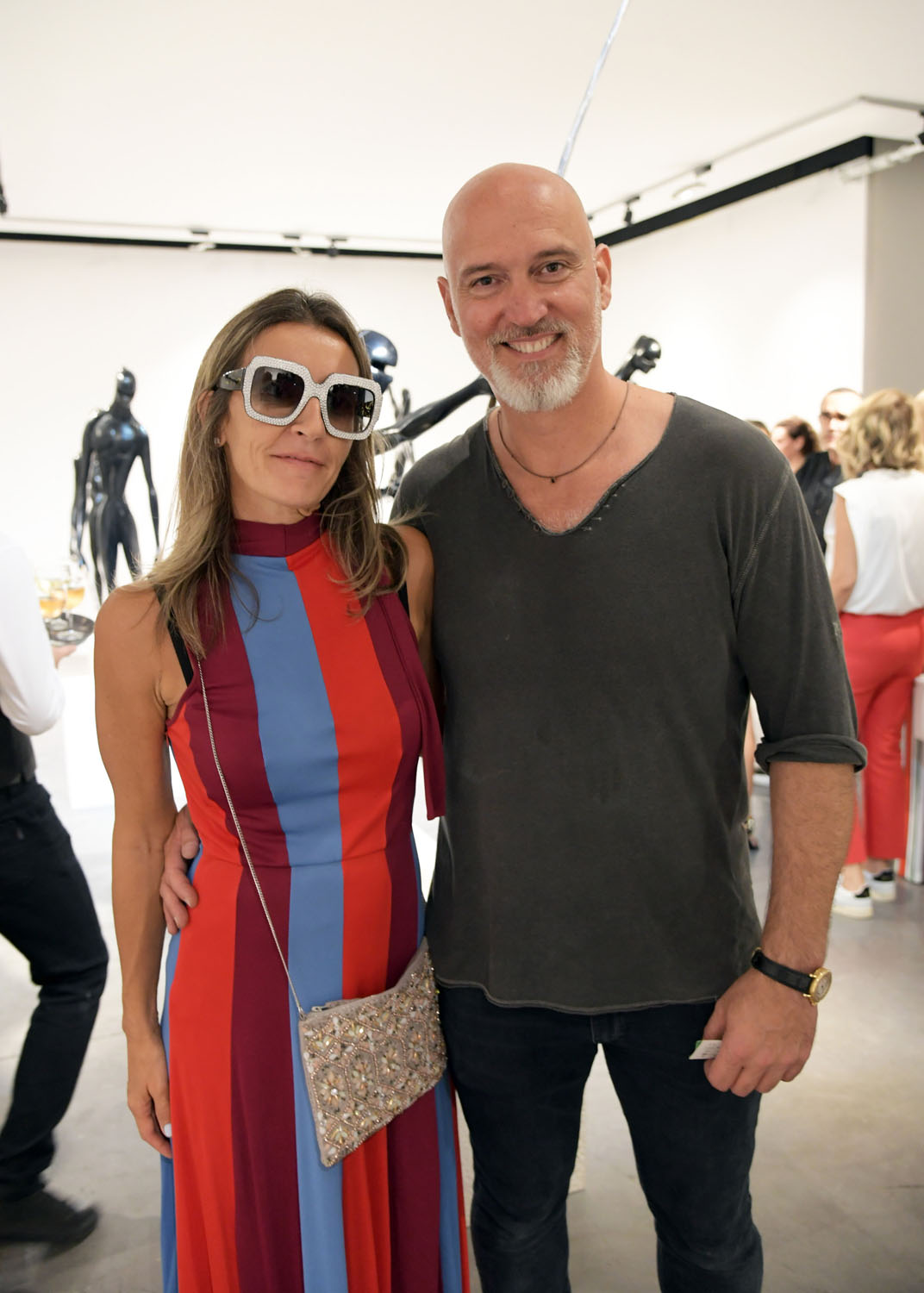 "Warriors" gained worldwide renown; Franco Fanelli, a Italian journalist from giornale dell'arte, in Torino, Italy, described the collection by saying, "Formidable "ideogram", the warrior/hunter armed with lance provides the sculpture with a formal canon in which the stateliness of some postures gives way to the dynamism of synthetic forms in which it could be tempting to find futuristic echoes, if there wasn't an evident research of a more abstract and a pure harmony. It would be more correct to say that the warriors/hunters/shepherds of the desert, evoked by the sculpture-traveler, arise from the caves and come alive in humanoid morphology that are at the same time archaic and futuristic: a humanity with an essential mechanical perfect entomological anatomy, that presume the maximum rational in the exercise of forces, movements, weights and counterweights. Creatures whose acts (the rush, the moment that precedes the javelin flung, the rest) gets together in the rhythm of a ritual dance in which the threat always coexists with a Matisse grace. Sculptures in the form of signs: in this way the creatures of what is today the desert and long ago, probably, the Eden, claim their primary origins, imprinted or carved into the stone in a narration of rituals or in the execution of an action."
 "The Warriors" has become renowned worldwide, and today it is visiting Beirut, giving art lovers in the region the chance to experience and contemplate the work of Signorini. Anna Seaman, Art writer and Journalist said about the collection, "The Warriors has been created as a journey of the artist and as a metaphor for human life as a journey in itself. This series is inspired, influenced, and dedicated to the Paleolithic prehistoric period. The first warrior was inspired from drawings in the caves of Saharan Libya, the Kingdom of Saudi Arabia and regions within Algeria; the other warriors developed one after the other like a memory of his own past, like an ancient tale that was turning into life through his art connecting all humanity together."
Categories