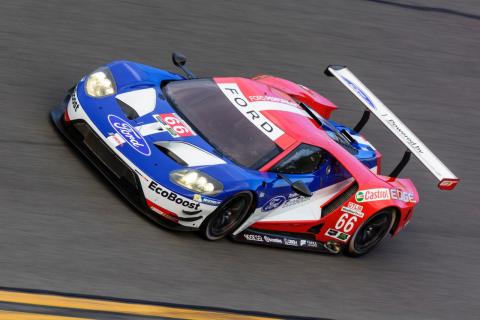 Masterful fuel economy from Ford EcoBoost engine and pit strategy propel Ford Chip Ganassi Racing to its first win
First victory for the all-new Ford GT, less than one year after race car first turned a wheel
Indianapolis-based half of Ford Chip Ganassi Racing now enters Le Mans with momentum from victory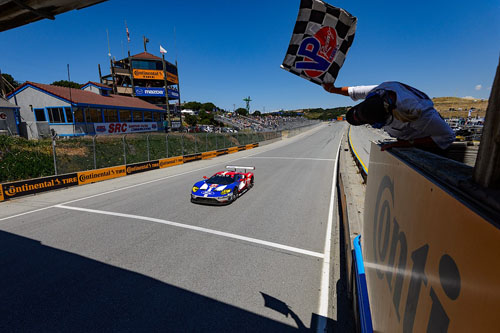 History was made at Laguna Seca Raceway as the all-new Ford GT earned its first competitive win today, thanks to the fuel economy of the Ford EcoBoost engine and commanding drives by co-drivers Ryan Briscoe and Richard Westbrook.
The duo started the two-hour race on the front row in the second qualifying position, but it wasn't long before it became clear the race would be won by the team with the best fuel economy. That was the No. 67 Ford GT.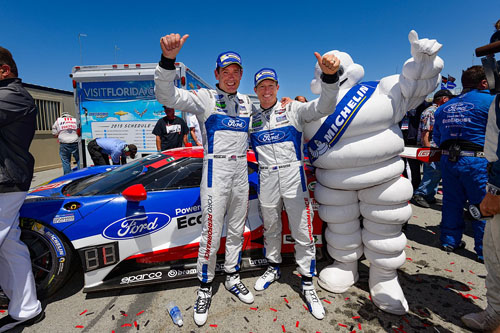 "We've been waiting for this win for a long time," said Dave Pericak, global director, Ford Performance. "I think it's great that it came as a fuel economy win. It's great for Ford EcoBoost, because that's what it's all about, but this is really a boost for the team going into Le Mans. We've been working up to this point to showcase the car's durability and I think this is what the team needed to go to Le Mans."
The No. 67 Ford GT was able to cruise to the victory on the back of only one pit stop, while the rest of the competitors took two or three.
"It was a fuel-saving race from the start, because we wanted to do it on one stop, but when Richard got in, we were definitely out of the window," Briscoe said. "The numbers he was making were just unbelievable. I never thought we'd be able to do it and I think that actually helped look after the tires. The pace was just as good as anyone's at the end. It's a phenomenal result."
The team's sister car, the No. 66 Ford GT, finished p6.
"It hasn't sunk in yet (that we've won)," Pericak said. "We won't have much time to celebrate. Le Mans is coming fast. It's a great win for our employees who have been watching us and supporting us and it's a good way to keep up the momentum going into our return to Le Mans."
The mood on pit lane was jubilant as it became apparent the team would top the podium less than a year since the first Ford GT race car turned a wheel.
"What a day for Ford!" said Raj Nair, executive vice president of Ford Global Product Development, and chief technical officer. "We have been making great progress with the Ford GT program and this weekend was big in terms of showing reliability, speed, but also amazing fuel economy. We couldn't be happier for all the Ford, Multimatic and Ganassi team members who have spent endless hours getting us to this point. It's been less than a year that the race car first turned a wheel in testing, so it's a great morale boost to everyone as we now get ready for Le Mans."
Both Ford GTs showed promise in practice, making the top four in each session.
"It's something we didn't expect, although the crew thoroughly deserved it after three months of slugging away, getting us to where we are now," Westbrook said. "That's for them. It really is."
Categories