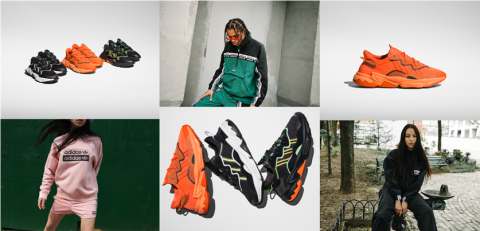 adidas Originals dug into its archive to create the latest expression of a contemporary icon: the OZWEEGO silhouette. Powered by the past, the OZWEEGO silhouette takes elements from a key 90s silhouette and radically reimagines its aesthetics for the contemporary wearer.
Inspired by the OZWEEGO 3, a lightweight and comfortable cushion runner silhouette from 1998, the new OZWEEGO silhouette adopts a futuristic design approach with a distinctive eye stay panel, defined midsole lines, and a translucent support tube.
The OZWEEGO silhouette features signature adiPRENE technology from the adidas archive, mutating adidas Originals DNA for creators today. Worn as a badge of honor and a symbol of technological innovation in footwear during the 90s, adiPRENE reimagines a performance from the past to create maximum comfort for the present.
OZWEEGO is born out of a continued search for the future of footwear aesthetics and represent the spirit of a new generation of creators. A celebration of the brand's reimagining and dissecting of its past to create the icons of tomorrow, OZWEEGO silhouette is the latest in the line of forward-thinking adidas Originals design.
OZWEEGO silhouette is available in the GCC on August 8th 2019 for AED 475.
Categories