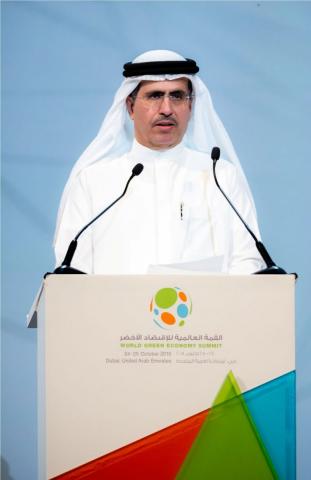 The 5th World Green Economy Summit (WGES), held under the patronage of HH Sheikh Mohammed bin Rashid Al Maktoum, Vice President and Prime Minister of the UAE and Ruler of Dubai concluded on (25 October 2017). The summit, held under the theme 'Driving Innovation, Leading Change' brought together many prominent speakers from across the globe, in addition to dignitaries and representatives from government organisations, academicians, experts and the media.
HE Saeed Mohammed Al Tayer, Vice Chairman of the Dubai Supreme Council of Energy, MD & CEO of Dubai Electricity and Water Authority (DEWA), and Chairman of WGES, announced the Dubai Declaration 2018 at the conclusion of WGES 2018, expressing his gratitude and appreciation to His Highness Sheikh Mohammed bin Rashid Al Maktoum, for his patronage of the Summit. He also thanked His Highness Sheikh Maktoum bin Mohammed bin Rashid Al Maktoum, Deputy Ruler of Dubai for his presence at the opening ceremony of the summit.
HE Al Tayer said: "Since its inception in 2014, the summit has made great progress and many achievements, notably due to increased cooperation between decision-makers from the public and private sectors. Over 3,700 participants consisting of global experts, thought leaders and business leaders in green economy and sustainable development, have participated in WGES 2018 to discuss key issues such as climate change and global warming."
"This summit is especially important, because it has set the journey towards the adoption and signature of the agreement establishing the World Green Economy Organisation (WGEO). We sincerely hope that we can count many of your countries amongst the original members of WGEO, who have a very important role in shaping its future," Al Tayer added.
He further said: "We are concerned by the report recently released by the IPCC defining a stringent scenario for the world to achieve the 1.5 degrees target. Nonetheless we are optimistic, as we know that it can be achieved by harvesting the capabilities of the private sector to make their industries and sectors green. This is why we are here, to form and focus an engine of green transformation built on diversity and entrepreneurship."
Speaking about the summit's pillars, HE Al Tayer said: "WGES 2018 focused on three main pillars including 'Green Capital', which has been a focus of discussions at this year's Summit. This comes at a time when the World Green Economy Organisation (WGEO) and the Global Green Growth Institute (GGGI), signed in October 2018 a partnership agreement in Dubai to fast-track green investments into bankable smart city projects."
"One of Dubai's major green projects is the Mohammed bin Rashid Al Maktoum Solar Park. This is the largest single-site solar park in the world. Based on the Independent Power Producer model, it will have a capacity of 5,000MW by 2030. This includes the world's largest single-site Concentrated Solar Power (CSP) project with a capacity of 700MW," HE Al Tayer highlighted.
He noted that the second pillar 'Digital Transformation' captured various insights, highlighting the importance of adopting rapid changes in technology and its futuristic advances, especially the Fourth Industrial Revolution, digital evolution, crypto currencies, blockchain technologies, robotics, machine learning and the Internet of Things (IoT). He added that Digital DEWA, the digital arm of Dubai Electricity & Water Authority (DEWA), is redefining the concept of utilities. "This is creating a new digital future for Dubai, which has become a central source of interest for participants interested in digital transformation."
He also said: "Dubai has also launched a community awareness campaign for electric vehicles titled E-Sayyara, the first of its kind in the region. E-Sayyara supports the Dubai Green Mobility Strategy 2030, UAE Vision 2021 and Dubai Plan 2021 as well as improves Dubai's sustainability, air quality and fuel efficiency."
HE Al Tayer further said: "The third pillar is Leadership and Social Engagement. Participants are identifying paradigms and mechanisms for ideal public-private partnerships by developing legislation and regulations that encourage investment opportunities in energy, water and infrastructure projects and improve the quality of their services.
Participants highlighted the need for effective leadership in the public and private sectors to accelerate the transition to a green economy. This could be achieved by introducing progressive policies and incentives, influencing individual behaviour and consumption patterns, or raising environmental awareness. They also agreed that sustainable development must be inclusive, as it requires the full commitment of public and private sector leaders."
At this summit, HE Al Tayer said: "We launched the first World Green Economy Report 2018, 'Inspiring Innovations in Business, Finance and Policy,' in collaboration with the University of Cambridge and the United Nations Development Programme (UNDP). This shows the need to adopt more depth and diversity in our approach to building a real green economy and moving the global sustainability agenda forwards."
"We are working on the Green Gate Initiatives, to encompass all the green programmes that will streamline the sustainable journey," he pointed out. "We are empowering the young entrepreneurs who have the potential to generate innovative, sustainable solutions that will contribute to advancing green growth and sustainable development at the local, regional and international levels" he added.
HE Al Tayed noted that the summit hosted the Silk Road Mayors' Meeting on South-South Cooperation in Smart Green Cities and Tourism, to discuss sustainable development. The first Preparatory Conference took place at this fifth Summit, attended by high-profile representatives from at least 60 countries.
He said that such participation reflects a great commitment from the world towards the green economy and sustainable development. This conference was an important milestone, which set its mark to establish WGEO as a fully-independent international organisation formed by treaty.
"I welcome your cooperation with us to make WGEO operational as soon as possible, so that it can provide the much-needed assistance it requires," HE Al Tayer concluded, urging every nation on the precious planet to join the UAE in mobilising its efforts, exchanging ideas, and strengthening global solidarity, to address climate change.
Categories