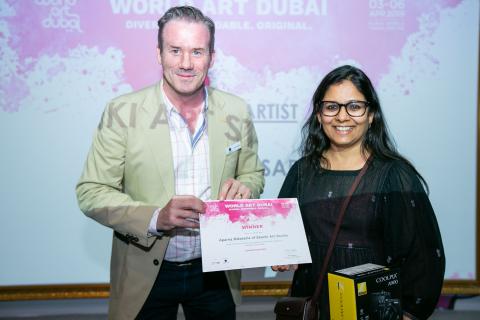 The fifth edition of World Art Dubai has concluded on a high as it marked three award ceremonies during the closing days of the show. Heralded as the most successful edition in its five years, the fair placed the spotlight on a range of international and emerging artists and galleries, awarding winners across numerous competitions and awards that took place during the show.
"World Art Dubai has continued to build on the success we have established during the past five years. Renowned as the region's most populator exhibition for affordable art, it has become much more than just an art fair, serving as an opportunity for the art community and art lovers to celebrate artistic talent in one venue," said Andrew Wingrove, Show Director at World Art Dubai.
The four day-long event featured a packed schedule of art-related activities, talks, workshops, live entertainment and relentless sales. World Art Dubai 2019 closed with visitors viewing a 3,000-strong collection of original contemporary artworks, paintings, sculptures, digital photographs, custom-made installations and more, displayed by more than 150 local, regional and international artists and galleries.
Taking place on the final day of the show, the World Art Dubai Awards returned to recognise the amazing talents among the participating galleries and artists this year. The ceremony crowned winners for the World Art Dubai Emerging Artist; World Art Dubai Solo Artist Award; World Art Dubai Gallery Award; and World Art Dubai Outstanding Art Award. Each awardee was selected based on their contributions to World Art Dubai 2019 and the art industry as a whole, by a panel of judges that included its curators and organisers.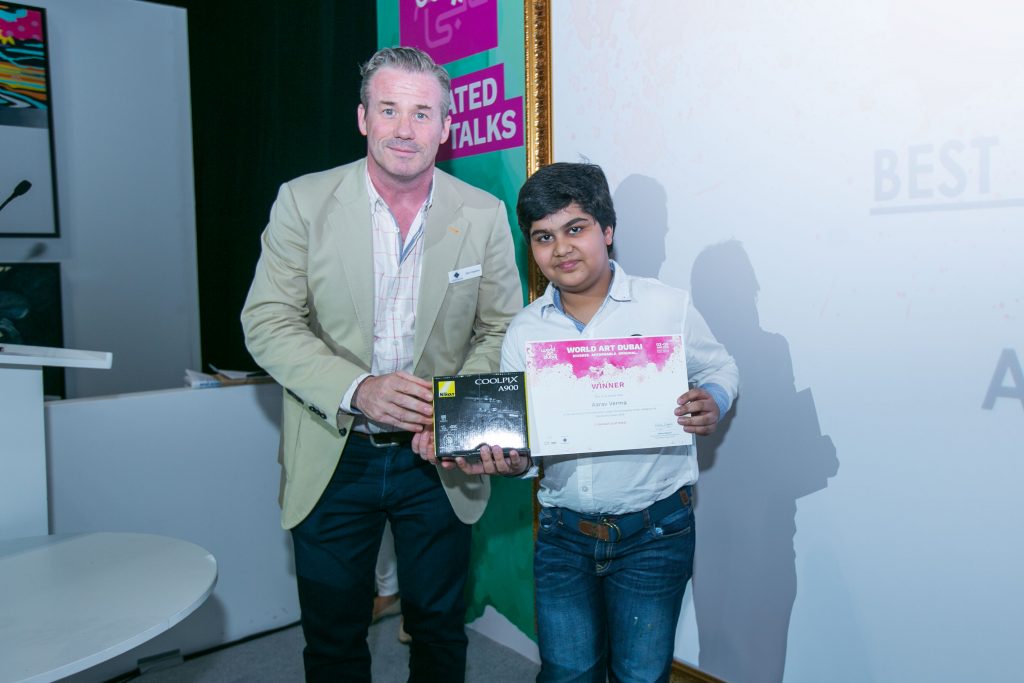 One of the youngest award winners in the competition, Aarav Verma, collected the World Art Dubai Emerging Artist Award. The 12-year-old started painting when he was just three, and uses a variety of mediums across his artwork, and has participated in a number of solo art exhibitions and live painting shows.
"It feels good. I have won awards at school, but not like this," Verma noted. "it's been a good show, a good platform and a lot of people have been interested in my art. I have sold around 20 pieces at the show."
Dubai resident Amrita Sethi, was awarded World Art Dubai Outstanding Artist Award. Her work reflects her international diversity having lived across a number of countries and combines the sweetness of traditions with the energy of a modern world, to showcase the rich layers that can make up a country's identity and a person's character. Two of her most notable collections include Voice note Art © and the Global Collection, each of which attracted the judging committee.
"It feels outstanding. I really wasn't expecting it. This is the first time I have ever exhibited and selling my work to the public," Sethi said. "I find it amazing because it is an idea that I have had in my head and I wasn't sure if people were going to love it, and now its come out and to get this, it means that much more to me. I have sold about 25 pieces which feels unbelievable and it vindicates all my hard work."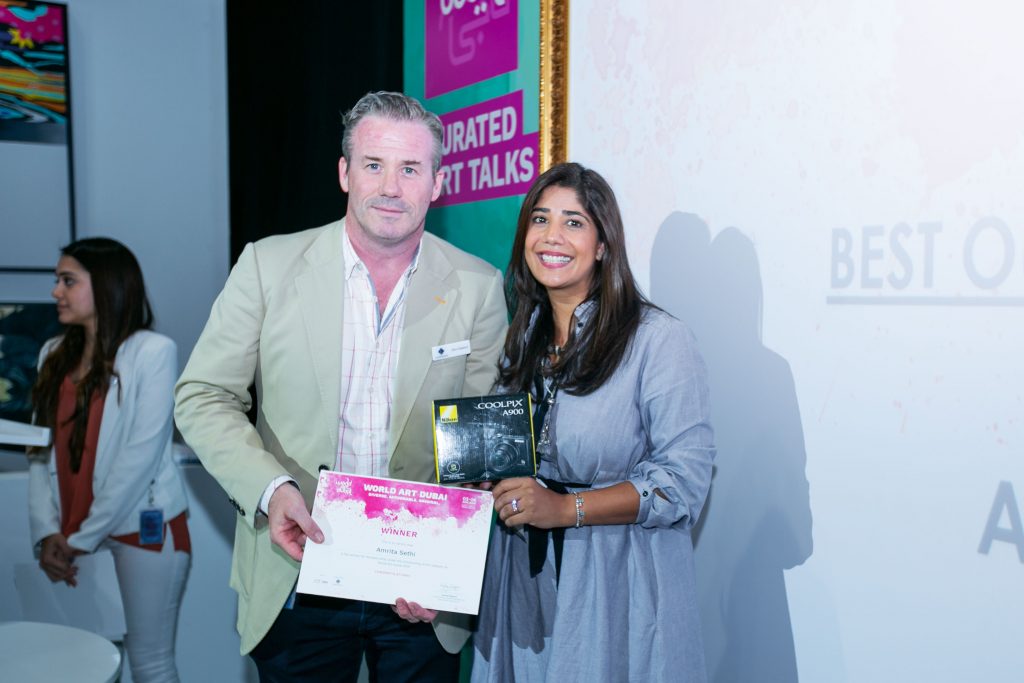 Owner of Vandalist Art, Louis Wright, was named the World Art Dubai Gallery Award. His brand focuses solely on his passion for street art and brought a number of international names on the scene to the show, including that of Ben Eine and Pure Evil, who each conducted live performances at the stand.
"For the first time exhibiting here and to win Best Gallery, I am really pleased and honoured," Wright commented. "The reception of the curation of the show as well as the work has been incredible. Within the first hour of opening we sold two pieces and it's been steady."
Aparna Bidasaria, who exhibited from India, collected World Art Dubai Solo Artist Award. A key feature of her exhibition focused on her Banyan series. The collection of pieces give form to her abstract feelings, with multiple layering of colour that give depth and richness to her work.
"It is a big honour for me to get appreciated like this, it is just awesome. As a solo artist I have not received anything like this before," Bidasaria noted. "I wanted to come to experience this market and show my work here, and I have received a lot of appreciation and interest."
 Across the show floor, the Rove Emerging Artists Exhibition celebrated its own Emerging Artists. The collaboration between World Art Dubai and Rove Hotels provided budding artists the chance to showcase their original art pieces under the theme – 'My Culture. My Community. My Neighbourhood.' – throughout the exhibition and came to a close when judges selected two shortlisted artists ahead of their piers. Andrew Scanlan was awarded the Grand Prize by judges and provided with a complimentary space to exhibit at World Art Dubai 2020. Chosen by visitors to the show, Mohammed Hussein was presented with the People's Choice Award, winning a two-night stay package for two at any Rove Hotels property.
Earlier in the week, World Art Dubai hosted the Sustainable Art School Competition which hosted students from across a quintet of Dubai and Abu Dhabi's leading schools, encouraging students to express their artistic flair under the theme of sustainability. Each school submitted their winning entries ahead of judges who named winners and runners up in each school grade category.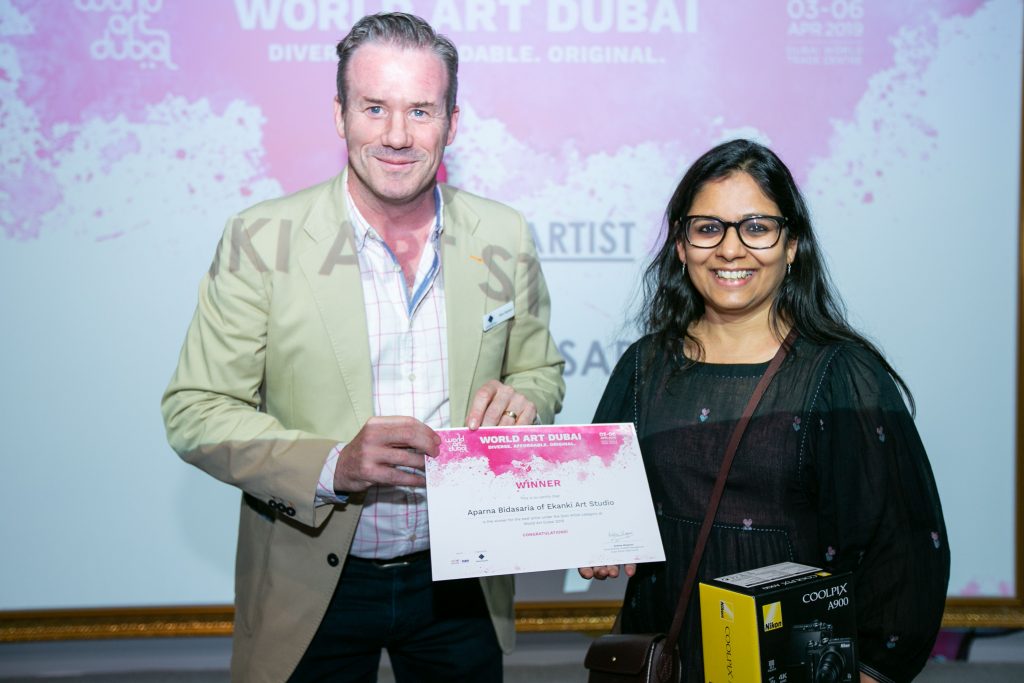 Liam Cullinan, Head Teach of Nord Anglia International School – whose students collected a number of awards during the ceremony, noted: "We are really proud of our creative arts in our schools. Certainly schools now, more so than ever have to embrace creative thinking, and if you look at the kind of message that was being communicated through our students about a sustainable world, a more conscious group of people who are trying to change. That's why I am excited to be accepting awards on their behalf today."
For future news about next year's edition of World Art Dubai, please visit www.worldartdubai.com.
Categories