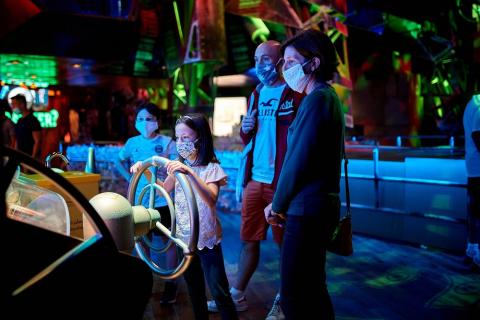 Tailored journeys for families, couples, students, business people and more promise a memorable experience for every visitor.
Whether you're a foodie or tech junkie, an eight-year-old or octogenarian, a series of bespoke journeys will ensure every visitor from every walk of life enjoys their own unique adventure at Expo 2020.
Tapping into the personal tastes and passions of each guest, the readily accessible itineraries allow visitors to discover game-changing innovations, world-class entertainment and uplifting, once-in-a-lifetime experiences relevant to them.  
Expo Essentials will introduce the world in one place, with innovations such as the world's largest radio satellite, capable of detecting signals from alien life, and a 4D 'bioprinter' that can reproduce live cells.
The Expo for Families tour invites the young – and young at heart – to enjoy a Beethoven-inspired robo-band, and to get up close and personal with a giant sharp-toothed fish that brings into sharp focus the damage we are doing to our oceans; while Expo for Couples will mesmerise starry-eyed romantics with a magical night-time light show at Al Wasl Plaza.
For architecture aficionados, the Expo Architecture and Design Journey will navigate visitors through some of Expo's most striking structures – from the falcon-shaped UAE Pavilion to self-sustaining buildings and pavilions that merge nature and architecture. The Expo for Foodies tour, meanwhile, invites gastronomes to taste the future of food, discover star chefs and sample new cuisines while taking in a show.
Guests can find their zen on the Expo Health and Wellness Journey with a yoga class or a bike ride in Jubilee Park, while fuelling up on superfoods and discovering life-changing healthcare innovations.
Further itineraries include the Expo Mobility Journey, showcasing next-gen innovations – from how AI is changing the way we live, learn and play, to the future of air travel; an opportunity to encounter vertical farms and net-zero energy pavilions on the Expo Energy Journey; and explore artificial intelligence, space and augmented reality on the Expo for Techies and Innovators tour – topped off with a lunch break with robots.
Source: www.expo2020dubai.com