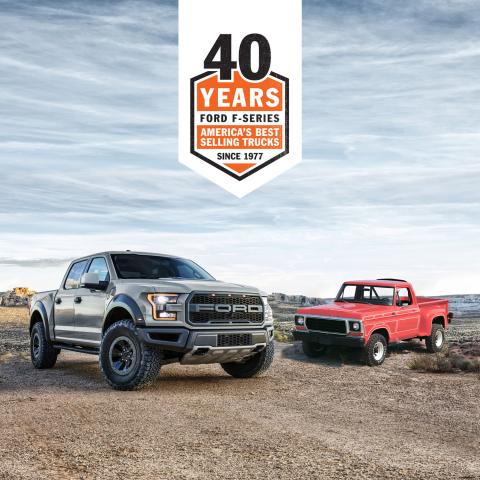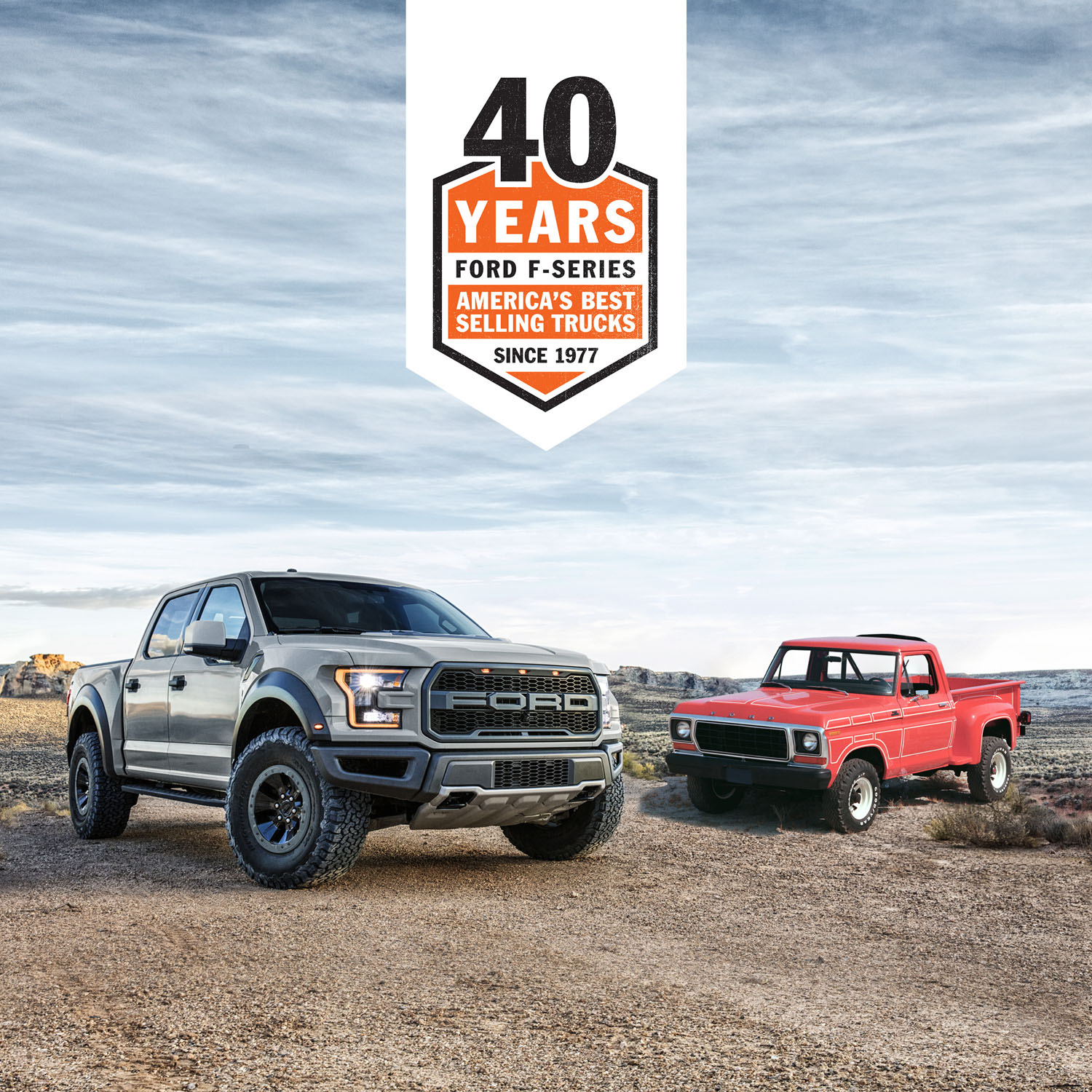 Ford F-Series is now America's best-selling truck for 40 consecutive years and America's best-selling vehicle for 35 years; with more than 26 million trucks sold since 1977
Listening to customers, delivering constant innovation and best-in-class levels of performance enabled the Ford F-Series to set itself apart by making customers more productive through tougher, smarter and more capable trucks
Ford, America's truck leader, is celebrating a major milestone as F-Series now reigns as the top-selling truck in the country for 40 consecutive years and best-selling vehicle for 35 years.
Ford has now sold more than 26 million F-Series trucks since January 1977. Think of it like this: That many trucks could circle the globe more than three times, or, lined up bumper-to-bumper, would span 90,000-plus miles.
Ford truck leadership was established with the sixth-generation of F-Series for the 1977 model year, a time when 8-track tapes, disco and bell bottoms were the rage. The company was riding a sales wave – based on an all-new F-150 light-duty pickup featuring an improved 351-series V8 engine, standard front disc brakes, and an extended SuperCab offering.
Yet continuous innovation is at the very core of F-Series' success and even with the momentum in 1977, Ford engineers were already at work on a clean-sheet design for an all-new lineup. That seventh-generation F-Series not only set sales records for trucks, but also by 1982 it had become the overall best-selling vehicle in America.
"The 1980 model was a breakthrough generation for Ford," said historian and author James Wagner. "It was all new – probably the greatest change in 40 years. It was fresh and had a strong emotional appeal with the twin I-beam front suspension. It seems from that point on, things really went Ford's way as far as trucks were concerned."
1997 marked the beginning of a split for F-Series into two distinct platforms – the 10th-generation F-150 was geared toward light-duty truck customers, while new F-250 and F-350 Super Duty brand trucks debuted in 1999 targeting heavy-duty commercial vehicle buyers.
Ford anticipated widening consumer needs, expanded its truck lineup
Early on, Ford identified changing consumer preferences among truck customers who were increasingly using their vehicle to do more than haul livestock and equipment; customers were also using their trucks for their family and lifestyle needs. Beginning with the King Ranch in 2001, Ford was now offering luxury edition pickups that provided a combination of capability, style and comfort. Furthermore, models like the Platinum and Limited series went further, featuring leather seating, rich wood trim, full power accessories and premium sound systems.
 Ford also pioneered performance and specialty truck segments with the special-edition Harley-Davidson F-150 and SVT F-150 Lightning in 1993. By 2002, Ford was marking 25 years as best-selling truck in America and 20 years as best-selling vehicle overall.
 "What's made the F-Series so successful is the Ford truck team's ability to anticipate the needs of our customers better than anyone else – how those needs change, what's most important, and what they need to move forward," said Todd Eckert, Ford truck group marketing manager. "Their insights help us design, engineer and build America's best-selling trucks."
For the 2004 model year, the 11th-generation F-150 received a top-down redesign. 2009 saw Ford charging ahead with some of the strongest visual cues ever for the 12th-generation F-Series. For the 2011 model year, the company was poised to combat skyrocketing energy costs with introduction of the all-new fuel-efficient 3.5-liter EcoBoost® engine for F-150.
Toughest, smartest, most capable F-Series ever
On rare occasions, innovative companies forever change the game with the introduction of a revolutionary product. Ford's all-new high-strength, military-grade aluminum-alloy body for the light-duty F-150 in 2015 was that breakthrough product. Then Ford applied the same lightweight material to make the all-new 2017 F-Series Super Duty even more capable than ever.
When paired with advanced powertrains, like Ford EcoBoost engines, the F-150 lineup offers the most hauling capability*, and best-in-class gas mileage**.
Customers and critics alike appreciate the continued innovation of Ford F-Series trucks, with the 2017 Super Duty winning the Motor Trend Truck of the Year award – the seventh time in 30 years Ford has taken home the honors.
F-Series innovations and milestones, 1977 to present
1977: Ford begins F-Series truck leadership, selling 818,580 trucks for the model year
1979: Ford introduces the Built Ford Tough brand promise
1980: All-new seventh-generation F-Series features efficient gas and diesel V8 engines, new angular design, improved interior features; twin-traction-beam four-wheel-drive front suspension introduced
1984: F-150 replaces F-100 as base F-Series truck, adding improved safety features and new center console; optional CD player comes a year later
1987: Eighth-generation F-Series features a more aerodynamic design, available electronic fuel injection, redesigned interior including instrument panel, and rear antilock brakes
1998: Super Duty brand of medium-duty trucks debuts for commercial customers and aligns the popular F-150 line for light-duty customers
2001: Luxury King Ranch is an unprecedented success
2002: Ford, celebrating 25 years as best-selling truck in America and 20 years as best-selling vehicle overall, introduces Ford-engineered, Ford-built 6.7-liter Power Stroke® turbo diesel engine
2008: Ford introduces all-new Class 3-leading F-450 pickup, once again raising the bar for maximum towing capacity
2011: Powerful, efficient EcoBoost engine technology introduced for F-150
2015: Ford shifts production away from steel to high-strength, military-grade, aluminum-alloy body for F-150; introduces all-new technology, including 360-degree camera
2016: New Pro Trailer Backup Assist helps make backing up a trailer as easy as turning a knob; plus F-150 is only full-size pickup to earn a five-star rating from National Highway Traffic Safety Administration and a Top Safety Pick from Insurance Institute for Highway Safety
2017: Ford celebrates F-Series leadership, marking 40 years with the best-selling truck in America and the best-selling vehicle overall for 35 years
# # #
 (*) When properly configured. Class is Full-Size Pickups under 8,500 lbs. GVWR based on Ford segmentation.
 (**) EPA-estimated rating of 19 city/26 hwy/22 combined mpg. 2.7L EcoBoost, 4x2. Actual mileage will vary. Class is Full-Size Pickups under 8,500 lbs. GVWR based on Ford segmentation.
Categories