Last updated
7 months ago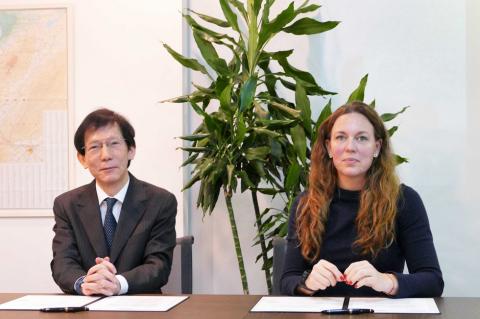 Building on a longstanding global partnership, the Government of Japan and the United Nations Human Settlements programme (UN-Habitat) have signed a new project totalling US$900,000. This new partnership was marked at the Japanese Embassy in Beirut and by the Japanese Ambassador to Lebanon, H.E. Magoshi Masayuki, and Head of UN-Habitat Lebanon Country Programme, Taina Christiansen.
This new project will be implemented in Shalfeh, Tripoli – a vulnerable urban community in Abu Samra neighbourhood. Based on UN-Habitat's full assessment of the neighbourhood in 2022, the population is estimated at 11,000 inhabitants who live in sub-standard housing conditions, lacking basic services such as water, electricity and waste management, and access to livelihood opportunities. The project aims to address increasing socio-economic livelihood challenges in the community, and mitigate rising risks and tensions, through the provision of urban farming solutions, clean water, and renewable energy solutions. 
"This comprehensive project could not have been more timely given the exacerbating socio-economic difficulties that Lebanon is facing. Japan continues to place a high priority on responding to the urgent needs of the vulnerable households across the country in particular food security. I strongly hope that the urban farming initiatives, coupled with the water and renewable energy solutions would alleviate the recurrent hardships faced by Shalfeh community in Tripoli.'' said H.E. Magoshi Masayuki, Ambassador of Japan to Lebanon.
Through a community-based approach, the project will address multiple challenges faced in the targeted area, benefiting more than 5,000 direct beneficiaries. The urban farming activities will offer means to enhance food security and generate income for women and youth while the water and renewable energy solutions interventions, that will be implemented in two public schools and one dispensary, will ensure continuous provision of clean water, to minimize water-borne diseases and other health risks, such as cholera. 
''With the ever increasing socio-economic and livelihood challenges faced by communities across Lebanon, innovative solutions and development opportunities are needed to empower the most vulnerable. Through identifying vacant plots and spaces in dense urban communities, cities can contribute solutions to address food insecurity, enhance skills, provide livelihood opportunities and engage those often left behind." said Taina Christiansen, Head of the UN-Habitat Lebanon Country Programme. "As we partner once again with the Embassy of Japan in Lebanon, we value their trust in our programme to promote a better urban future for the country,'' she concluded.
Since its establishment, UN-Habitat Lebanon has been working effectively with partners and urban planning actors at the community, national and international levels to develop and implement programmes and interventions across the country that contribute to making cities and human settlements inclusive, safe, resilient, and sustainable.