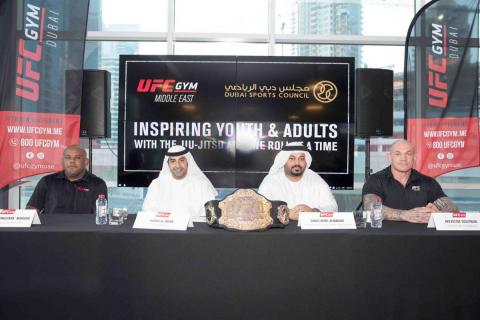 Highly-structured Jiu-Jitsu program is now available in Bahrain, Egypt, Oman and the UAE with Kuwait and Lebanon to follow
Jiu-Jitsu is for everyone--moms, dads and kids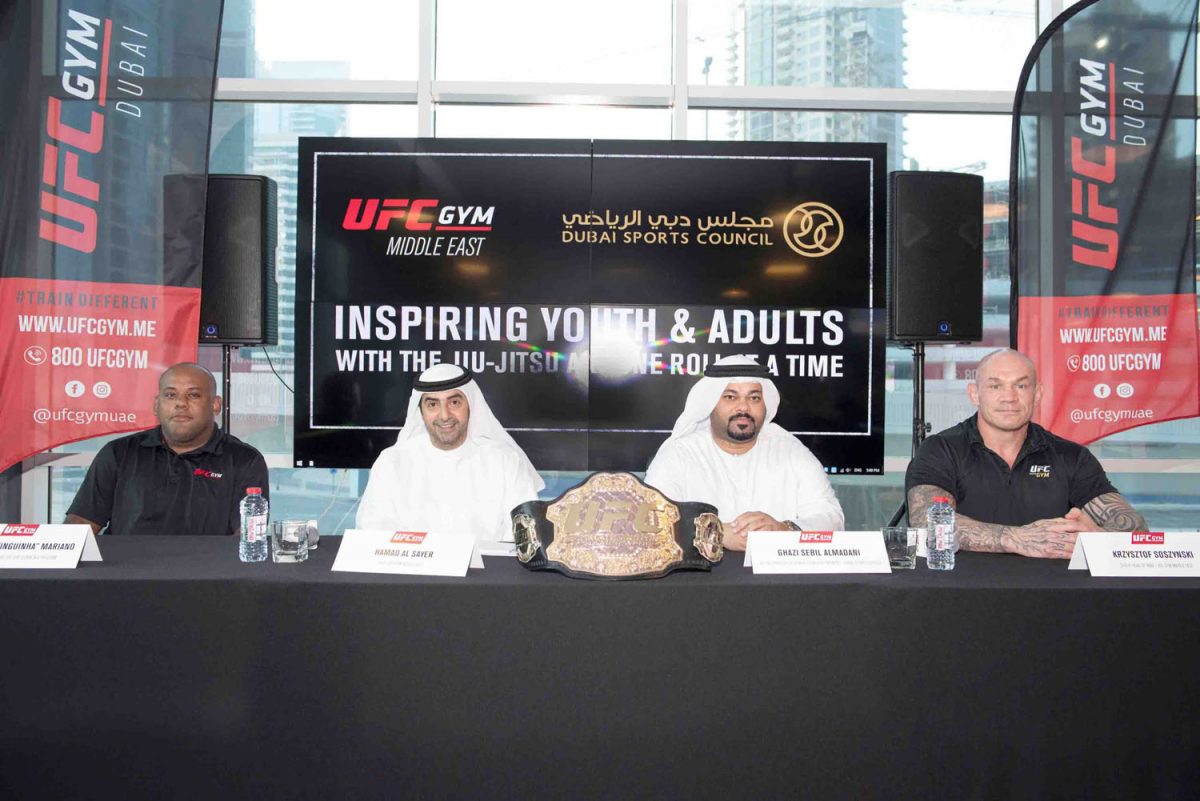 UFC GYM Middle East has announced the launch of its structured Jiu-Jitsu program across the region—covering Bahrain, Egypt, Oman and the UAE with Kuwait and Lebanon to follow in the very near future. The launch of the new program, which was recently held at the UFC GYM in Business Bay, Dubai, was led by one of the biggest names in the global Jiu-Jitsu community, Mauricio 'Tinguinha' Mariano, Senior Director of the UFC GYM Global Jiu-Jitsu Program. Also present at the inauguration was Ghazi Sebil Almadani, Acting Director of Sports Events Department at Dubai Sports Council and Hamad Al Sayer, CEO, UFC GYM Middle East and Senior Management of UFC GYM Middle East. In addition to the exciting news of the Jiu-Jitsu regional curriculum rollout, UFC GYM revealed that they are now one of the three private gyms in the UAE to be authorized by the UAE Jiu-Jitsu Federation to compete under the UFC GYM banner in local competitions.
In preparation for this launch, 'Tinguinha,' arrived from the USA to initiate the rollout of the UFC GYM Jiu-Jitsu program to regional Jiu-Jitsu coaches. 'Tinguinha said, "We are on track to build the largest Jiu-Jitsu team in the world. In fact, we are expanding our program across the globe to revolutionize the world to #TRAIN DIFFERENT."
Jiu-Jitsu is a self-defence martial art that allows an individual to work out their entire body and mind. Grounded on the principle of using proper technique, leverage and skill in an efficient and effective way to control your opponent, this martial art is meant for everyone. Jiu-Jitsu embraces the concept that a smaller and weaker person can defend themselves against a bigger, stronger, heavier assailant through the utilization of proper technique, leverage, and bringing the fight to the ground and then applying joint locks and chokeholds to defeat the opponent.
Practicing the art of Jiu-Jitsu brings in many benefits and advantages, including improved individual skills such as increased focus, self-confidence, patience, self-discipline, respect, dedication and strategy development for youth and adults in a community-based environment. UFC GYM Middle East also announced that they will be selecting five underprivileged but deserving children aged 7 to 9 years from Oman, Egypt, Bahrain and the UAE to participate in the youth Jiu-Jitsu program and help them build passion for the sport and further develop their social, cognitive and physical skills.
"We are pleased to announce the launch of our structured UFC GYM Jiu-Jitsu program across all of our locations in the region," said Hamad Al Sayer, CEO, UFC GYM Middle East. "These are truly exciting times for us with the soft launch of our Egypt club taking place and with future expansion in progress for Kuwait and Lebanon allowing better accessibility to this fantastic sport." He continued, "With heightened health concerns for youth and adults in the region, our team and regional partners are so proud to be part of a business that allows us to make a difference and help improve the community's overall health and wellbeing as we grow."
Almadani said, "We are pleased to extend our congratulations to UFC GYM Middle East on the launch of their very own Jiu-Jitsu program. We appreciate their efforts to promote awareness about the importance of this martial art and their moves to expand its horizons in the country. We are committed at Dubai Sports Council to support more of the leading international sports programs and clubs such as UFC GYM as part of our efforts to encourage local athletes to follow a healthy lifestyle and strengthen the sport sector in the emirate, which host more than 400 sporting events annually."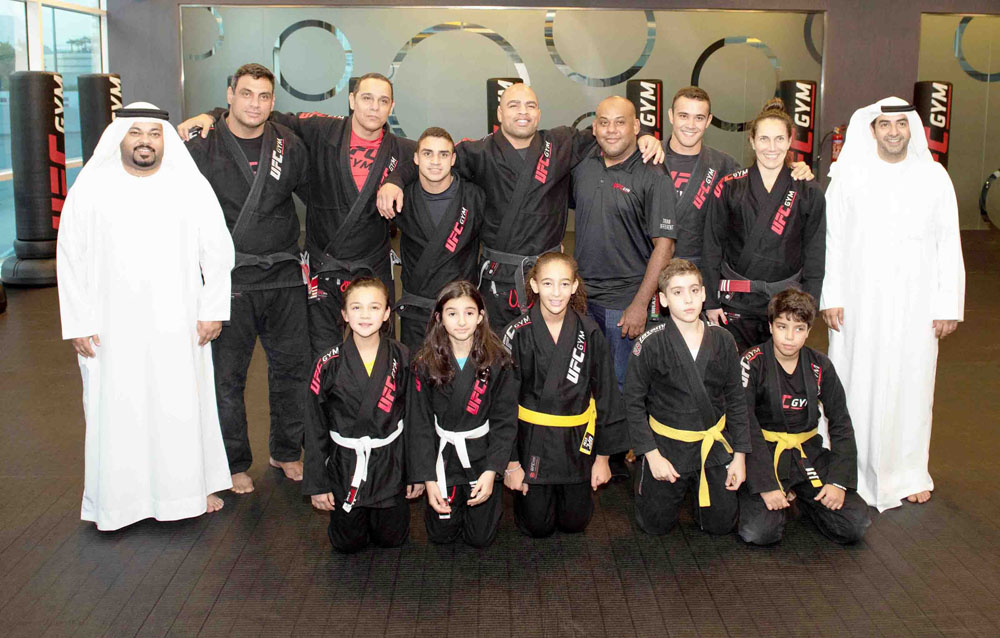 During the launch, UFC GYM Jiu-Jitsu experts explained that the practice of Jiu-Jitsu also brings many advantages to the community, however, the importance of practicing this martial art in a safe professional monitored environment is crucial.
Krzysztof Soszynski, Group Head of MMA, UFC GYM, shared, "We take pride in hiring the right Jiu-Jitsu coaches through a rigorous and extensive on boarding process. All of our coaches for the region have to pass a full assessment check on their credentials and must follow the UFC GYM Jiu-Jitsu training and belting curriculum. Soszynski continued, "Our short-term goal is to create an in-house regional Jiu-Jitsu competition team where our students can enhance their competitive spirit and hunger to compete and win within our facilities. This will of course lead to our long-term goal of competing as one team in the world's most prestigious Jiu-Jitsu competitions the UAEJJF Grand Slams and the Abu Dhabi World Pro held locally."
---
About UFC GYM® 
UFC GYM® is the first major brand extension of UFC®, the world leader in the sport of mixed martial arts (MMA).  In alliance with New Evolution Ventures™ (NeV), developers of many of the world's most successful fitness brands, the UFC GYM brand gives UFC enthusiasts and fitness seekers of all ages the opportunity to practice the training techniques of famed UFC athletes. Offering a full-range of group fitness classes, private MMA coaching, personal and group dynamic training, plus MMA style youth programming, UFC GYM creates something for all ages and fitness levels. As the first to combine the world of mixed martial arts and fitness, UFC GYM's TRAIN DIFFERENT® approach has developed an atmosphere where members can see immediate results. UFC GYM is the ultimate fitness experience. The brand is not what you expect, and more than you can imagine. With 150 locations open and more than 400 currently in development, UFC GYM is revolutionizing the fitness industry. For more information about UFC GYM, please visit UFC GYM.com, or follow us on Facebook.com/UFCgym, Twitter or Instagram: @UFCGYM. You can also subscribe on YouTube at UFCGYM.
About UFC®
UFC® is a premium global sports brand and the largest pay-per-view event provider in the world. Headquartered in Las Vegas with offices in London, Toronto, Sao Paulo and Singapore, UFC produces more than 40 live events annually that consistently sell out some of the most prestigious arenas around the globe. UFC programming is broadcast in over 156 countries and territories to more than 1.1 billion TV households worldwide in 30 different languages. UFC FIGHT PASS®, a digital subscription service, delivers exclusive live events, thousands of fights on-demand and original content to fans around the world. For more information, visit UFC.com and follow UFC at Facebook.com/UFC, Twitter, Snapchat and Instagram: @UFC.
Categories