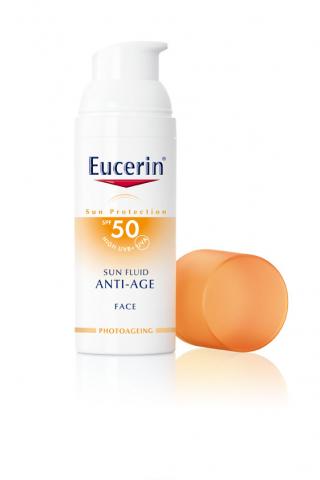 An increasing number of studies show that there is a connection between UV exposure and the premature aging of the skin. Now protection from photoaging and accelerated skin aging is available – with an immediate visible effect.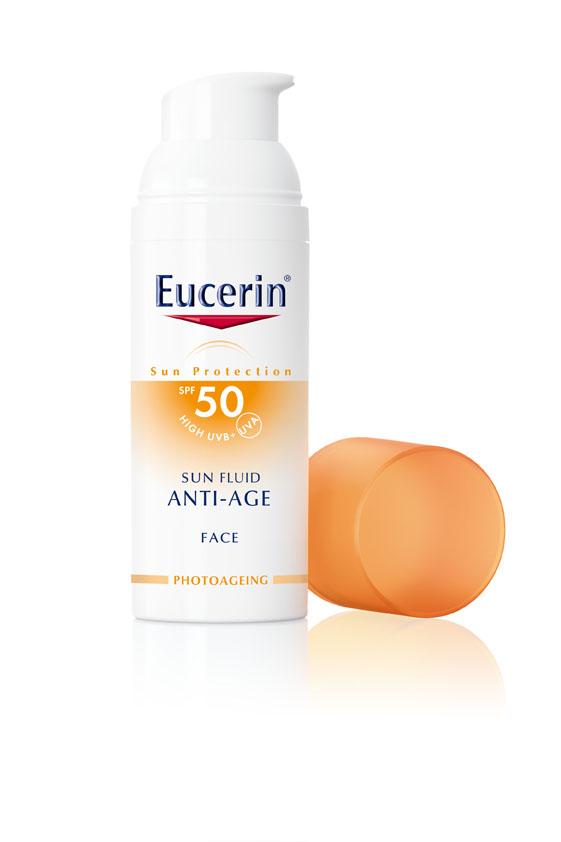 A study conducted in Germany and Chile shows that more and more people know about the risks of UV radiation. They use sunscreen to enjoy the sun during vacations and on the weekends. However, it still isn't common knowledge that UVA radiation is considered one of the main causes of light-induced skin aging. In the long run, photoaging may causes massive transformation of the skin's structure.
Studies prove that UV exposure deepens wrinkles and mottles the skin
If anyone dismisses the idea that UV exposure speeds up aging, various studies may change their minds. Effects of UV radiation represent up to 90 percent of the visible signs of aging in facial skin.1 Studies with identical twins confirm a significant impact of UV exposure on overall aging.2 However, despite the relative benefit of genetic control, the statistical study of twins requires a relatively large patient population, as many twin sets have very similar lifestyles. It may seem odd that two people with the same DNA could look so different, but it is common, according to research published by Bahman Guyuron, a plastic surgeon in Cleveland, and colleagues at Cleveland's Case Western Reserve University.3 They surveyed and photographed 186 sets of identical twins. The photographs confirm that UV exposure deepens wrinkles and mottles the skin. Sunscreen use, however, has minimized or prevented these effects.
1 Ramos-e-Silva et al., 'Anti-aging cosmetics: Facts and controversies'. Clin Dermatol. 2013
2 Martires et al., 'Factors that affect skin aging: a cohort-based survey on twins'. Arch   Dermatol. 2009 Dec; 145(12):1375-9
3 Source: B. Guyuron, Rowe DJ, Weinfeld AB et al. Factors contributing to the facial aging of   identical twins, "Plastic and Reconstructive Surgery", 2009
Skin aging is significantly influenced by ultraviolet radiation
Another impressive twin study conducted by the Osaka Twin Research Center between 2010 and 20134 showed that facial texture is influenced by environmental factors rather than solely by genetic factors. Moreover, smoking and the failure to use sunscreen resulted in significantly higher facial texture and wrinkle scores. Other environmental factors, such as body mass index (BMI), alcohol consumption, hormone replacement therapy and medical history were not that relevant.
Photoaging is one of the main visible examples of sun-induced skin damage
That's why UVA radiation is considered to be one of the main causes of light-induced skin aging, also known as photoaging. Accounting for 90 percent of UV rays, they can penetrate all skin layers up to the connective tissue and cause massive transformation of the skin's structure. "UVA rays promote the development of
metalloproteases," says Anette Bürger of Research & Development at Eucerin®, the dermo-cosmetic sunscreen expert. "These are enzymes that disintegrate collagen fibers, speed up the skin's aging process and in the long run, result in the loss of elasticity and the formation of wrinkles." This does not apply to the face only. Signs of photoaging are most prominent in other UV exposed skin areas like the décolleté and the hands.
UV rays can affect us at any time – during outdoor sporting events or while working in the garden, on a city shopping trip or while playing with the kids at the playground. Even on a park bench in the shade, 50 percent of the rays will still reach your skin. While the intensity of the UVB radiation depends heavily on the season and time of day, the adverse effects of UVA radiation remain relatively constant throughout the year. "And 60 percent of the rays can even penetrate window glass," warns Anette Bürger. "That means photoaging is a constant risk for skin." She advises applying sunscreen daily throughout the year.
4 © 2014 The Authors Journal of Cosmetic Dermatology Published by Wiley Periodicals, Inc.   25 male and 40 female pairs of monozygotic twins, aged 40 to 87 years, underwent medical interviews and photographic assessments scoring differences in facial features (facial spots, wrinkles, pores, texture and erythema).
Protection and visible anti-aging effect in one step
To reduce short-term and long-term sun-induced skin damage, scientists at Eucerin® have contributed their wide expertise in UV protection and skin care to the new Sun Fluid Anti-Age formula. The result is a tailor-made solution to prevent signs of photoaging and fight visible wrinkles.
The new Eucerin® Sun Fluid Anti-Age SPF 50 contains a particularly effective combination of bio-engineered, non-cross-linked, short and long chain hyaluronic acids that Eucerin® uses also in its Hyaluron-Filler range. The long chain version is excellent at binding moisture in the upper horny layer and smoothes the surface of the skin, while the short chain version penetrates into deeper layers of the epidermis where it has a plumping effect. Dermatological studies confirm that the formula intensively moisturizes the skin and visibly reduces wrinkles in the face and décolleté.
Biological Cell Protection is the key
For superior photo-protection a highly-effective, photostable UVA/UVB filter system is combined with Biological Cell Protection active ingredients Licochalcone A and Glycyrrhetinic Acid. Both nature-derived active ingredients protect the skin in-depth against sun-induced damage. Glycyrrhetinic Acid protects cells from sun-induced DNA-damage by supporting the skin's own repair mechanism while Licochalcone A has an anti-oxidative effect. "This is particularly important to protect from photoaging," explains Anette Bürger, "because UV-induced free radicals can trigger processes such as a reduction in collagen and thus damage the cell structure." Additionally, Licochalcone A bolsters the skin's natural defense mechanisms. Its efficacy has been proven in clinical studies with all in all more than 4.000 test subjects.
The texture has a matt finish, and a long lasting mattifying-effect. Because of its fast absorption the fluid is perfectly suitable to be used as a makeup base. Furthermore, the non-comedogenic formula is free of perfume and parabens. Its very high level of skin tolerability has been clinically proven even on very sensitive skin – after laser and peeling treatments. It has been developed for daily use and all skin types.
First test subjects excited
329 women from 25 to 55 years old tested Eucerin® Sun Fluid Anti-Age SPF 50 in the hot and humid climates of Spain and Thailand. Their conclusions were overwhelming: 96 percent confirmed the pleasant, light texture, 93 percent the fast-absorbing formula and 89 percent the non-stick, non-greasy feeling on the skin after application. The foundation is can also be combined with other products. Once the new Eucerin® Sun Fluids Anti-Age is part of your daily routine, there is only one thing left to do: enjoy the sun. It feels so good.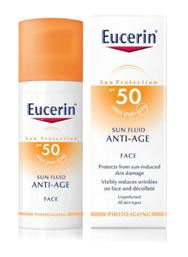 Eucerin® Sun Fluid Anti Age Face SPF 50, 50 ml is available in leading pharmacies in Lebanon for approximately 50,000 LBP.
Categories