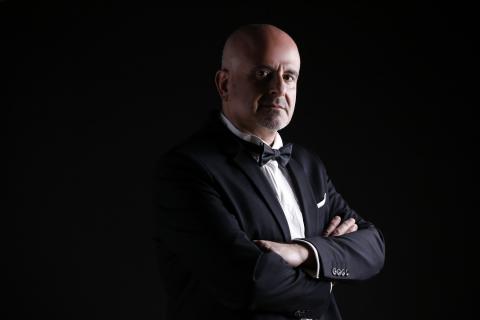 From Beirut to Bucharest... Toni Makhoul will send a ray of light to the world preforming "LE GRAND SPECTACLE" live at
THE ROMANIAN NATIONAL OPERA – BUCHAREST ON August 18
Amidst the increasing crises Lebanon is going through and in response to the negative and dark news surrounding our country reaching the whole world, the distinguished multi-talented music composer, arranger and producer Toni Makhoul chose hope over surrender and decided to fight for our country by performing his long-awaited big show "Le Grand Spectacle", on August 18, 2021 at the famous majestic venue "The Romanian National Opera – Bucharest". This message of hope will be in collaboration with "Philharmonic Mirea" and "Zuralia Orchestra" both founded by the renowned Romanian musician Relu Balkan, who is among the top clarinet players in the world; Toni said "I am honored to showcase the true value of Lebanon through Le Grand Spectacle in Romania, at the invitation of Relu Balkan".  
Created and Produced by Toni Makhoul, the big concert will include a new show and a remarkable production, with more than 100 performers on stage in an unprecedented special performance. It is a new unique combo of Music Compositions, Philharmonic Orchestra, Choir, Singers, Dance Performances, and Artistic Video Displays. This live performance, guided on stage by Toni Makhoul who will be performing on his guitar, includes music and songs, and The Romanian "Philharmonic Mirea" and "Zuralia Orchestra" conducted by Bassam Challita; the show is enriched by the brilliant pianist Michel Mirea, and it features the special guests Relu Balkan, Bella Santiago, Stefan Alexandru, Anca Turcasiu. It is to mention that all Music & Songs are written, composed and arranged by Toni Makhoul who doesn't include in his performances any song or music not of his own compositions.
The magnificent choreography by Sandra Abbas and Asadour Euredjian, collaborated with the famous choreographer from Romania Daniel Dobre & Gery Petre, will feature more than 32 of the best Romanian dancers performing diversified styles such as Tango, Waltz, Disco, Salsa, Ballet, Samba, Spanish, Rope Dance, and much more; the distinguished costumes are designed also by Sandra Abbas.
While darkness prevails over our beautiful country, Toni Makhoul will showcase to the world that Lebanon is indeed a gem shining bright through art, talent and joy, dissipating negativity and spreading a message of hope that at the end, the Lebanese will get back on their feet.