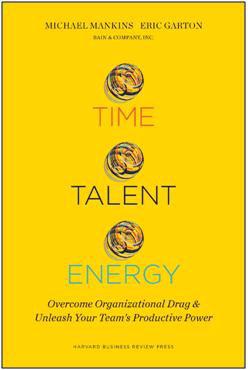 Overcome Organizational Drag and Unleash Your Team's Productive Power
By Bain & Company Strategists
Michael Mankins and Eric Garton
 "A concise and practical guide for managing scarce resources and unlocking the full potential of your organization, TIME | TALENT | ENERGY is more than an insightful book. It's an essential read for all CEOs and senior executives who want to get the most out of their workforce."
Andrew N. Liveris, Chairman and CEO, Dow Chemical Company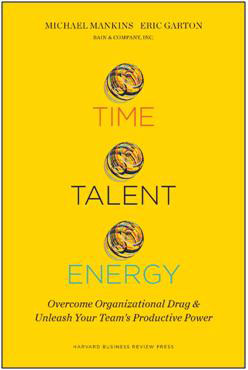 Imagine how much more competitive your company would be if all of your employees got as much done by 10 am Thursday as others get done all week? It's this potential to outperform rivals with productive power that's inspiring pioneering companies to manage their human capital as carefully as their financial capital.
Bain & Company Organization experts Michael Mankins (author of "Your Scarcest Resource") and Eric Garton show us why and how in TIME | TALENT | ENERGY: Overcome Organizational Drag and Unleash Your Team's Productive Power (Harvard Business Review Press; March 7, 2017) Mr. Garton will be on hand at the World Economic Forum on the Middle East and North Africa, held at the Dead Sea in Jordan, 19-21 May, to celebrate the official book launch in the region and to speak about findings from the research.
To study the impact of human capital management on an organization's productive power, Bain partnered with the Economist Intelligence Unit to survey more than 300 executives from large companies across 12 industry sectors worldwide. They found that the best managers of time, talent, and energy—the top quartile of their research sample—are 40% more productive than the rest and consequently have profit margins that are 30%-50% higher than industry averages. And this difference compounds every year; over a decade, they can produce 30 times more than the rest, with the same number of employees.
ABInBev, Netflix, LinkedIn, Ford, Dell, Nordstrom, Starbucks, Pixar, SpaceX, Spotify, IKEA, Airbnb, and Google are among the pioneering companies that have effectively managed the three components of human capital:
Time: The average company loses more than 25% of its productive power to organizational drag"—complex structures, bureaucratic processes and ways of working that waste time and prevent people from getting things done. To start reducing it, go through your team's calendar, ask yourself how many meetings really need to occur and how many attendees are truly essential—and then give back the time.
Talent: Contrary to popular belief, top-performing companies don't have better talent than their competitors; they're better at deploying, teaming, and leading the talent they have. They take an "intentionally nonegalitarian" approach to distributing their all-stars, ensuring that 95% of the people in mission-critical roles are A-level quality.
Energy: An engaged employee is 44% more productive than a satisfied worker, and an employee who feels inspired at work is nearly 125% more productive than a satisfied one. Inspired employees devote more of their discretionary energy to the company, its customers and other stakeholders. The companies that inspire more employees perform better than the rest. 
The bottom line: if you create an organization that doesn't waste people's time, uses their talent wisely and inspires them every day, you can create a virtuous circle of productivity and innovation—and a sizable gap in growth and profitability between you and your competitors that will widen year after year.
About the Authors
Michael Mankins is a partner in Bain & Company's San Francisco office and a leader in the firm's Organization practice. He is the author of two books and numerous articles in the Harvard Business Review and other leading publications. Eric Garton, a partner in Bain & Company's Chicago office, has written and spoken widely on organizational issues. He leads the firm's Global Organization practice and is a senior member of its Consumer Products and Industrial Goods & Services practices.
About Bain & Company
Bain & Company is the management consulting firm that the world's business leaders come to when they want results. Bain advises clients on strategy, operations, information technology, organization, private equity, digital transformation and strategy, and mergers and acquisition, developing practical insights that clients act on and transferring skills that make change stick. The firm aligns its incentives with clients by linking its fees to their results. Bain clients have outperformed the stock market 4 to 1. Founded in 1973, Bain has 55 offices in 36 countries, and its deep expertise and client roster cross every industry and economic sector. For more information visit: www.bain.ae.  Follow us on Twitter @BainMiddleEast