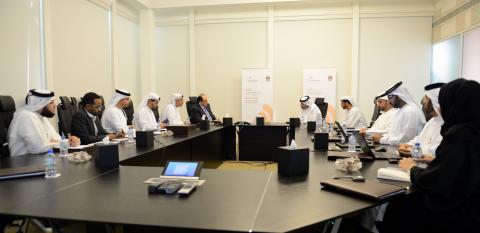 Quality of networks and services and end-user happiness among top priorities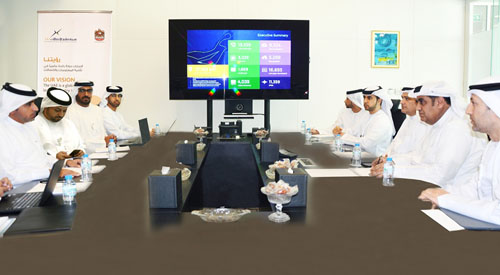 H.E. Hamad Obaid Al Mansoori, Director General of Telecommunications Regulatory Authority (TRA), discussed with H.E. Saleh Abdullah Al Abdooli, CEO of Etisalat Group, and with Osman Sultan, CEO of du, the results of the annual benchmarking of the quality of mobile networks in the UAE. The two recent meetings aimed to support common efforts to improve the quality of local telecommunications services to ensure end-user happiness and place the UAE on the global information and communications technology (ICT) map. Both parties discussed the most effective ways to further enhance services and how such a move could impact the country's score in Network Readiness Index (NRI).
H.E. Al Mansoori said: "Amid the positive results of the latest survey, we remain committed to excellence in accordance with the directives and vision of our wise leaders. We see many promising opportunities to continuously improve our telecommunication services through close coordination between local operators to ensure that these services are aligned with our vision to reinforce the UAE's international leading position in telecommunications. We will continuously move forward towards this direction as part of the national efforts to keep up with the latest ICT developments, with an aim of promoting customer confidence, satisfaction and happiness."
H.E. Al Mansoori emphasized the commitment on strengthening the cooperation between the TRA and Etisalat and du to further improve the quality of local mobile phone networks services, achieve the Authority's strategic objectives, and enforce a regulatory framework that stimulates competition and enhances the quality of offered services.
H.E. added: "The survey's positive results reflect the efficiency and correct strategies that we have implemented. This achievement is a strong incentive for us to continue to work with high spirit based on advanced methodologies designed to maintain the quality of telecommunications services, particularly with regard to round-the-clock access and reliability. We will continuously coordinate with Etisalat and du to improve the local sector, keep up with the global developments, and achieve international leadership."
In order to ensure the accuracy and credibility of the results of the annual benchmarking of the quality of mobile networks services in the UAE, the TRA utilized the latest equipment and tools used by leading institutions and developed countries. This equipment allows measurement of key performance indicators directly related to end-user satisfaction through simulation of an actual contact experience in several circumstances and different places. Such a capability ensures verification of the strength of network coverage as well as the voice services and data services quality. It is worth mentioning that TRA will publish the Annual Mobile Benchmarking results on its webpage during the upcoming period.
Categories