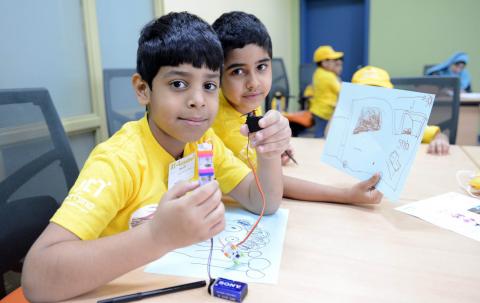 Camp's success reflects creativity of Emirati students
 The Telecommunications Regulatory Authority (TRA) has concluded its second Summer Innovation Camp organized from 17th July to 18th August 2016 and attended by around 2000 students, an increase of 62% from last year's attendees.
The camp aims to support an innovation culture and urge youths to find innovative solutions as well as encourage them to speak out their creative ideas through more than 24 activities organized by the camp's management. Most activities were focused on technical and IT skills, in addition to creative life skills for daily living, sports activities, and personality evaluation. Cultural gatherings discussing featured books were held as well. The camp also organized special sessions to promote 'UAE Sanea' (traditional Etiquette) or the ethical values practiced in UAE society.
H.E. Hamad Obaid Al Mansoori, TRA Director General, said: "The second summer innovation camp reflects TRA' social role and faith that real development starts and ends with human beings, so focusing on our Nationals' young generations is our priority to promote the culture of creativity and innovation in various sectors, especially in ICT among students during their early years. We are proud with the results achieved by this year's camp, in terms of its contribution to building a generation of UAE Nationals capable of driving the nation's future and achieving our wise leaders' vision as embodied in the UAE Vision 2021 of steering towards a knowledge-based economy. We can only achieve it by encouraging innovation, research and development, and fostering a culture of business leadership in the next generation."
"This year we organized two camps for girls for the first time. The number of registered students exceeded our earlier expectations, so the TRA decided to expand the camp further to take in as many of the applicants as possible. The ICT sector is the most conducive for further enhancing innovation and creativity, so discovering the students' talents and building their abilities is a priority under the TRA's social responsibility strategy," H.E. Al Mansoori added.
The TRA stated that consistently organizing such innovation camps, which has proven to be successful in bringing out creativity and the innovative spirit among students, has attracted students from various ages, with this year's edition exceeding the number of expected participants. The TRA announced that it will accommodate more students for next year's camp, especially after the huge turnout of girls who were allowed to participate in the event for the first time this year.
The camp held various technical and informative programs such as young inventors, journey to Mars, ideal use of mobile technology, information security and safe use of technology, the good and bad ways of using social media, in addition to various cultural, social, sports programs and activities.
The camp also organized various awareness workshops focused on life subjects such as self- development and the sense of responsibility to draw out the students' abilities, further build up their personality, and promote positive behaviours. It also conducted awareness lectures on the safe use of the internet and proper sharing of personal data and information to avoid becoming a victim of online crimes such as blackmailing. Moreover, the UAE Armed Forces has also participated by organizing special workshops focusing on the national service.
The camp also included a cultural gathering for the first time in support of 2016's declaration as the 'Year of Reading' under the directives of H. H. Sheikh Khalifa Bin Zayed Al Nahyan, President of the UAE and Ruler of Abu Dhabi, and H.H. Sheikh Mohammed Bin Rashid Al Maktoum, Vice President and Prime Minister of the UAE and Ruler of Dubai, to establish reading as a national and social habit.
Moreover, the camp hosted various lectures about 'UAE Sanea' in collaboration with the Watani Al Emarat Foundation. The lectures highlighted the importance of actions and behaviours in interacting with others in accordance with Emirati values and traditions, in addition to the history of the UAE's social community. The lectures were followed by visits and other special events.
The first edition of the TRA Innovation Camp was held in 2015, with various activities organized to establish a culture of creativity and innovation culture. It focused on modern telecommunications and ICT developments such as robots, mobile applications, the safe use of the internet, and other technologies. The first camp also held a number of events to help enrich the personality and life skills of Emirati students, such as lectures on leadership, financial management, nutrition and Tower Building activity.
Categories