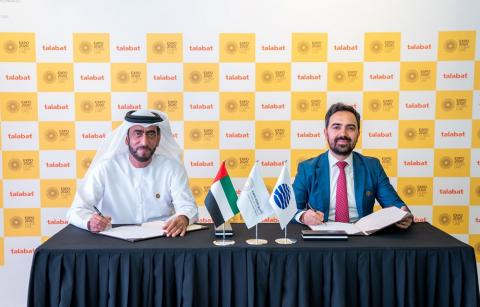 Official Food Delivery Provider's cloud kitchen brings together 30 concepts, autonomous delivery, and a robotic ice-cream confectioner and a barista.
Millions of visitors to Expo 2020 will showcase the future of food delivery experiences from talabat, which has been named Official Food Delivery Provider for the world's biggest cultural gathering.
Talabat Kitchen, an innovative, sustainable two-storey cloud kitchen, will offer 30 brands and 15 different cuisines, with 10 autonomous delivery vehicles, plus a robotic ice-cream confectioner and barista.
Catering to dine-in and delivery customers, with Talabat riders delivering to fixed locations throughout Expo's site using safe, sustainably responsible e-scooters, the region's leading food delivery and quick commerce ("q-commerce") platform will offer exciting global cuisines in innovative and efficient ways.
Diners can use the Talabat Kitchen screens or the talabat app to place their order, with meals being delivered on a dedicated conveyer belt. Cashiers will also be on hand to place orders. To pick up your order while exploring Expo, tap your order into the app and pick it up from one of the dedicated kiosks  — where you can also find screens to place orders — around the site.
Expo 2020 will be a food destination in its own right, with more than 200 F&B outlets serving 50-plus global cuisines, as well as mouth-watering foodie tours and pioneering culinary tech.
 
Source: www.expo2020dubai.com