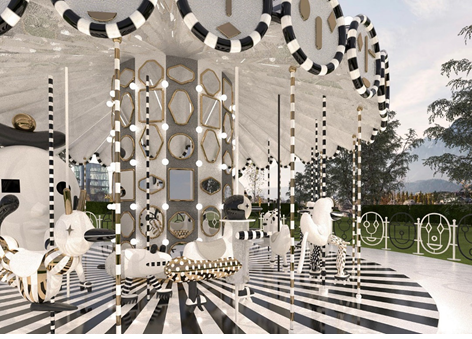 From the idea of bringing a centuries old memory to the modern world, Spanish designer Jaime Hayon developed the concept of creating a unique carousel that will awe the visitors of Swarovski Crystal Worlds, located in Wattens, Austria. Hayon starts every project by forming shapes in his mind, which later becomes a sketch where he combines the different shapes envisioned to create a detailed designed. Then he starts working with his team to create the prototype. 
The carousel – like most of Hayon's work – showcase a characteristic contrast beautified by an exceptional sense of detail. The extraordinary carousel is adorned with Swarovski crystals and is coloured in black and white. The simple colours of the design truly bring the characters embedded on the carousel to life.
"My initial designs were very colourful", says Hayon. However, since the surroundings of the artwork were already so colourful, the artist could not imagine his piece would stand out. So, he removed all colours and replaced them with black and white, which helped create the stunning contrast.
"The carousel is a symbol of innocence and lightness of spirit. In this exciting, new interpretation, Jaime Hayon combines superb elegance with his unique character figures from a fantasy world," says Carla Rumler, Curator for Swarovski Crystal Worlds and Cultural Director Swarovski.
The artist's finished work will be on display at Swarovski Crystal Worlds starting July 2019. The decorative instalment is bound to mesmerize the onlookers and engulf them in a magical atmosphere.
Swarovski Crystal Worlds is open year-round for all visitors. Tourists visiting Austria this summer will have the chance to enjoy the beauty of the new carousel and the many other fascinating artworks displayed, while enjoying the wonderful weather and natural environment of Wattens. With this new carousel and the many other enthralling instalments that captivate people of all ages, Crystal Worlds establishes itself as a leading attraction for both art enthusiasts and families.
For more information about Swarovski Kristallwelten visit: https://kristallwelten.swarovski.com
Categories