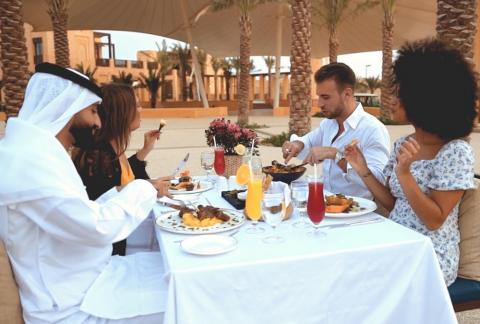 The first of its kind in the Northern Emirates, "Brunch by the Dunes," that was recently launched at Sharjah Collection by Mysk's Al Badayer Retreat, has been well received by guests looking for a unique experience amidst the dunes of central Sharjah.
"Brunch by the Dunes" is held every Friday, from 12:30 PM to 4:30 PM and offers a full day of fun activities and games along with a luxurious spread of delicacies from around the world.
The brunch is family-themed, intended to excite and delight adults and kids with many activities to keep them busy throughout the entire day. The fiesta offers a fun range of activities under a big white tent, creating a glamping vibe that is both unique and exciting. Games such as Jenga, Four in a Row, Bean Bag Toss, as well as volleyball, basketball and table tennis, are some of the activities guests can experience at the amazing brunch. 
The fun doesn't end there, after 4:30 PM the festivities continue with a falcon show, movie night and for extra charge guests can also enjoy archery, zorb balls and a bonfire experience to end the day in style. 
Al Badayer Retreat is a boutique eco-retreat under the Mysk by Shaza umbrella, located in the Al Badayer desert area in the Emirate of Sharjah at less than an hour's drive from the main land. Al Badayer region boasts the best picturesque red dunes and Mysk Al Badayer is nestled in this serene backdrop. 
Mysk Kingfisher Retreat, Mysk Al Badayer Retreat, and Mysk Al Faya Retreat are hallmarks of Sharjah's eco-tourism identity each with its own distinctive allure.
As for adventurous souls, Mysk Al Badayer Retreat presents a picturesque desert stop set against the sweeping dunes of central Sharjah. It is a great vacation getaway where you will carry back authentic cultural riches and enjoy luxurious amenities and facilities to rejuvenate and prepare for a spectacular desert adventure. 
 
•    Terms & Conditions apply
•    For reservations, please call +971 6 801 2020 or book.albadayer@myskhotels.com 
•    For more information visit myskhotels.com