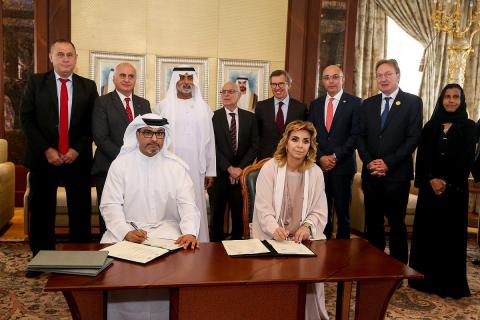 Under the patronage of H.H. Sheikh Nahyan bin Mubarak Al Nahyan
Khalifa Fund signs strategic agreement to
fuel entrepreneurial culture among
Emirati talent 
Agreement signed in partnership with University Leadership Consortium to encourage entrepreneurship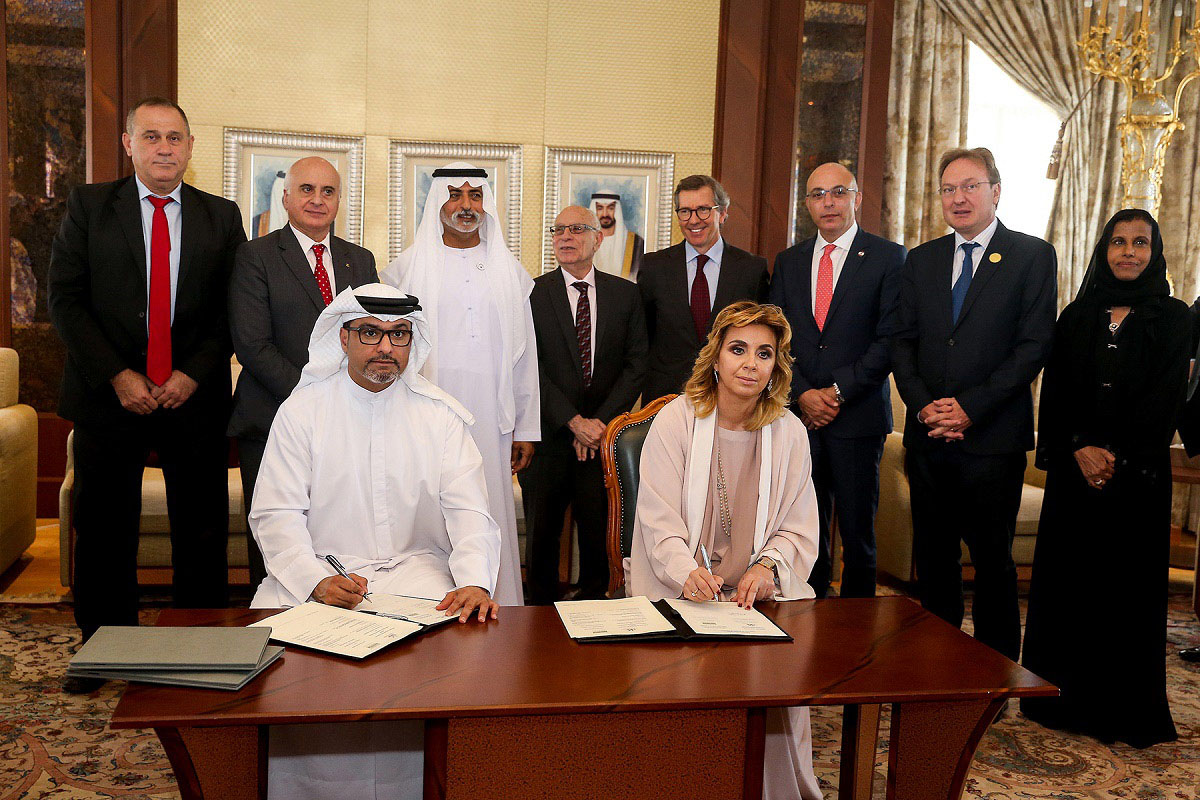 Under the patronage of His Highness Sheikh Nahyan bin Mubarak Al Nahyan, Minister of Tolerance, Honorary Chairman of the University Leadership Consortium and BUNYAN Initiative for the Capacity-Building of the Youth, the Khalifa Fund for Enterprise Development successfully signed a strategic agreement with the University Leadership Consortium (ULC), a capacity-building and entrepreneurship hub, today at the Sheikh Nahyan Bin Mubarak Palace in Abu Dhabi.
The agreement is aimed at reinforcing efforts by both parties in the areas of academic education, capacity development and human resources in the UAE--including the efforts to develop the skills and capabilities of young talent. The alliance looks towards the development of local enterprises by instilling and enriching a culture of entrepreneurship and innovation among young UAE nationals, in line with the strategic vision of promoting and supporting entrepreneurship in the country.
The agreement was signed by H.E Abdullah Saeed Al Darmaki, CEO of Khalifa Fund for Enterprise Development and Dr. Nada Mourtada-Sabbah, Secretary-General of the University Leadership Consortium (ULC), in the presence of several officials from both sides.
The alliance aims to establish joint collaborative efforts in pursuing the UAE's vision and strategy in the development and support of human resources, promoting the culture of entrepreneurship and driving innovation among future entrepreneurs to optimum levels.
H.E Abdullah Al Darmaki stressed on the progress of the Fund in its journey towards enhancing the spirit of leadership and initiative among Emiratis. He praised the importance of this agreement in strengthening cooperation between educational institutions for the interest of Emirati youth and contributing to enhancing entrepreneurship and SMEs, which leaves a positive impact across all economic, social and cultural levels.
"Our strategic agreement with the University Leadership Consortium is part of our efforts to support human resources and create an appropriate business environment for the development of SMEs, and to encourage entrepreneurship among the youth, including university students, through programs, initiatives and activities under the Joint Convention," he added.
 Dr. Nada Sabbah said, "We are proud to have signed this strategic agreement with the Khalifa Fund, which is the key focus of our efforts to empower young and ambitious people. The partnership signifies the mutual trust between the two parties to provide a platform on which to empower ambitious Emirati youth and transform their theoretical ideas into concrete practical initiatives that effectively contribute to enhancing the strategic vision of the UAE government."
The two sides underscored the importance of developing and enhancing young talent and preparing them to be successful entrepreneurs and major contributors to the social and economic development of the UAE by exchanging common experiences and creating a culture of entrepreneurship, developing the necessary skills and fostering a spirit of innovation.
Categories