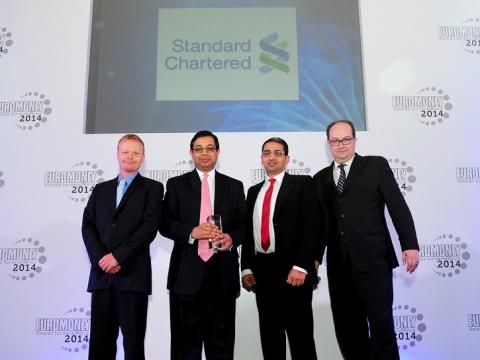 Bank wins Best Supply Chain Finance provider and Best Transaction Banking Services house in the Middle East
Dubai, United Arab Emirates, 5 June 2014 – Standard Chartered has been recognised as the 'Best Transaction Services House in the Middle East' at the Euromoney Awards for Excellence 2014 – Middle East organised by Euromoney, a well-known international finance magazine. The Bank also won the 'Best Supply Chain Finance Provider in Middle East' at the 7th annual ranking of the 'World's Best Supply Chain Finance Providers 2014' by Global Finance, a leading monthly financial magazine.
A complete list of winners and report on selection procedure will be published in the July-August 2014 issue of Global Finance. The trophies will be presented at the Global Finance 2014 Transaction Processing Awards Ceremony, which will take place during the SWIFT International Banking Operations Seminar (SIBOS) on Wednesday, October 1, 2014 at the Harvard Club, Boston, USA.
Globally, Standard Chartered won the 'Best Global Supply Chain Provider Bank,' 'Best Pre-Shipment Financing Solution' for the third consecutive year and 'Best Integrated Trade, Supply Chain Finance and Cash Management Solutions' for the fourth consecutive year.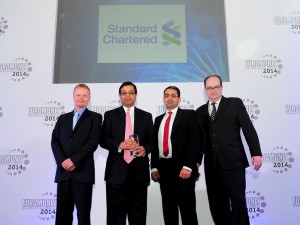 Commenting on the double recognition, Dinesh Khanna, Regional Head of Transaction Banking for MENAP, Standard Chartered Bank, said: 
"The Middle East region is one of Standard Chartered's strategic markets globally and these recognitions demonstrate our commitment towards excellence and continuous innovation. In the region, we have been leveraging our tailor-made world class products and solutions through our international network across Asia, Africa and the Middle East to cater to our clients specific banking needs."
Standard Chartered has been present in the Middle East region for more than 92 years and has a global network that spans more than 70 markets. The Bank employs more than 3000 employees across the region and is considered one of the leading providers of trade finance, cash management and working capital solutions. The bank generates more than 90% of its revenues and profits from Asia, Africa and the Middle East. 
For further information please contact:
Standard Chartered Bank
E-mail: Ramy.Lawand@sc.com
Note to Editors:
Standard Chartered
We are a leading international banking group, with more than 86,000 employees and a 150-year history in some of the world's most dynamic markets. We bank the people and companies driving investment, trade and the creation of wealth across Asia, Africa and the Middle East, where we earn around 90 per cent of our income and profits. Our heritage and values are expressed in our brand promise, Here for good.
Standard Chartered PLC is listed on the London and Hong Kong Stock Exchanges as well as the Bombay and National Stock Exchanges in India.
For further information please visit www.standardchartered.com. Follow Standard Chartered at www.facebook.com/standardchartereduae and on Twitter @StanChartMENAP.
Categories