State-of-the-art "Weather Factory" can simulate diverse environmental conditions ranging from blizzards to searing heat, from high humidity to gale-force winds
Ford's advanced new facility ensures drivers can rely on vehicles that have endured conditions that are found in the Sahara, in Siberia, and atop the tallest Alpine peaks
Ford invests more than €70 million in facility in Germany. Described as "an engineer's dream" it is both Europe's hottest and coldest spot and highest point in western Europe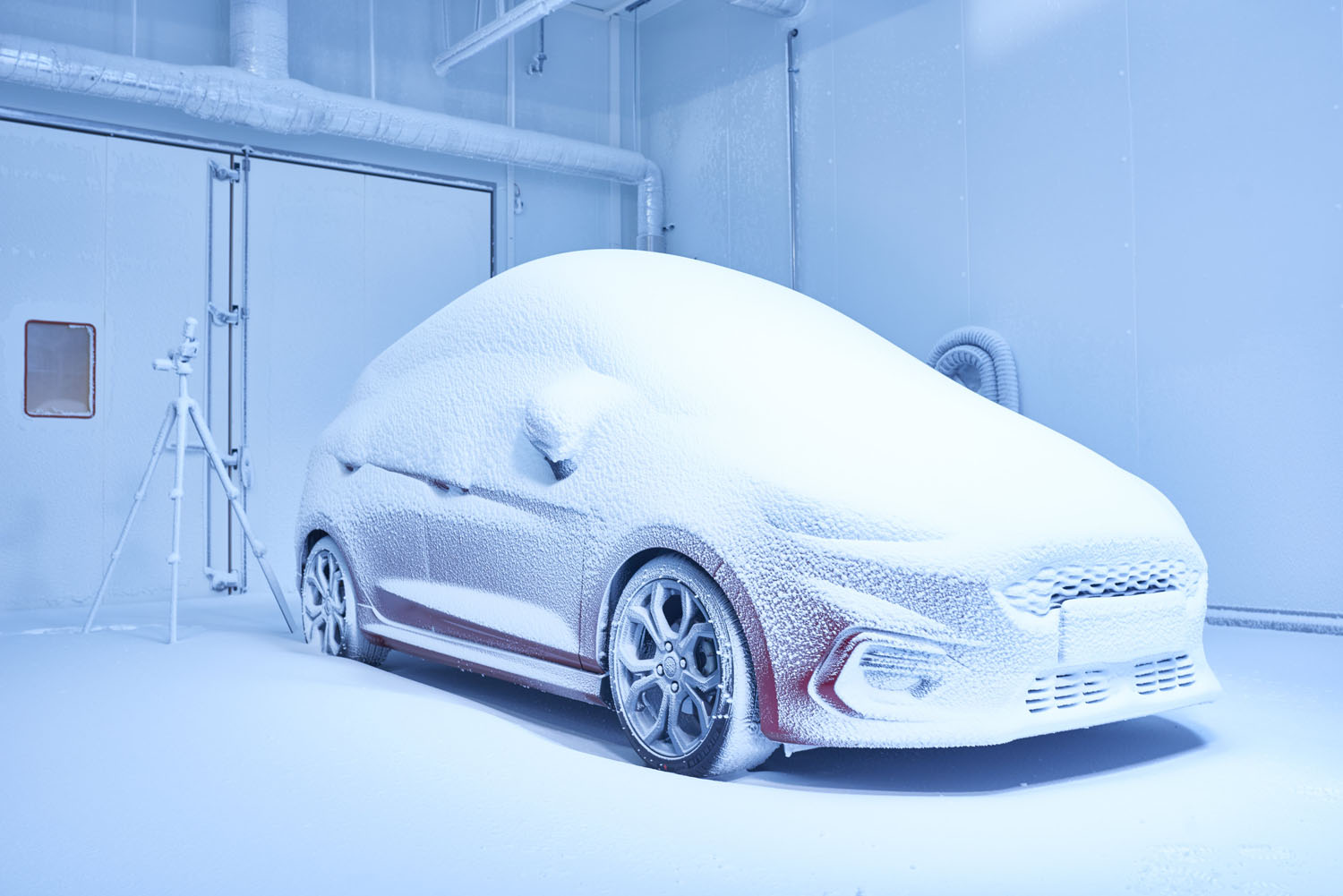 The air is shimmering like in the desert, while just a few metres away, it's so cold you can build a snowman. And there's a category 5 hurricane in the next room. Welcome to the "Weather Factory".
Ford's new state-of-the-art Environmental Test Centre puts all the world's weather under one roof, enabling engineers to test forthcoming vehicles – from a small Ford KA+ to a two-tonne Ford Transit in the most demanding conditions and make whatever weather they want at any time of the day.
Altitudes higher than Mont Blanc, the tallest Alpine peak, vehicle and wind speeds of up to 250 km/h (155 mph), snow, glaring sunlight and rain are among conditions that are a push of a button away in Europe's most advanced automotive environmental test centre.
On an area the size of a football pitch, engineers can now take vehicles on demanding journeys around the world, from the desert heat of the Sahara, to the arctic cold of Siberia and the heavy humidity of Costa Rica.
"The vast range of punishing simulation tests will enable Ford drivers to be confident their vehicles can handle whatever climate zone they live in," said Joe Bakaj, vice president, Product Development, Ford of Europe. "Travelling to the four corners of this building is like taking a trip to the four corners of the world, and our engineers will do that around the clock, every day, to continue to develop future best-in-class vehicles."
The subject of a €70 million investment, the test centre offers the first automotive wind tunnel to simulate heavy snow and altitudes of 5,200 metres, the same elevation as the Mount Everest North Base Camp. The facility can also cool two rooms to – 40° C and heat them up to 55° C, as well as generate 95 per cent humidity. The temperature extremes make the facility at Ford's John Andrews Product Development Centre in Cologne, Germany, the hottest, coldest and most humid place in Europe, and home to the highest point in Western Europe.
Now fully operational, engineers can work on up to ten different vehicles simultaneously. Testing covers comfort, safety and durability, as well as electrical performance, braking, air conditioning, trailer towing, cabin heating and traffic jam situations. Engineers analyse the effects of high speed winds on exterior parts, check the robustness against rain and snow, and see how fast a windscreen defrosts at different temperatures.
"The Environmental Test Centre represents a significant investment for Ford of Europe that will help enable the company here to develop vehicles for global markets," said Bakaj.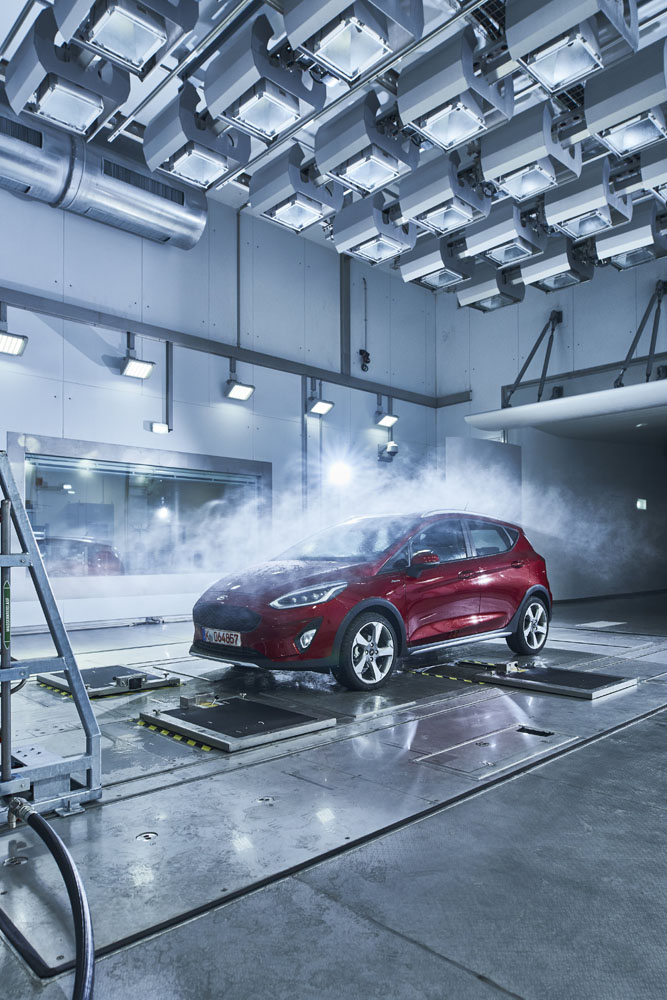 All Ford vehicles will be tested in the facility, which features three climate wind tunnels, including a high-altitude lab, and four temperature-controlled test chambers, one of which will also facilitate humidity testing.
Wind Tunnel 1 is set up for hot and cold immersion testing. The 28 spotlights with 4,000‑watt bulbs help to simulate the powerful sun beams that enable engineers to check how fast the cabin can be cooled. This wind tunnel can also evaluate the interior noise from vehicle systems at different speeds, temperatures and humidity levels, to check the heating and air conditioning noise
Wind Tunnel 2 is also set up for hot and cold immersion testing. Engineers can use this wind tunnel to make snow and rain to check the effect on visibility, engine starts and how long it takes to heat the cabin
Wind Tunnel 3 is the altitude lab, where engineers can test vehicles at wind speeds of up to 120 km/h (75 mph) at up to 5,200 metres. The high altitude cold start and durability tests ensure the vehicle's liquids don't burst their lines when working under higher pressure. More than half of Ford vehicles worldwide are sold in territories with roads above 1,000m
"We can see how windshield wipers function in Arctic temperatures, how engine performance changes in extreme heat and cold, and even how much snow falls on the driver's head when they open the door. It's an engineer's dream," said Michael Steup, project manager, Environmental Test Centre, Ford of Europe.
Overall, the facility requires 11 megawatts of electricity, enough to power a small town of 2,400 inhabitants, that comes from a fully renewable, environmentally-friendly source. The electricity provided by RheinEnergie originates from certified sustainable sources in Scandinavia and covers the complete electric power demand of Ford's facilities in the city.
The ground-breaking test centre complements testing facilities that include Ford Lommel Proving Ground, in Belgium, home to a specific pothole-testing track, side-wind tests, and saltwater and mud baths.
You can find images and supporting media here: http://etc.fordmedia.eu
Categories