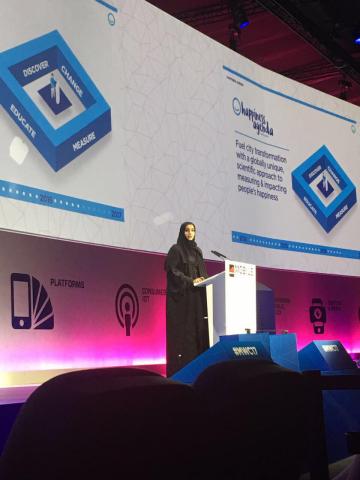 Highlights Dubai's smart transformation experience to future city leaders during 'Fourth Industrial Revolution' session
H.E. Dr. Aisha Bint Butti Bin Bishr, Director General of the Smart Dubai Office, recently showcased Smart Dubai's experience of transforming the emirate into a completely smart city to a number of future city leaders during the key session on the 'Fourth Industrial Revolution' at Mobile World Congress 2017 in Barcelona, Spain.
During the presentation, H.E. Dr. Bin Bishr said: "Our vision is to make Dubai the happiest city on earth with a pledge to ensure the happiness of its people in everything we do. We have realized that technology can create a positive impact on everybody's happiness and remain committed to harnessing the latest innovations to improve city experiences to make everyone happy. Today, Dubai residents are not required to present passports to enter or exit the city as they can simply scan their Emirates ID at the E-Gates for smooth, quick and easy passage. In addition, the RTA's Nol Card allows users to pay for bus, metro and taxi fares as well as admission fees for public parks. Furthermore, the Dubai Electricity and Water Authority has set up more than 100 electric vehicle charging stations across Dubai. We are simply working with all our partners to define the future of Dubai with the aim to make its inhabitants happy."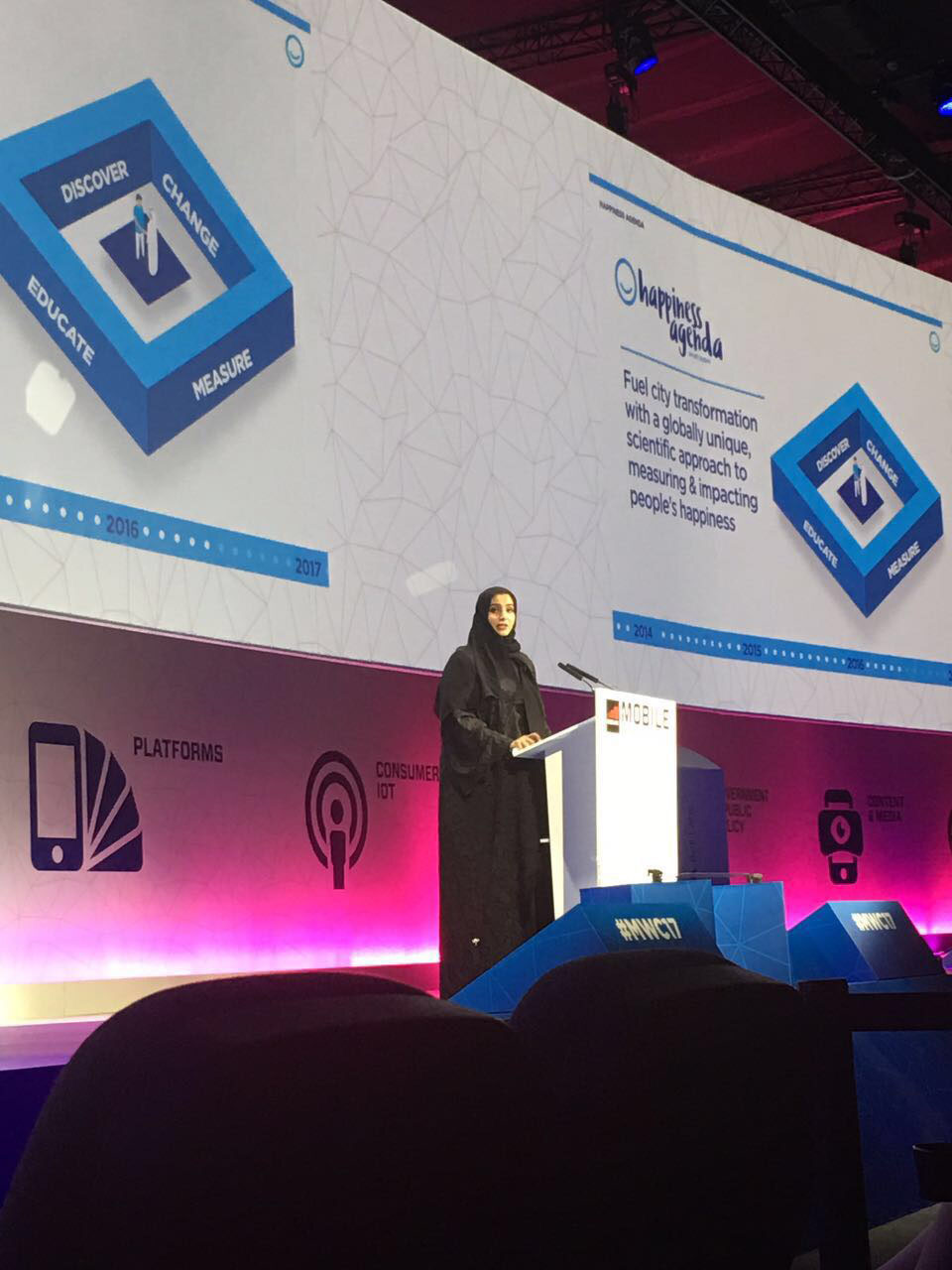 The Director General added: "We have created a roadmap for the smart transformation of Dubai which encompasses six dimensions, namely the smart economy, smart living, smart people, smart environment, smart mobility, and smart governance. The International Telecommunication Union (ITU) has carefully examined our progress and Dubai's smart transformation experience has since been used as a benchmark for all cities around the world. Over the past 3 years, we launched as many as 121 smart initiatives and 1,129 smart services. We are currently implementing a happiness agenda under four portfolios, namely, discovery, education, measurement and change, all of which serve the goal of Dubai's smart transformation for the happiness of its people."
"We have a unique happiness meter, an open platform for all customers of the Dubai Government and private sector entities to measure the level of their happiness. This will enable us to introduce new programmes and develop our smart services in line with the people's needs which will lead to increased citywide happiness. The Smart Dubai initiative has an ambitious objective of making Dubai not only a technologically advanced city but also the worlds happiest. In 2016, we gathered more than 6 million votes through the happiness meter, achieving a citywide happiness rate of 90 per cent," concluded H.E. Dr. Bin Bishr.
Talking about the Smart Dubai initiative, H.E. Dr. Bin Bishr pointed out that the challenge of building the Dubai Smart City lays in the ability to combine the efforts of both the government and private sectors. To serve this end, Smart Dubai's smart transformation approach is focused on providing the best infrastructures and information and communication technologies (ICT) for combining efforts and unifying the citywide process of smart transformation. Starting with only nine (9) strategic partners, Smart Dubai now boasts of a network of 24 partners representing both the government and private sectors.
Categories