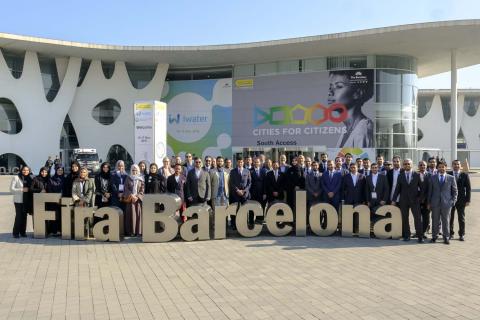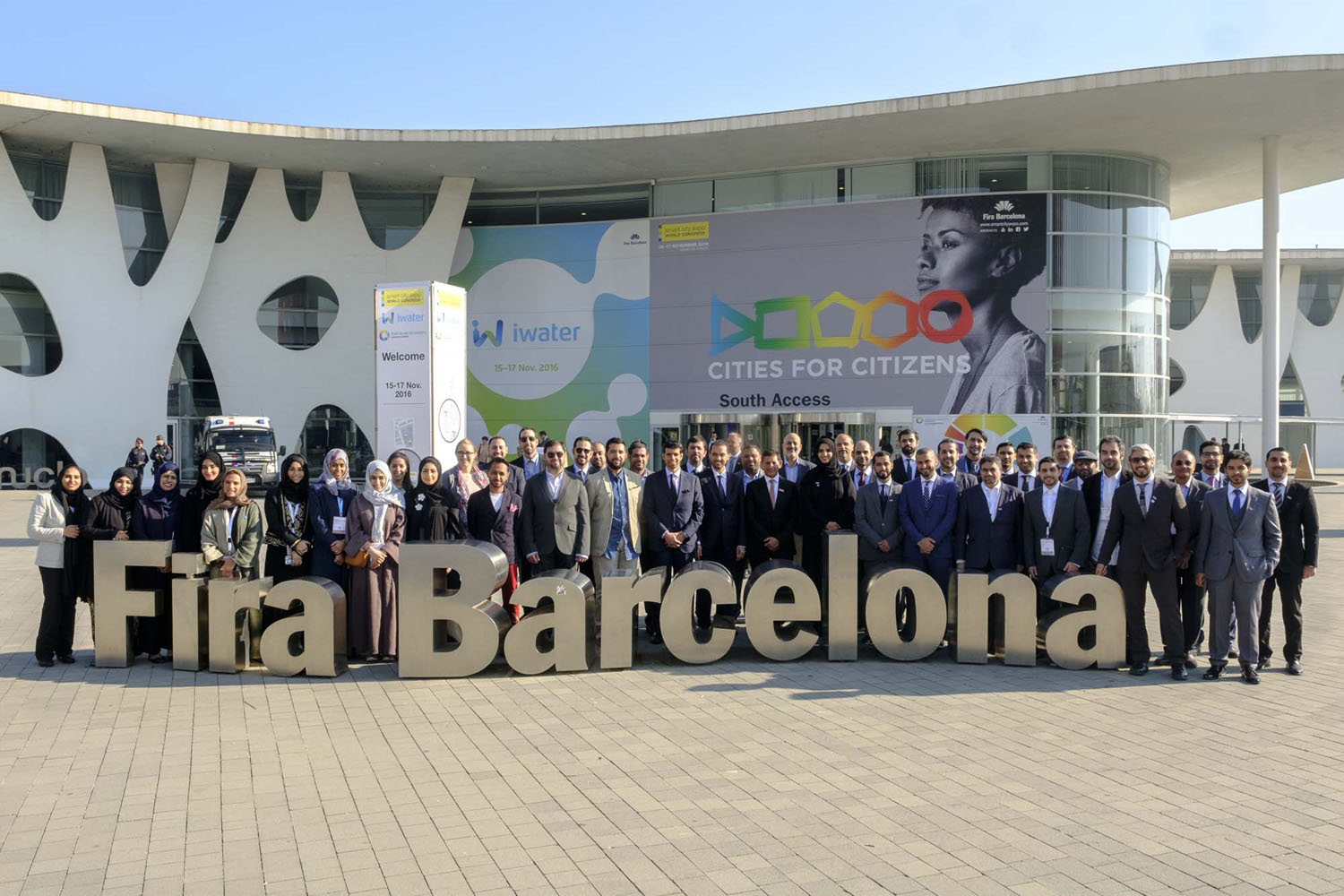 A delegation led by the Smart Dubai Office has returned to Dubai after a successful visit to Barcelona, Spain to showcase achievements in Dubai's ongoing smart transformation during the annual Smart Cities Expo and World Congress there, and to share best practices from Dubai with the global audience.
"The Start Dubai delegation to the Smart Cities Expo has been an important milestone in our journey, and I am proud to congratulate all of our partners on a successful visit," Her Excellency Dr. Aisha bin Bishr, Director General of the Smart Dubai Office, said.
The delegation of 14 strategic partners in Dubai's smart transformation and the Smart Dubai Office represented the leaders of the Dubai's comprehensive smart city initiative, which aims to leverage the latest technology innovations to deliver more efficient, seamless, safe and impactful experiences that will make Dubai the happiest city on earth.
"This week, Dubai demonstrated to the world the impressive accomplishments which we have delivered in a very short time, by working together with a shared vision for our city," Her Excellency said. "Throughout the Congress, city and industry leaders repeatedly emphasized the importance of collaboration to achieve a smart city, which has been a cornerstone of Dubai's strategy from day one," she said.
 Dr. Aisha bin Bishr said: "In Barcelona, Dubai showed that we are leading among smart cities with an inclusive, comprehensive and collaborative citywide effort that is now a new global best practice." We were proud to be sharing our approach as a benchmark for our global peers, she also said.
International leaders including the President of Catalonia and the Mayor of Barcelona, as well as delegations from Malaysia, Denmark, the UK, and several international vendors, toured the Smart Dubai stand to learn from the smart services and initiatives already delivering time-saving, cost reductions, and quality of life benefits for Dubai residents, tourists, entrepreneurs, and decision-makers.
 Solutions showcased by Smart Dubai and its strategic partners included:
Smart Dubai Platform by Smart Dubai and du. Smart Dubai showcased the Smart Dubai Platform, the new digital backbone for Dubai, in collaboration with Strategic Partner du. The Smart Dubai Platform will be the central operating system for Dubai, enabling seamless access to city services and the data for all individuals and the public and private sector, in the very near future. The platform represents the next giant leap forward in Dubai's smart city transformation. The Smart Dubai Platform will unify citywide physical infrastructure, aggregate and integrate open and shared data, facilitate enabling services, such as digital IDs and payments, and support the delivery smart applications across the city.
DubaiNow by Smart Dubai Government. DubaiNow is the unified hub for the city services you need. We are now expanding. DubaiNow is already available for iOS and Android, and the DubaiNow web portal is now open in beta. DubaiNow is unifying 55 digital services from 24 government departments, private sector entities and humanitarian establishments in a single user experience.
DubaiNow gives you instant access to the city services you need now, all in a single, simple interface. For example, using DubaiNow you pay all your bills and fines with a single tap, thanks to its integrated, data-sharing platform. With DubaiNow, users can assemble a personal dashboard for all their city service's needs: from weather and prayer timings to bill-payments and vaccination schedule reminders for your children's health.
"Saad" Artificial Intelligence Solution by Smart Dubai Government and the Department of Economic Development. Saad represents the next evolution in our ongoing efforts to make accessing city services easy, fast and convenient, using artificial intelligence. Saad is like Siri, for business in Dubai. Using artificial intelligence, Saad has been trained by DED and SDG to provide all the official information you need to know about starting a business in Dubai.
 Benefiting from natural language processing, Saad can walk clients through the procedures, required documents and other actions necessary to start a new business in Dubai with simple, clear and reliable instructions.  Saad continually learns from every interaction, meaning Saad is always getting better and better at answering your questions quickly and reliably. Soon, Saad will be expanding to other governments services. Saad will ultimately become your personal assistant for all Dubai city services.
ICT Masterplan Guidelines by Dubai Design District. Dubai Design District launched the ICT Masterplan Guidelines during the second day of the Smart Cities Expo and World Congress, to facilitate the district developers to implement of fully integrated, safe, efficient and seamless safe and efficient experiences for residents. The ICT Masterplan and Developer Guidelines demonstrated how smart urban technologies and solutions can fuel sustainable development and support a high quality of life through wise management of a city assets.
 The ICT Masterplan and Developer Guidelines act as an innovative mastermind plan. From the beginning it encourages prioritising the ICT infrastructure, urban planning and the development considerations for the integration of smart technology and their possible implications before building, which results in prosperous and sustainable urban futures.
DubaiStartupHub by Dubai Chamber. Dubai Chamber showcased the DubaiStartupHub, a new portal for startups, entrepreneurs, venture capitalists and technology enthusiast to meet, establish new connections, and create new partnerships that will foster innovation and stimulate local economic activity. The portal is an asset for entrepreneurs and start-ups to discover workspaces and make connections with investors and mentors.
Government entities and businesses can also use the portal to discover locally-based start-ups with expertise in key areas, including mobile identity; data science; and other smart services, supporting cooperation between entities and entrepreneurs that is a core tenant of the Smart Dubai strategy.
Creatopia by Dubai Culture. Dubai Culture and Arts Authority showcased Creatopia, the new digital platform to promote engagement and growth in Dubai's creative community. Creatopia facilitates engagement within the creative community and between government authorities and talent seekers, creating a new platform for the sharing and exchange of creative resources, and promoting the creative economy for Dubai. Creatopia also provides creative individuals with the satisfaction of belonging to a community within which they can properly use their talent
Dubai Customs Portal by Dubai Customs. Dubai Customs showcased the unified portal for DP World, Jebel Ali Free Zone and Dubai Customs, under Dubai Trade, to support seamless entry and declarations for Dubai's ports, which are among the top 10 business ports on the world. The unified portal, which provides services such as Berth Booking and Container Inquiries also features a Smart Workspace for declarations, that provides customs declaration services to companies to manage the import, export or transshipment of goods, or handling in Dubai, through a daily, 360-degree dashboard designed to make their work easier and more efficient.
Shams Dubai, Smart Grid and EV Charging Stations by Dubai Electricity and Water Authority. Dubai Electricity and Water Authority showcased updates on three core smart services: Shams Dubai, to facilitate the installation of solar panels for residences and business in Dubai and enable building owners to connect to the Smart Grid to sell electricity to the city, and promote renewable energy sources for Dubai; the Smart Grid, providing internet of things-enabled household energy meters allowing homeowners to track energy consumption in real time to promote cost savings, and for city officials to detect and respond to leaks or surges instantly; and Electric Vehicle charging stations, providing easy access to charging points for vehicle owners and encourage the adoption of electric vehicles in the city to reduce emissions and promote sustainability.
Salama by Dubai Health Authority. Dubai Health Authority demonstrated the Salama initiative to facilitate data sharing between government hospitals and increase efficiency, accuracy, and effectiveness of medical care through a data-connected platform. Through the Salama platform, doctors are able to seamlessly transfer safe and secure patient data between hospitals, making visits more efficient as patients will no longer need to complete multiple forms.
 Salama also benefits patients and caregivers with hundreds of data-connected medical devices, such as heart-rate and blood-pressure meters, reducing errors resulting from manual data entry, and helping make visits to the doctor even quicker for patients. Salama also powers a personal app for patients to chat directly with doctors, enabling services such as remote diagnosis and subscription renewals.
Dubai Municipality Smart Portal by Dubai Municipality.  Dubai Municipality showcased its comprehensive city portal, uniting more than 350 city services through an online platform that is available on both web and mobile channels. Dubai Municipality also showcased several new apps and services that have been integrated into the portal, including its newest app, Aleef, which is a new service supporting the adoption of rescued pets in Dubai.
Through the Aleef app, potential pet owners can browse animals available for adoption from registered animal rescue agencies, as well as check the location and credentials of veterinary clinics to care for their newest family members. Dubai Municipality also provides smart chips for pets, so that lost pets who are retired in the system can be quickly found and returned to their owners. Using the Aleef service, owners can feel secure about their pet's safety and wellbeing.
 The Smart Palm initiative, which provide wifi-enabled, solar-powered mobile charging stations and information portals for Dubai's beaches and public areas were also showcased during the event. Smart Palm is the result of a partnership between Dubai-based start-up D-IDEA, Dubai Municipality, and du.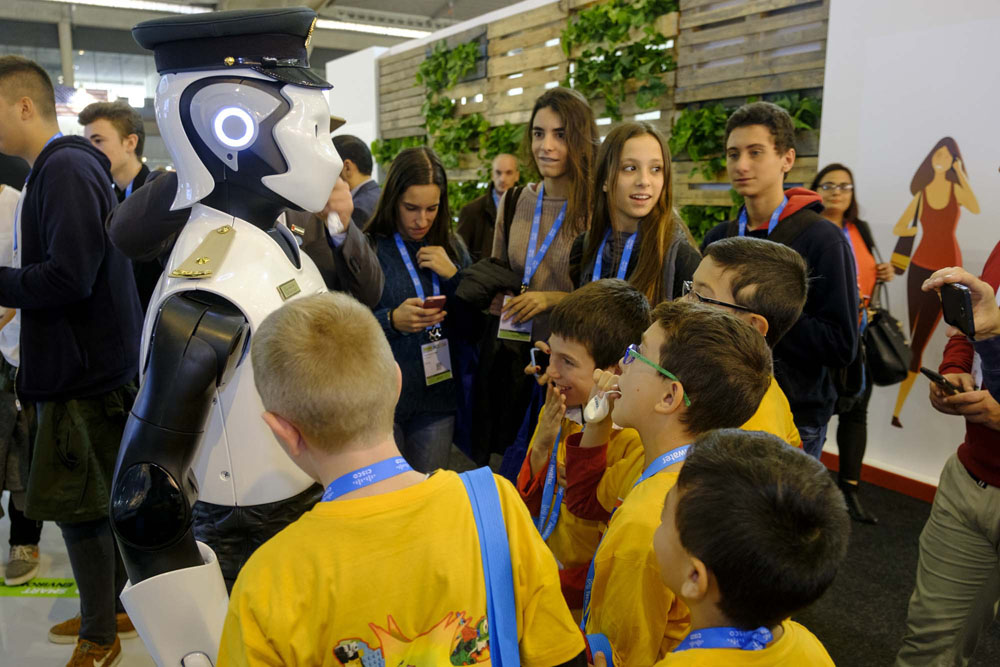 Dubai Police App and Dubai Police Robot by Dubai Police. The Dubai Police robot was the star of the expo, welcoming visitors to the stand and even shaking hands with the President of Catalonia. In addition to the robot, which will be deployed in tourist areas in Dubai to encourage safety and provide assistance and easy access to police services, Dubai Police also demonstrated the Dubai Police app.
All Dubai Police services are now available through the app, including filing traffic accident reports, which can now be completed in under 10 minutes, and reporting a crime. The Dubai Police now also features new integrations with Siri and WhatsApp, so that contacting the police and transacting police services, even sending an SOS message, becomes faster and easier.
Parent-School Contract and Smart Services by the Knowledge and Human Development Authority. The Knowledge and Human Development Authority (KHDA) also showcased smart initiatives and services in line with the vision of Smart Dubai, to make Dubai the happiest city on earth. Featured services included the Parent-School Contract application, to facility the contract-signing process and create smooth and seamless communication between parents and schools, promoting happiness and peace of mind for parents, and equipping teachers and administrators with the necessary information to design more personalized education experiences for all students.
KHDA also featured a number of initiatives designed to promote happiness of school administrators, parents, investors, and all visitors to KHDA offices with a fully redesigned customer experiences focused on delighting customers. By delivering a customer experiences that is free of service counters or long queues, where government employees sit and meet with customer's specially-designed, comfortable lounge areas, KHDA is embodying the mandate of Smart Dubai, to create a government that meets the customer, rather than the other way around.
 Smart City Pilot Projects and AMANO by Dubai Silicon Oasis Authority. Dubai Silicon Oasis Authority showcased several smart services and initiatives led by the smart district in coordination with public and private sector partners, in its role as a pilot smart district for the Smart Dubai initiative. In addition to initiatives such us the Human Crossing in partnership with Volkswagen, to increase driver's awareness around crosswalks; Smart Poles, in partnership with Huawei, to provide internet-enabled streetlights with 16 embedded sensors and safety features;  and DSOA's own waste management program, which has reduced operational costs by up to 65% already, the Authority also demonstrated its new AMANO initiative, providing an integrated and real-time district dashboard supported by RFID technology to provide personalized updates to all district residents. Dubai Silicon Oasis also showcased Silicon Park, the new Greenfield smart district set to launch in 2018.
Leading government entities including Dubai Chamber, Dubai Culture and Arts Authority, Dubai Electricity and Water Authority (DEWA), Dubai Health Authority (DHA), Dubai Municipality, Dubai Police, the Knowledge and Human Development Authority (KHDA), the Ports, Customs and Free Zone Corporation (PCFC), Dubai Design District, Dubai Silicon Oasis Authority and du exhibited smart services and initiatives on the stand. Officials from the Department of Economic Development (DED), Dubai Electronic Security Centre (DESC), and the Roads and Transit Authority (RTA) also traveled with the delegation.
The Smart Dubai Office leads Dubai's smart city program, utilising technology innovation to improve efficiency and enhance experiences for the city, in line with its vision to make Dubai the happiest city on earth. The Smart Dubai Office works with its establishments, Smart Dubai Government and Dubai Data, and more than 25 partner entities from the government and private sector to deliver its strategic initiatives and products across six city dimensions: living, economy, governance, mobility, environment and people.
Categories