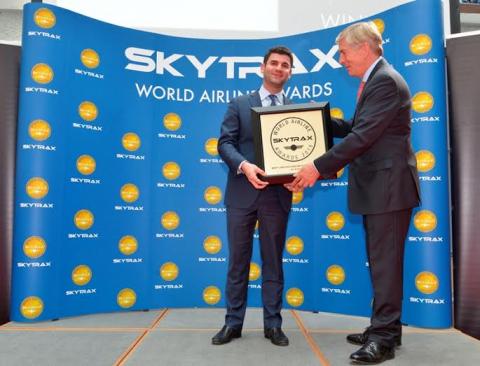 Second time in three years Air Arabia has taken home coveted award based on passenger satisfaction levels
 Air Arabia has been named the Best Low-cost Airline in the Middle East at the annual Skytrax World Airline Awards, which took place at the Paris Air Show this year. This is the second time in three years that Air Arabia has won the coveted award, following its previous victory in 2013.
The world's largest airline passenger satisfaction survey is conducted every year to decide the winners of the Skytrax World Airline Awards. The Award for the Best Low-Cost Airline is based upon an assessment of customer satisfaction of the product and staff service standards provided by the airline in both the cabin and airport environments.
"We are delighted to be once again named the region's top low-cost carrier," said Adel A. Ali, Group Chief Executive Officer of Air Arabia. "Winning the Skytrax award is particularly pleasing as it is based on levels of customer satisfaction, which is the criteria Air Arabia values above all others. We thank survey participants for their positive feedback and hope to make their next experience of flying with Air Arabia even more enjoyable."
The Skytrack award continues a string of accolades won by Air Arabia over the past year, including including "Low Cost Carrier of the Year" from Aviation Business, "Middle East's Leading Low-Cost Airline 2014" at the 21st World Travel Awards, the "Airline Business Award" at the Airline Strategy Awards 2014, and "Best Low-Cost Carrier" at the 2015 World Tourism Forum Awards.
Categories