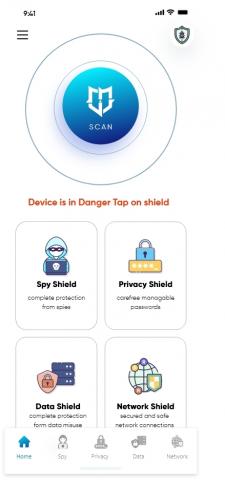 The cyber security experts at Skynet Softtech have launched HackShield, an app currently available to download on android, iOS and computer product created with the purpose of safeguarding one's virtual privacy against all kinds of cyber threats. The specialists behind HackShield have decades of practical experience in dealing with spies and hackers, as well as having worked with various governments in tackling the menace of cyber-crimes. The app is now available to download for a free 30-day trial across the UAE market.
HackShield's defining feature 'Scan', analyses the device and notifies the users of all the hidden and malicious apps and websites that have the potential to jeopardize digital privacy. Apart from Scan, the app contains a variety of features including Spy Shield, Privacy Shield, Data Shield, Network Shield, and Device Shield. The app's advanced technology shields cyber-criminals from accessing, changing, destroying, or misusing users' virtual data and activities in any way or form. It is built to safeguard data such as photos, videos, transaction passwords, social media accounts, and Wi-Fi networks against cyber-attacks of varied nature. 
HackShield's feature list extends to secure the devices even in case of theft, wherein a selfie of the intruder is clicked in case of numerous unsuccessful attempts to unlock it and is subsequently mailed to the user. 
Aside from mobile security, Skynet Softtech has product variations such as Anti-Ransomware and Total Security that protects individual users' laptop & desktop from cyber-attacks. Skynet has also exclusively developed End Point Security that caters to corporates and their cyber security needs in one go. 
Commenting on the launch, Nitish A. Desai, Co-founder & Managing Director, Skynet Softtech Pvt. Ltd., "Technology is a double-edged sword when it comes to data privacy. As the world embraces the new age of digital innovations, there's a rising need for more cyber security solutions to keep our digital identities and lives safe. Cyber threats are not limited to just malware and ransomware attacks but are multi-dimensional in nature and so is our counter app. The threats are constantly evolving and to answer them we need an equally evolved and robust solution like HackShield." 
Nikhil S. Mahadeshwar, Co-founder and CTO, Skynet Softtech Pvt. Ltd. added, "There is a complete lack of multi-featured offering across the world which addresses cyber security threats in one app. Once our devices are compromised, we are vulnerable to multiple attacks. With HackShield, we aim to become the complete cyber security product that scans, detects, and protects devices and your digital privacy from all threats."