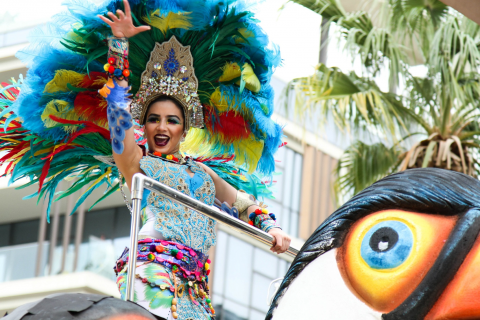 The city's first Brazilian Carnival galivanted through the streets of Dubai this weekend to mark the launch of Central Park by Meraas, a new exclusive residential neighbourhood near to City Walk.
Over 50,000 residents, visitors and Meraas representatives attended the event with a distinctive Latin American vibe on 22 February to celebrate the launch of the new nature-inspired neighbourhood which will surround a 40,000 sqm private park in the heart of the emirate.
Salsa and samba rhythms entranced the city's streets with an enthralling Brazilian ambiance of live music and artists in colourful and sequined outfits, as guests flocked to join in with the fun.
Upon completion, Central Park at City Walk will span across 230,000 sqm. It will boast 12 contemporary terraced mid-rise residential buildings. The residential complex will comprise 187 spacious one- to four-bedroom units that overlook a year-round fertile park, with Dubai's majestic downtown skyline standing imperiously in the background.
Categories