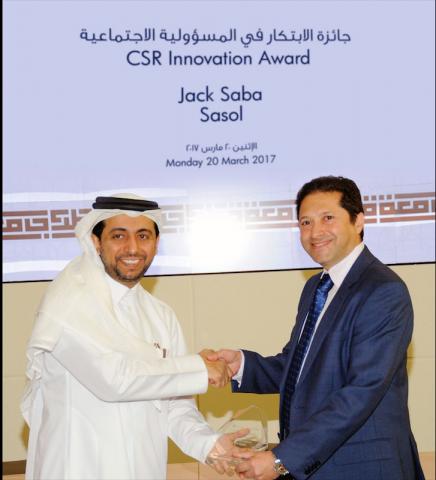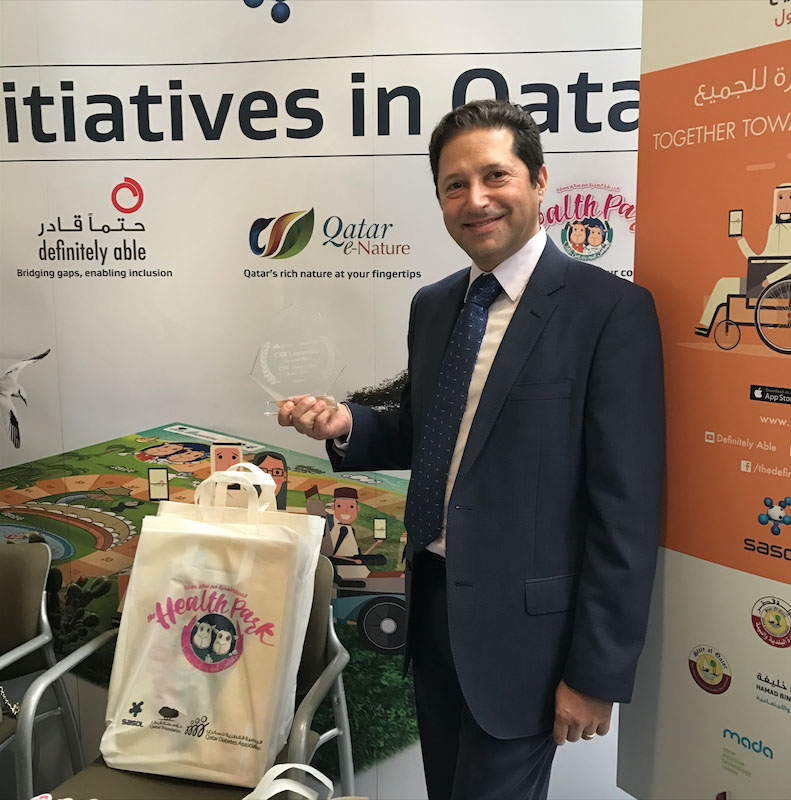 Doha, Qatar – The Corporate Social Responsibly (CSR) Committee at Qatar University has spearheaded its efforts to launch and develop initiatives that enhance CSR in Qatar. One of these initiatives is the innovation award, granted to anyone whose contributions positively impacted the Qatari society.
Jack Saba, General Manager of Public Affairs at Sasol in Qatar won the CSR Innovation Award during an award ceremony that was held under the patronage of H.E. Sheikh Abdullah bin Nasser Al-Thani, the Prime Minister and Interior Minister of Qatar, and in the presence of HE Salah bin Ghanem Al Ali, the Minister of Culture and Sports, who was named CSR Person of the Year 2016. Saba received the award from Dr. Hassan Al-Derham, President of Qatar University.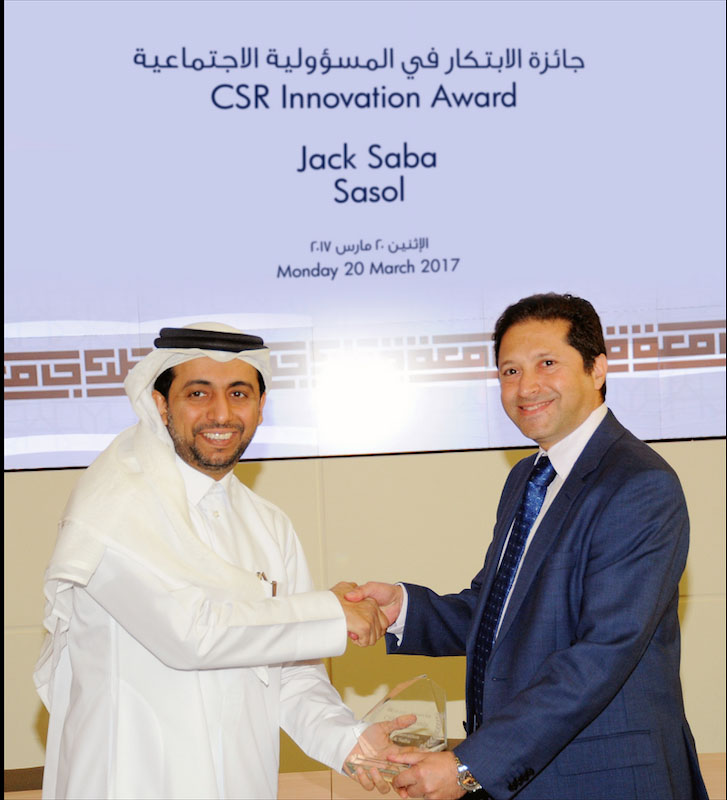 Saba is a leader in the fields of innovation, communication and entrepreneurship, embarking on many initiatives that have left positive effects on the local society, winning local and global recognition, as well as numerous prestigious awards.
Saba was behind initiating Sasol's award-winning initiatives such as 'Qatar e-Nature' that aims to promote awareness about the diversity of nature in Qatar, 'The Health Park board games' supporting children and families living with diabetes in Qatar and the region, and 'Accessible Qatar' striving to make the venues in Qatar accessible and providing accessibility information for the disabled community.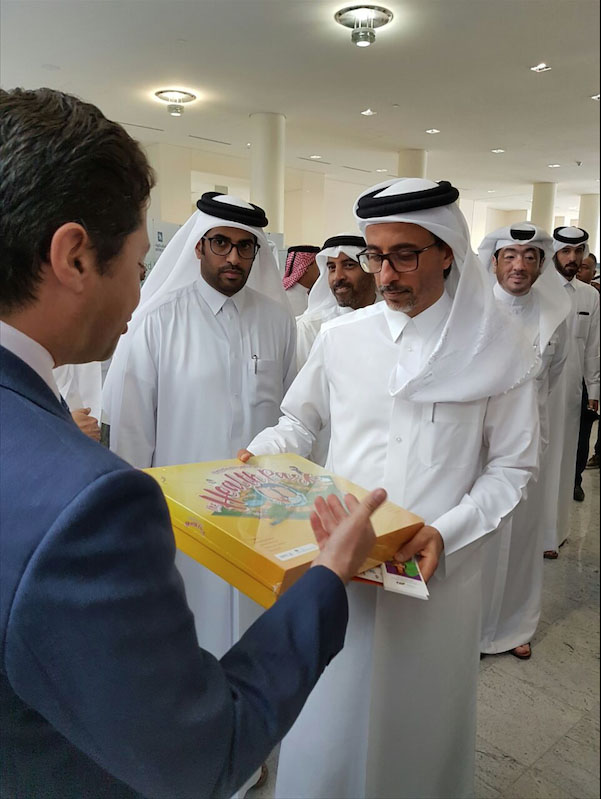 Saba commented, "I am proud and honored in receiving this esteemed CSR Innovation Award. With the support of my team, we have created innovative and resourceful CSR initiatives in Qatar, and found new ways to reach and enhance areas in the society. Our initiatives success achieved to date would not have been possible without Sasol's dedicated commitment towards supporting the communities where it operates. I hope to build on the success of our current projects and further develop new initiatives in support of the local community".
---
About Sasol CSR Initiatives 
Qatar e-Nature
Drawing on his experience running CSR programs in Qatar, and inspired by Sasol initiatives in its home country of South Africa, Saba joined with the Friends of the Environment Centre (FEC) in 2013 to launch the Qatar e-Nature application to promote sustainable development and foster environmental awareness. In 2014, Saba launched a yearly Qatar e-Nature Schools Contest, supported by the Ministry of Education and Higher Education, to help students explore the diversity of Qatar's natural habitat, including marine life, birds, insects, mammals, reptiles, flora, and natural reserves in Qatar (enature.qa).
Accessible Qatar
After launching and managing Sasol's Definitely Able initiative since 2012, Saba was inspired to launch a program that would take the next step and change the way that Qatar's disabled population experienced their environment. The Accessible Qatar smartphone application and website launched in 2016, becoming an important accessibility guide of physical sites across Qatar. Using the app, Qatar's disabled community can find locations that suit their needs, and raise awareness to sites that still need to make changes to their facilities to welcome all population. The initiative acquired partnership with the Ministry of Municipality and Environment, Qatar Tourism Authority, Hamad Bin Khalifa University, the Supreme Committee for Delivery & Legacy, Mada, and the Shafallah Centre, and collaborates with the Qatar Social & Cultural Centre for the Blind, the Qatari Centre of Social Cultural for the Deaf, the Qatar Society for Rehabilitation of Special Needs, and the UNESCO Doha Office (accessibleqatar.com).
'The Health Park' board game
Saba also spearheaded the launch of The Health Park with Salem and Sarah board games, an educational tool developed by Sasol and the Qatar Diabetes Association (QDA) for children living with diabetes. With expert design and content, the board games help children, their families, and friends to understand the challenges associated with diabetes, raising awareness for lifestyle change, and supporting healthy behavior. The game is available to children with diabetes free of charge through QDA. 
Issued by:
Jack Saba, GM of Public Affairs, Sasol Qatar
About Sasol:
Sasol is an international integrated chemicals and energy company that leverages technologies and the expertise of our 30 100 people working in 33 countries. We develop and commercialise technologies, and build and operate world-scale facilities to produce a range of high-value product streams, including liquid fuels, chemicals and low-carbon electricity. Sasol is a joint venture partner in ORYX GTL, the world's first commercial-scale GTL plant based in Ras Laffan Industrial City in Qatar; ORYX GTL is owned by Qatar Petroleum (51%) and Sasol (49%), it uses Sasol proprietary gas-to–liquids (GTL) technology to convert natural gas into liquid fuel and chemical products.
Categories