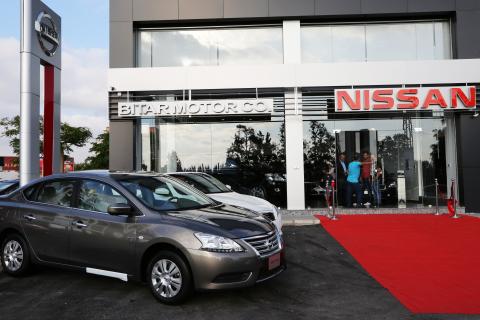 Beirut, Lebanon – May, 2014 – Rasamny-Younis Motor Company S.A.L. (RYMCO), exclusive distributor of Nissan, Infiniti, and GMC in Lebanon, has inaugurated a new showroom in Tyre on Friday the 23rd of May 2014 in partnership with Bitar Motor Co, its exclusive dealer in Tyre since 1996.
As the first automotive dealer in Tyre, RYMCO is proud to have made Bitar Motor Co. their sub dealers 19 years ago, and it is due to the success of their partnership that they have decided to open a new and revamped showroom now located on Athakana Road in Tyre, making it even more accessible for all RYMCO customers.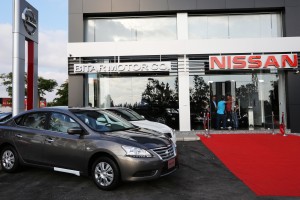 Commenting on this achievement, Mr. Gaby Dib, Director - Sales Division at RYMCO said, "Our partnership with Bitar Motor Co. in Tyre is part of our strategy to expand across Lebanon and cater to all of our clients' needs." "We have partnered with exclusive dealers in different areas around Lebanon, namely Tripoli, Saida, Jbeil, Chtoura, Akkar, and Chouf, all in order to provide our customers with the most convenient services and exceed all of their expectations," he concluded.
Many guests, including RYMCO and Bitar Motor Co. representatives, attended the launch of the modern showroom which houses Nissan, Infiniti, and GMC vehicles. The state-of-the-art showroom hosts a line-up of more than 30 vehicles inside, as well as the outside surrounding area, making it very convenient for customers to determine the best type of vehicle to suit their needs.
Ali Bitar of Bitar Motor Co. said, "We are here today to celebrate the opening of our new showroom and thank everyone who has come to join in on this great achievement." "We at Bitar Motor Co. are very proud to have been officially chosen as RYMCO's exclusive dealer in Tyre almost 20 years ago, as it goes to show the confidence RYMCO has in Bitar Motor Co.'s capabilities, as well as our trust in one of the leading vehicle dealerships in Lebanon."
Customers in Tyre can now more conveniently visit the showroom on Athakana Road, open Monday through Friday from 8:30AM – 6PM, and on Saturdays Until 2 PM, and receive the best services,  or call on 07 – 351109 / 07 – 351110 for more information.
For more information, please contact:
RYMCO
ABOUT RYMCO:
Rasamny-Younis Motor Company S.A.L. (RYMCO) is a joint stock company, ISO certified 9001:2008, that was established in 1957 in Lebanon and is the only automotive dealer to be listed on the Beirut Stock Exchange since 1998. RYMCO is one of the leading vehicle retail dealerships in Lebanon where it holds majority market share in the new vehicle retail industry, and commands a considerable portion of the used vehicle market. RYMCO operates a chain of independent showrooms and stores, a bonded warehouse as well as state-of-the-art servicing and maintenance facilities. The company has an automotive dealership arrangement with auto manufacturers in the US, Japan, Europe and China that include the likes of automotive giants Nissan Motors (Nissan, Infiniti), GM vehicles (GMC), Renault trucks, UD Trucks within the commercial department ,  Kawasaki and Peugeot Scooters under the Powersports division which also incorporates many other international brands for motor sports accessories and gear, while expanding to many other sectors related to the automotive industry. RYMCO marine is another unit within the RYMCO operations specialized in the servicing of boats under the brand name of RYMCO Marine.
In 2009, RYMCO UK was granted the right to distribute the Infiniti brand of cars in London. It will cover distribution for the area through three SSS IREDI facilities in Reading, Chiswick and Hatfield; along with a boutique in the centre of London in Piccadilly. 
Categories