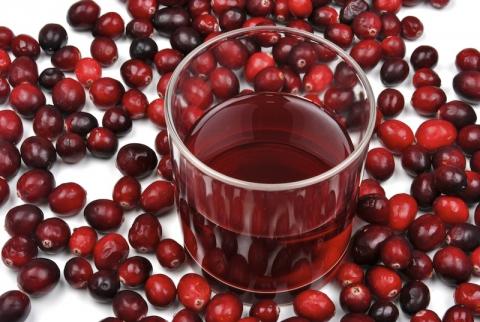 Just two glasses of a low calorie, high polyphenol cranberry beverage can help protect the heart and manage blood sugar levels.
Beirut, Lebanon (September 2014) – Recent studies show that cranberry, the tiny red fruit known for its positive effect on one's overall health and wellbeing, improves heart health—strengthening long perceived theories about the cranberry's health benefits.
The Heart of the Matter
The study looked at what happens when overweight but otherwise healthy individuals drank a cranberry beverage containing heart-healthy polyphenols. After two glasses (15.2 oz.), the volunteers showed healthier blood sugar levels without spikes or dips, changes often attributed to cravings or fatigue. The health benefits were sustained if they continued drinking two glasses on a regular basis.
After eight weeks of daily cranberry beverage consumption, individuals had increased levels of high-density lipoprotein (HDL) cholesterol, which helps maintain artery health by sweeping up bad cholesterol. [1]
Participants also showed better blood vessel function and less oxidative stress, which can prevent inflammation, a condition often linked to heart disease, obesity, diabetes and arthritis. [2]
Researchers also noted that the cranberry beverage helped maintain blood sugar levels within normal range over the eight week study.
"We have long known the cranberry's positive impact on one's health and wellbeing, but we're just beginning to uncover the full range of its natural power," said Christina Khoo, Director of Research Sciences at Ocean Spray. "From maintaining healthy blood lipids to decreasing inflammation, more new evidence continues to emerge on the benefits of cranberries."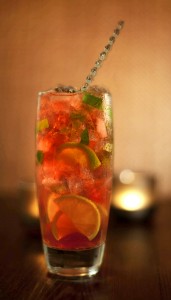 MEDIA ALERT
Beirut, Lebanon (September 2014) Are the little ones already missing the lazy Summer holidays? Let Ocean Spray® put a spring back in their step by starting their day with an invigorating cranberry kick. Christina Khoo PhD, Director of Research Sciences at Ocean Spray comments:
 "In my opinion, juice drinks are best consumed by all family members after waking up because it is at this time that the stomach is empty and can absorb nutrients easily. Cranberry Classic® juice drink has over 200 cranberries in every carton. It's bursting with flavour, and gives you all the vitamin C you need for the whole day, helping to reduce tiredness and fatigue*."
 "Cranberries and certain cranberry products are dense in a variety of nutrients, including polyphenol antioxidants, which may contribute to a whole host of health benefits. This is why we refer to the bouncy and tangy red berry as 'The Exceptional Cranberry'? Not only is Ocean Spray® Cranberry Classic® juice drink jam-packed with tasty nutrients, but it also provides delicious refreshment, helping to keep us hydrated throughout the day."
 What's more, Ocean Spray® has perfect lunchbox-sized juice cartons to help keep the kids refreshed in between a busy school timetable. The Ocean Spray® 250ml juice cartons are now available in the majority of convenience stores across the GCC. For more information about Ocean Spray®, cranberry health and recipes, please visit www.oceanspray.com or our corporate blog at www.insidethecranberry.com.
More Breaking News about the Berry
Among the nearly dozen studies evaluating the efficacy and application of the fruit were a handful of studies on another form of cranberry—an extract. By isolating and applying the natural purifying element in cranberries – proanthocyanidins or PACs – these extract studies are making a case for how this natural compound, unique to cranberries, can improve overall health. Snapshots of the findings are below.
Cellular Health: Pre-clinical research indicates that PACs found in cranberries may have properties that limit cancer cell growth. While further studies are warranted, the latest findings suggest great potential for the cranberry's anticancer activity. [3]
Prebiotics: Move over yogurt! Cranberries have now been linked to prebiotic qualities, boosting the number of good bacteria living in the gut. That's according to a team out who found that when cranberry extract rich in PACs was left overnight with bacteria commonly found in the gastrointestinal tract and human colon cancer cells, the PACs played an anti-inflammatory and antioxidant role, promoting the good bacteria's activity on the colon cancer cells. [4]
Heart Protection: To explore how the natural compounds in cranberries can protect the body against harmful substances, a team of scientists soaked heart muscle cells in cranberry extract for six hours. The result? The cranberry extract lowered the amount of tissue-damaging enzymes, called MMPs, which have been linked to heart disease, tumor growth and arthritis.[5]
"While additional studies are warranted to truly understand the role of PACs in cell health and heart protection and in boosting the activity of good gut bacteria, initial research yields promising indications that cranberry PACs in the form of an extract can be leveraged as an effective way to improve whole body health," said Christina Khoo, PhD, Director, Research Sciences, Ocean Spray.
For more information about the health benefits of cranberries, visit www.cranberryhealth.com.
About Ocean Spray
Ocean Spray is a vibrant agricultural cooperative owned by more than 700 cranberry and grapefruit growers in the United States, Canada and Chile who have helped preserve the family farming way of life for generations. Formed in 1930, Ocean Spray is now the world's leading producer of cranberry juices, juice drinks and dried cranberries and is the best-selling brand in the North American bottled juice category. The cooperative's cranberries are currently featured in more than a thousand great-tasting, good-for-you products in over 90 countries worldwide. With more than 2,000 employees and nearly 20 cranberry receiving and processing facilities, Ocean Spray is committed to managing our business in a way that respects our communities, employees and the environment. In fiscal year 2013, Ocean Spray posted gross sales of $2.2 billion and net proceeds of $380 million. For more information visit www.oceanspray.com or our corporate blog at www.insidethecranberry.com
For further details, please contact:
 toufic.e@actionprgroup.com
[1]
Mathison, B.D., Kimble, L.L., McKay, D.C., Chen, C., Blumberg, J.B., Kaspar, K.L., Khoo, C. and Chew, B.C., (2014) Chronic consumption of a high polyphenol content cranberry beverage improved glucoregulation and HDL cholesterol in healthy but overweight humans. FASEBJ. 28, 831.10
Categories