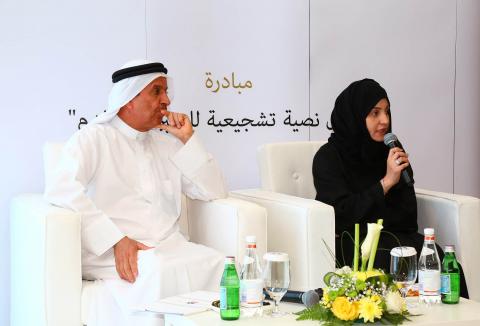 Initiative launched in coordination with Sharjah Blood Transfusion & Research Center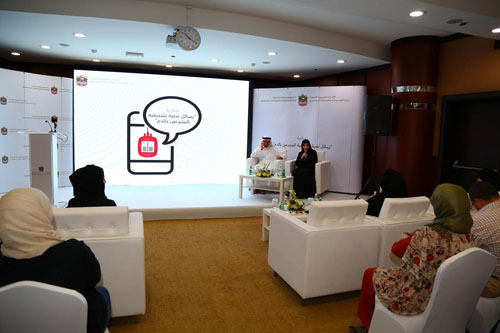 Under the patronage of H.E. Abdul Rahman bin Mohammed Al Owais, Minister of Health and Prevention, the Health Centers and Clinics sector - Sharjah Blood Transfusion & Research Center launched the 'Motivational Text Messages for Blood Donors' initiative to highlight the importance of blood donation in saving lives, raising morale, bringing happiness and pride, and developing sense of national responsibility and humanity.
Dr. Hussein Abdel-Rahman Al Rand, Assistant Undersecretary of the Ministry's Health & Prevention Assistant Sector - Health Centers and Clinics, said the first-of-its-kind initiative in the Middle East region aims to encourage community members to participate in blood donation campaigns in accordance with the Ministry's objective to achieve a 'sustainable health for all and build a society with comprehensive care and long life.' The Ministry also aims to provide quality health services to the UAE community in accordance with international standards.
H.E. added that the UAE is the World Health Organization's Middle East center for blood donation initiatives and related safe services, including voluntary donation. H.E. pointed out the Ministry will strive to ensure that sufficient supplies of safe blood are available in the country to meet the needs of all private and public hospitals.
Mona Sulaiman Al Ali, Managing Director, Sharjah Blood Transfusion & Research Center, emphasized the importance of extending gratitude to all blood donors and highlighting their role in changing lives for the better. Such a show of appreciation will encourage and motivate them to continuously donate blood.
The Sharjah Blood Transfusion & Research Center was able to collect approximately 25,000 blood units last year, meeting the needs of various state hospitals. The center also has a high efficiency in conducting various tests to ensure that the donated blood is free from infectious diseases.
The center also received international accreditation from the Joint Commission International in September 2013 and the American Association of Blood Banks in August 2013. It also renewed its international accreditation from the American Association of Blood Banks in August 2015.
SMS:
Dear Kind donor
Thank you for your generosity and donating blood.
We would like to inform you that your blood donation saves a life!
Ministry of Health and Privation
Categories