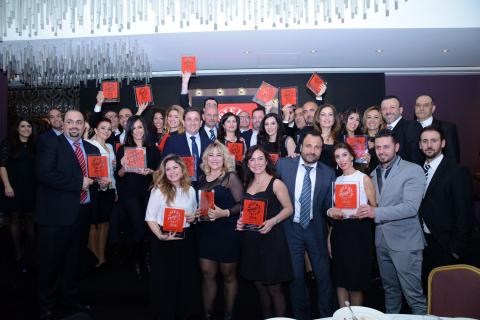 In the presence of hundreds of invitees, distinguished business guests and media partners, Product of the Year (PoY) Lebanon, a leading innovation incubator in the FMCG sector, revealed the names of its winners on March 15, 2016. The 2016 edition of PoY, held at Eau De Vie in Phoenicia, honored this year's most innovative consumer products in a remarkable gala dinner.
Renowned worldwide for its recognition of innovation, PoY 2016 witnessed a diverse range of categories including Hot Beverages, Grains and Hand Wash, amongst others, while 28 shortlisted winners of local and international consumer products were awarded for implementing innovative business models, marking their leadership in the consumer goods' sector. Winning products will now be able to use the renowned "Voted Product of the Year 2016" label on their packaging and marketing campaigns throughout 2016.
Submitted to PoY over a 12-months period, products were solely voted by consumers through an independent consumer survey conducted by IPSOS. Consumers were surveyed on product innovation, usage, satisfaction and purchase intent after a fantastically high standard of brand submissions was presented to the jury, making a notable difference across every category.
To reinforce market innovation, excellence and the prestigious industry recognition, competing brands have proven to develop better understanding of the consumers' sentiment and purchase behavior.
Commenting on the occasion, Dory Kfoury, CEO of Product of the Year in the Middle East and North Africa, said, "We would like to congratulate all winning brands and thank them for their dedication and hard work. In spite of the challenging economic slowdown this year, Product of the Year managed to boost local and international traffic which reaffirms our commitment to innovation and product excellence," adding, "Entries have truly illustrated the galaxy of opportunities that innovative products in the FMCG sector present."
Zeina Estwany, Levant Area Director at Product of the Year in the Middle East and North Africa, commented, "Product of the Year has clocked 6 wonderful years celebrating product innovation and gained increasing recognition throughout the years, with a 64% awareness solely on the logo. 2016 has been a particularly strong year, led by many outstanding brands that broadened the scope of innovation. Product of the Year is honored to recognize these products and the project teams behind them." Estwany further explained winning products can now be found at dedicated display stands in Spinneys.
 The results were revealed at a glamorous ceremony, with a special performance by Xris Jorr' and comedian Tony Abou Jaoudeh.
Categories