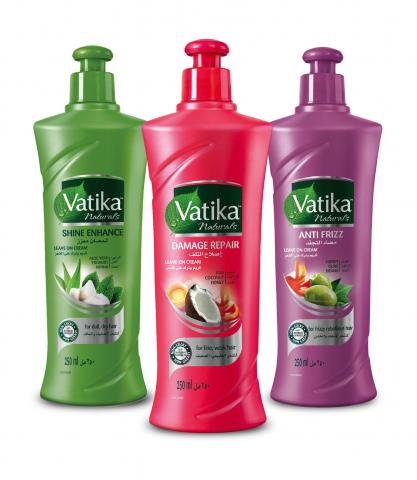 Healthy, lustrous and well-groomed hair epitomizes beauty and youthfulness and contributes to ones' overall personality. Modern and young women are actively using various hair care products to not just eliminate common hair problems but also get great effects while styling. With Middle East consumers growing more conscious about their appearance, hair styling products have gained a strong foothold in the regional market. Dabur International has unveiled Vatika Leave On Hair Cream to address the rising demand for natural hair styling products that not only help in keeping hair styled but also offering gentle and nourishing care.
 Vatika Leave On Hair Cream's 'Damage Repair' variant is formulated for hair that have become weak and undernourished due to prolonged exposure to heat from sources such as sun rays and styling treatment as well as chemical products. Enriched with herbal extracts of egg, coconut and honey, it instantly provides a protective layer to hair cuticles to smoothen them and prevent external damages. 'Shine Enhance,' on the other hand, is suitable for hair that are dull and dry. Fortified with aloe vera, henna and yoghurt, it helps to soften hair by forming a smooth coat on hair strands and giving a healthy shine. For hair that are frizzy, rebellious and difficult to maintain, the 'Anti Frizz' variant provides long-lasting conditioning. Made from natural extracts of olive, honey and henna, it moisturises hair to reduce frizz for all-day styling.
 Non-sticky and Non-greasy with a pleasing fragrance, Vatika Leave On Hair Cream is applied to post-shampoo, towel-dried hair. A small portion is rubbed on hair from root to tip before combing for even distribution of the cream. It prepares hair for any kind of styling, including blow drying, ironing, and straightening and ensures hair remain styled all through the day.
 Vatika Leave On Cream is easily available in supermarkets and malls in the UAE in a premium 250 ml packaging at Dhs14.
Categories