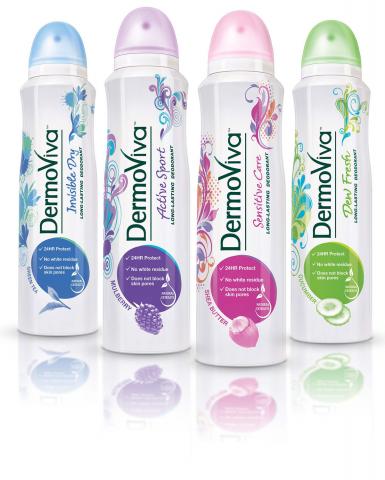 While Egyptians are credited with the invention of the 'art of scented bathing,' the first trademarked deodorant was launched in 1881. Today, the global deodorant and antiperspirant industry is worth USD 18.9 billion a year. Contrary to popular belief, sweat is odourless and it is actually bacteria that break down one or two types of sweat which produces the bad smell. Deodorants are used to either mask foul body odour or prevents it altogether by neutralizing it.
Sensing a wide market gap for safe deodorants that are free from aluminium salts, including aluminium chloride, aluminium chlorohydrate, and aluminium zirconium chlorohydrate complexes, DermoViva has introduced deodorants for women in the Middle East. Enriched with natural ingredients and aluminium chlorohydrate free, it comes with an anti-stain formulation that does not leave any white residue and does not block skin pores. It's special, innovative and TRIPLE-HALO FORMULA of Sensiva, Fragrance and Natural Ingredients, offers 24-hour protection and keeps the skin of the arm pits fresh and free from any odour.
 DermoViva deodorants are available in four different variants - Invisible Dry, Dew Fresh, Active Sport, and Sensitive Care. The invisible dry variant is fortified with green tree extracts – a potent anti-oxidant, that helps rejuvenate the skin for an extra dry, soft and smooth feel. Dew Fresh contains vitamin-rich cucumber extracts that soothes and hydrates the underarm area for long-lasting freshness. Enriched with mulberry extract – an anti-oxidant known to improve skin tone – Active Sport offers intense protection against body odour. A formulation of shea butter extract which is an excellent moisturizer, the Sensitive Care variant helps to make the skin of the under arms soft and supple.
The attractively packaged DermoViva deodorants are available in leading supermarkets and stores in the UAE for AED 9.50 for a 150 ml bottle.
Categories