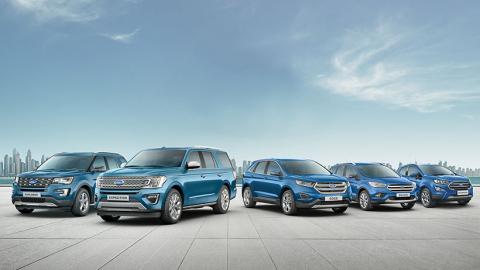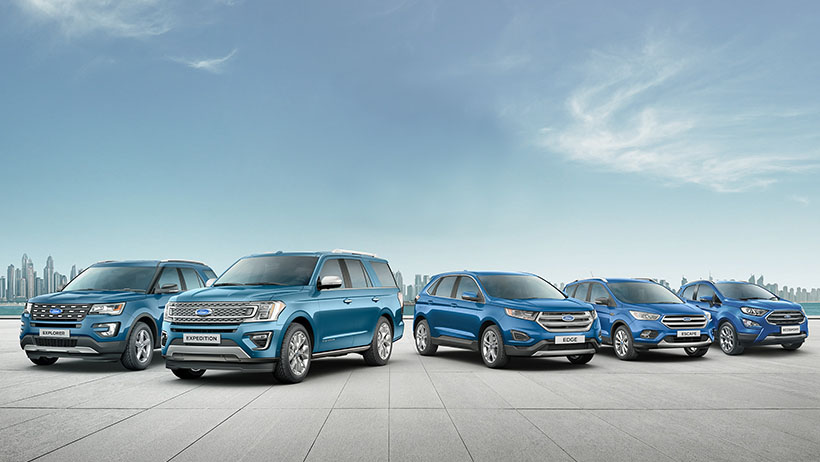 Ford has a long history of SUV leadership, with all-time favourite Built Ford Proud nameplates such as Escape, Edge, Explorer and Expedition setting benchmarks for their segments since their debut.
In fact, Ford can be credited with helping to create the SUV segment with the Bronco in the 'Sixties, and the Explorer almost three decades ago, which has continued to adapt and improve, fuelling its 25-year run as the best-selling SUV in the United States.
Not only that; when Ford introduced the Expedition in 1996, it effectively created the full-size SUV segment, continuing the innovative and pioneering character of the brand that also shaped the compact SUV market when the Escape debuted at the turn of the century.
As the Middle East and Africa SUV market swells – forecasted to become a $46.9 billion industry within the next five years – there's a growing demand for SUVs, advanced technological features, and a range of vehicles that offer the full spectrum, from familial comfort to off-roading prowess. And Ford's established leadership and heritage in building and delivering the utility vehicles that customers want, is evident in its ever-substantial line-up of SUVs packed with ruggedness, capability, versatility, safety, and the technologies to suit patrons from every walk of life.
Ford prides itself on its safety standards, and keeping those you love most dearly safe from harm, by offering various technologies, passive and active, such as available rear outboard inflatable seat belts. There are also a great deal of driver-assist technologies available to help avoid distraction-related collisions – from adaptive cruise control with collision warning and brake support, to blind spot information systems with cross-traffic alert – that build on the leadership position in safety that Ford has established, delivered in a capable and rugged iconic SUV range that has repeatedly achieved the maximum 5 Star NHTSA overall rating.
Utility vehicles are more than a necessity; they're also a lifestyle choice. Ford SUVs have proven their credentials time and again, and continue to set benchmarks for innovation and quality. Not just in the business of creating high-quality, technology-packed vehicles that customers want, Ford prides itself on a youthful and promising SUV line-up that delivers a holistic premium experience to the customer.
EcoSport The Ford EcoSport is Ford's compact SUV, featuring bold lines, contemporary shape and sophisticated interior, all reflecting its credentials as a capable, flexible and practical urban SUV. The EcoSport provides roomy space for five, a high driving position with outstanding visibility, a refined cabin environment engineered for quiet operation, carefully selected and matched materials, and a modern design ethos. When the available Apple CarPlay and Android Auto-compatible SYNC 3 with eight-inch touchscreen is paired with a B&O premium audio system, EcoSport enjoys a superior level of quality and class that belies its compact stature. It all adds up to make the Ford EcoSport – available in 1.0-litre and 2.0-litre Ti-VCT variants, as well as the impressive 1.5-litre EcoBoost-powered three-cylinder front-wheel-drive, six speed auto, producing 125 hp and 170 Nm of torque – a compelling alternative to the run-of-the-mill compact car.
Escape Escape is the second best-selling vehicle in the Ford lineup, only behind the Ford F-150. Ford Escape's popularity is born of its reputation for great fuel economy, versatility and technology aimed at helping customers – all in a sleek design. This is a competitive segment, and Escape offers features and amenities that make it irresistible to customers. Escape's signature technology is its available hands-free liftgate that allows fast and easy access to the cargo area with a gentle kicking motion. Along with versatility, great fuel economy is another reason Escape is popular with customers. The all-wheel drive 2.0-litre EcoBoost® four-cylinder engine, producing 242 hp and 345 Nm of torque, is now standard on the SE series. Customers can also select the 2.5-litre iVCT I-4.
Edge Ford Edge has been designed to reset the standard in the two-row utility vehicle market offering features that help make it one of the world's favourite crossover vehicles. The dynamically designed Edge offers features like Adaptive Steering, and driver-assist technologies such as enhanced active park assist with side parking sensors, adaptive cruise control with collision warning and brake support, and a front 180-degree camera with washer. The Edge – the original crossover sport utility vehicle – demonstrates what happens when a proven leader gets even better. Offered in a 2.0-litre EcoBoost in-line four cylinder engine, a 3.5-litre Ti-VCT V6, or a range-topping 2.7-litre EcoBoost V6 guise, and loaded with more technology, higher levels of craftsmanship, and greatly improved vehicle dynamics, the latest Edge is a better vehicle by every measure.
Explorer The Explorer is Ford's signature mid-size SUV. It is the centrepiece of Ford's global utility vehicle line-up because it delivers an ideal combination of form and function. Introduced in 1990 as a 1991 model, creating the SUV segment in the process, Explorer featured generous interior space customers were looking for, and was engineered specifically for people seeking adventure for their families and a way to express their individuality. The new Explorer maintains the much-loved heritage of the original SUV, but now offers even more innovations, driver assist technologies, and a standard 3.5-litre V6 Ti-VCT, or optional 3.5-litre V6 EcoBoost engine. Explorer has been the most popular SUV in America for the past 25 years and is the best-selling three-row SUV in the world. 
Expedition Ford's biggest SUV, the Ford Expedition redefines the full-sized SUV segment with its all-new design inside and out, its unique smart technologies, more power for drivers, and more expected towing capability than any other full-sized SUV. The new generation 2018 Ford Expedition is the smartest, most capable and most adaptable Expedition ever. Powered by a second-generation 3.5-litre EcoBoost® twin-turbo engine with standard Auto Start-Stop plus a class exclusive new 10-speed automatic transmission, the all-new Expedition is the most powerful Expedition ever, offering up to 400 horsepower on Platinum models along with a best-in-class 650 Nm of torque, best-in-class fuel economy, best-in-class towing capability of 4,212 kg. The list of class-leading features continues with best-in-class second and third row seating space, and the largest panoramic roof in the segment.
Categories