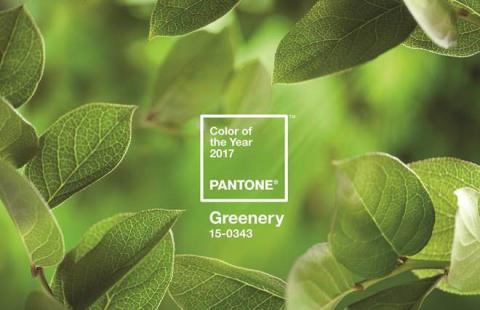 Greenery offers a refreshing and revitalizing shade that is symbolic of new beginnings
Pantone, an X-Rite company and the global authority on color and provider of professional color standards for the design industries, has revealed Pantone 15-0343 Greenery as its Color of the Year for 2017. According to the company, Greenery is a fresh and zesty yellow-green shade that is reminiscent of the first days of spring--just about that time when nature's greens revive, restore and renew. Illustrative of flourishing foliage and the lushness of the great outdoors, the fortifying attributes of Greenery signals individuals to take a deep breath, oxygenate and reinvigorate.
The new PANTONE 15-0343 Greenery is a life-affirming shade that best exemplifies the pursuit of personal passions and vitality. The more submerged people are in their own modern realities, the greater their innate craving to immerse themselves in the physical beauty and inherent unity of the natural world. This shift is reflected by the proliferation of all things expressive of Greenery in daily lives through urban planning, architecture, lifestyle and design choices globally. A constant on the periphery, Greenery is now being pulled to the forefront - it is an omnipresent hue around the world.
Leatrice Eiseman, Executive Director, Pantone Color Institute, said, "While Serenity and Rose Quartz, the PANTONE Color of the Year for 2016, expressed the need for harmony in a chaotic world, Greenery bursts forth in 2017 to provide us with the hope that we collectively yearn for amidst a complex social and political landscape. Satisfying our growing desire to rejuvenate, revitalize and unite, Greenery symbolizes the reconnection we seek with nature, one another and a larger purpose."
A Color of Innovation
Often associated with environmentalism and nature, Greenery is also a unifying thread in tech and innovation, which complements the UAE's strong focus towards inviting more growth and development through innovation. In fact, many new apps, animation iconography and digital-first start-ups express this energy by using the riveting and attention-getting shade of green in their logos. Conveying progression and a pioneering spirit, Greenery portrays an entrepreneurial essence that aligns with the industries that have embraced it.
Greenery in Fashion
Greenery is dubbed as nature's neutral shade—it acts as a great harmonizer that merges undertones of cool blues with vibrant yellows. The hue is a natural complement to a wide range of palettes like the spectrum of possibilities in colorful petals and blooms paired with lush green leaves, plants and trees, Greenery provides a pop of color in accessories and footwear, or acts as a bold accent in a pattern.  Prominent in fashion for men and women, as seen in the recent collections of Kenzo, Michael Kors, Zac Posen, and Cynthia Rowley, Greenery has also been shown in a variety of solids and prints in children's wear. Greenery blends fashion and tech as well, as a prominent color for wearables and activewear.
Greenery for Home Décor and Architecture
Open spaces in interior and exterior design and floor-to-ceiling windows allow the green outdoors to become part of a room's backdrop and ambience. Adding Greenery through living walls, terrariums, botanically-themed wallpaper, paint, accent furniture and decor provides respite and breathing space. A Greenery-painted wall or piece of furniture delivers a pop of color, with the added benefit of creating the illusion of nature indoors. Bringing the outside in, the shade - like the plant life it represents - can improve self-esteem, reduce anxiety and heighten awareness of one's surroundings.
Greenery for Beauty
In the ultimate personal display of boldness and vitality, Greenery is deployed as a chic, confident punch of color for hair, lips, eyes and nails. It is also a camouflaging base for natural beauty looks, with green makeup rooted in color-correcting trends. A complementary color to red shades, Greenery plays down ruddiness in the skin.
Greenery for Food & Beverage
Holistic and harmonious living is linked to the power of plants—the invigorating shades of Greenery is prominent in many health food trends today, including matcha, seaweed and avocado, while the growth of urban agriculture and indoor vertical farms brings the essence of Greenery to unexpected places. On the table, Greenery plates and chargers provide an appetizing backdrop for food – making dishes pop and appear fresh. Greenery is also often used in design for the hospitality and culinary industries to convey organic healthfulness. 
Greenery for graphic design
Because of green's prevalence in nature, it maintains a perception of being inherently good for you and organic. People respond on a visceral level to the hue, making the eye-catching Greenery an ideal shade for many applications of graphic design. This is especially true for packaging, where the sight of Greenery provides an instant message of freshness.
"The tangy yellow-green speaks to our desire to express, explore, experiment and reinvent, imparting a sense of buoyancy. Through its reassuring yet assertive vibrancy, Greenery offers us self-assurance and boldness to live life on our own terms, during a time when we are redefining what makes us successful and happy," concluded Eiseman.
Greenery was taken from the PANTONE Fashion, Home + Interiors Color System, which is the most widely used and recognized color standards system for fashion, textile, home and interior design. For more information on the PANTONE Color of the Year for 2017, please visit www.Pantone.com/Color-of-the-Year or please call Grapheast, the Master Distributor of Pantone products for the Middle East region.
About the Pantone Color of the Year
Pantone's Color of the Year selection process requires thoughtful consideration and trend analysis. To arrive at the selection each year, Pantone's color experts at the Pantone Color Institute comb the world looking for new color influences. This can include the entertainment industry and films in production, traveling art collections and new artists, fashion, all areas of design, popular travel destinations, as well as new lifestyles, playstyles and socio-economic conditions. Influences may also stem from new technologies, materials, textures and effects that impact color, relevant social media platforms and even up-coming sporting events that capture worldwide attention. For 17 years, Pantone's Color of the Year has influenced product development and purchasing decisions in multiple industries, including fashion, home furnishings and industrial design, as well as product packaging and graphic design.
About Pantone and the Pantone Color Institute
Pantone LLC, a wholly owned subsidiary of X-Rite, Incorporated, is the global color authority and provider of professional color standards for the design industries. Pantone products have encouraged colorful exploration and expressions of creativity from inspiration to implementation for more than 50 years. Through the Pantone Color Institute, Pantone continues to chart future color direction and study how color influences human thought processes, emotions and physical reactions. Pantone furthers its commitment to providing professionals with a greater understanding of color and to help them utilize color more effectively. Always a source for color inspiration, Pantone also offers designer-inspired products and services for consumers. More information is available at www.pantone.com. For the latest news, trends, information and conversations, connect with Pantone on Instagram, Facebook, Twitter, and Pinterest.
About X-Rite
X-Rite, Incorporated, is the global leader in color science and technology. The company, which now includes color industry leader Pantone, develops, manufactures, markets and supports innovative color solutions through measurement systems, software, color standards and services. X-Rite's expertise in inspiring, selecting, measuring, formulating, communicating and matching color helps users get color right the first time and every time, which translates to better quality and reduced costs. X-Rite serves a range of industries, including printing, packaging, photography, graphic design, video, automotive, paints, plastics, textiles, dental and medical. For further information, please visit www.xrite.com.
Categories